Membership and Member FAQs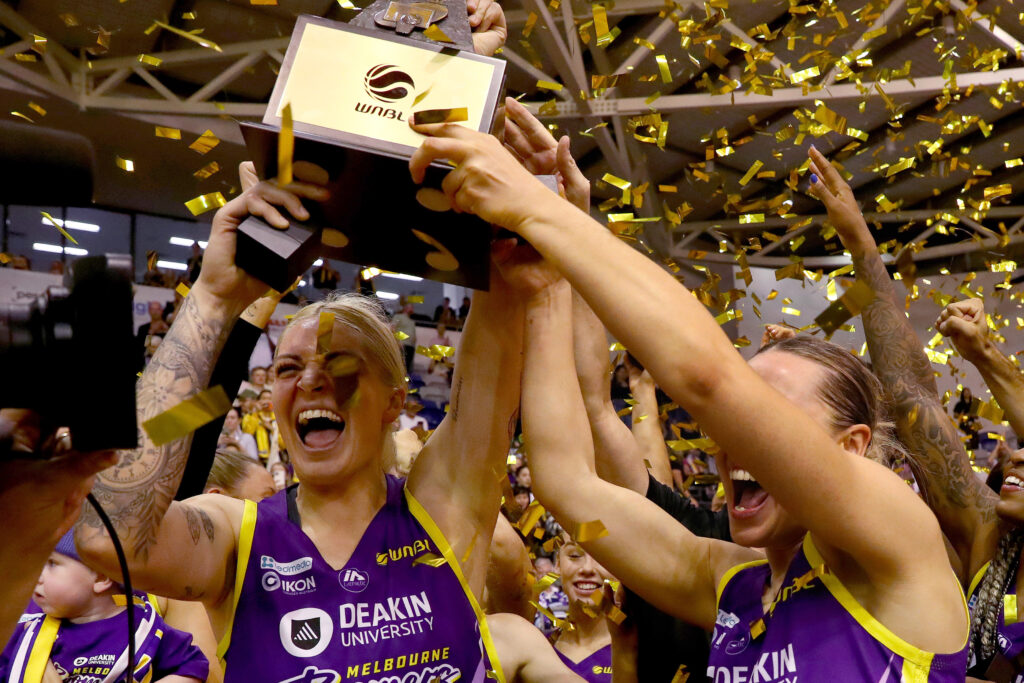 HOW CAN I PURCHASE OR RENEW A MEMBERSHIP FOR THE 2022/23 SEASON?
Online

 
Renewing Members can jump onto https://melbourneboomers.memberlink.net.au to renew their membership, or email memberships@melbourneboomers.com.au with any enquiries. 
New Members can visit https://melbourneboomers.memberlink.net.au and fill out the corresponding information when purchasing a membership, or email memberships@melbourneboomers.com.au for any enquiries. 
Once purchase is complete a confirmation email will be sent. 
WhatsApp

 
This season the Melbourne Boomers will offer the option of communicating via WhatsApp. 
You just need to create a contact on your phone and send any queries through to 0480 392 947. 
To request a call back either message thru WhatsApp or email memberships@melbourneboomers.com.au.  
Include your mobile number and a preferred time (best before 7pm in evening and Monday to Saturday) to be called back and we will get things sorted. 
WHAT DOES MY MEMBERSHIP GIVE ME ACCESS TO?
We are pleased to confirm that Memberships apply to all Deakin Melbourne Boomers HOME games that are played during the 2022-23 WNBL regular season at: 
Melbourne Sports Centre Parkville

 

the State Basketball Centre, Wantirna South

 

Gippsland Regional Indoor Stadium, Traralgon

 
Reserved seat members will have seat allocations at each HOME game at both Parkville and State Basketball Centre.  For the Gippsland game there will be a dedicated Reserved seat section for that game in Traralgon. 
WHERE IS THE RESERVED SEATING LOCATED?
Refer Seat Maps for Parkville and State Basketball Centre: 
PARKVILLE: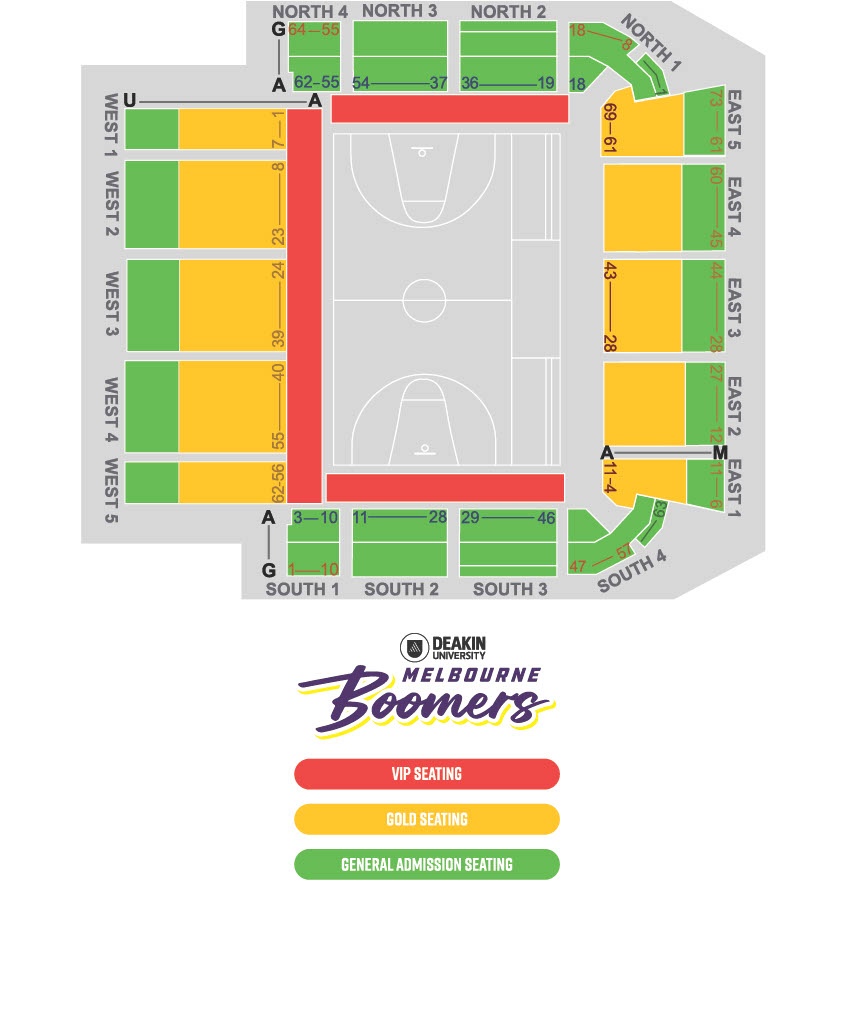 STATE BASKETBALL CENTRE: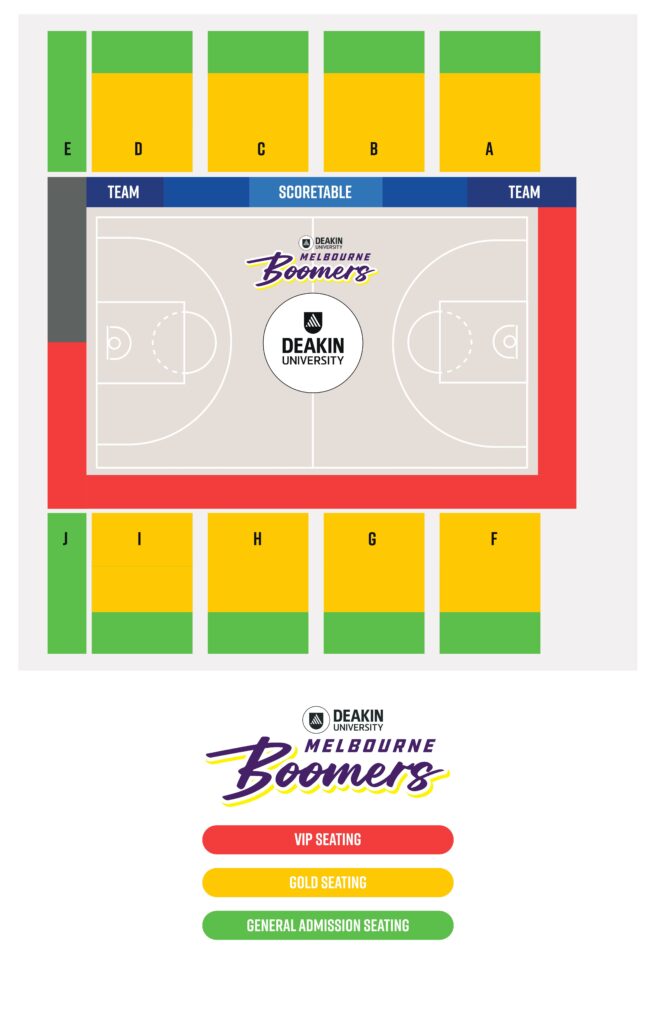 GIPPSLAND REGIONAL INDOOR SPORTS CENTRE: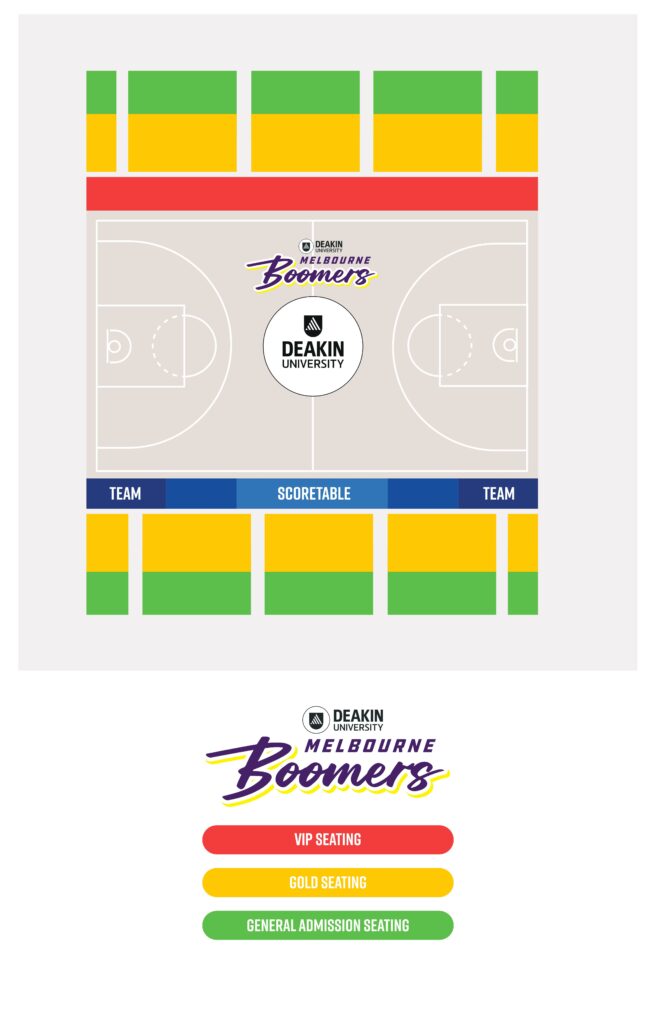 WILL MY MEMBERSHIP BE AUTO-RENEWED THIS SEASON?
This season the Melbourne Boomers are NOT processing auto-renewals.  
Instead, we will be offering a renewal period where 2021/22 Members can login to their Memberlink account and select to renew their membership before they go on sale to the public.  
Existing members who renew in this period will receive a 20% discount on 22-23 prices.  
HOW WILL I KNOW IF MY MEMBERSHIP APPLICATION HAS BEEN RECEIVED?
If you've applied online, you will receive a confirmation email within 5 business days. 
If you pay for the membership by WhatsApp, phone or in person, once the membership has been processed via the membership system, you will receive a confirmation email within 5 business days. 
CAN I PAY MY MEMBERSHIP IN INSTALMENTS?
You sure can. The payments will be split over six (6) months and will be required to be paid in full by the end of February. Payments will be taken on the 15th of each month from your nominated card (Credit or Debit) or account. 
Additional fees (including credit card fees) may apply. 
WHAT TYPE OF CONCESSION IS ACCEPTED FOR THE CONCESSION PRICES?
There are three forms of acceptable concession cards: 
Pension Cards (Aged, Disability or Single Parent)

 
Student Card (Fulltime Students Only)

 
Veteran Affairs Cards

 
** Please Note Health Care Cards are not an acceptable form of Concession. ** 
WHO IS CLASSIFIED AS A JUNIOR?
 To qualify for a junior membership, the junior must be 17 years or under on 1 November 2022. 
HOW MANY MEMBERS DOES A FAMILY CONSIST OF?
Families can consist of two (2) Adults plus two (2) juniors. A junior is defined above. 
WHAT IF I CHANGE MY MIND? CAN I GET A REFUND? 
As per the terms and conditions, subject to applicable law, once your membership has been processed you are not entitled to a refund. However, you may request a refund in writing (email) and your request will be assessed by the Boomers with any refunds (whole or partial) the discretion of the Boomers. 
HOW IS RESERVED SEATING ALLOCATED?
2021/22 Members will have until the renewal cut-off date to renew their existing reserved seats.  Due to changes in seating maps, if previous reserved seats are not available, alternative seats will be provided. 
After the renewal period members will have access to purchase reserved seating and request changes to reserved seating.  These will be based on availability and seating map. 
HOW DO I CHANGE MY RESERVED SEATS?
Members need to email the club on memberships@melbourneboomers.com.au or send a WhatsApp message to 0480 392 947 with their change request. 
The ability to re-allocate will be dependent on availability in the requested area. 
I CANNOT ATTEND A MATCH, CAN SOMEONE ELSE USE MY MEMBERSHIP? 
Members who purchase a membership are entitled to transfer their ticket to a family member providing the guest is of the equivalent level of entry (e.g., Concession/Junior). Adult memberships may be used by family members in all other levels of entry.  
HOW DO I ACCESS BOOMERS HOME GAMES AT PARKVILLE AND STATE BASKETBALL CENTRE?
All Members (VIP, Reserved Seat, General Admission) will receive a digital membership card which will provide access to the games. 
WHAT IS A GENERAL ADMISSION MEMBERSHIP? 
This refers to memberships with seating within the General Admission sections of the stands. 
It includes all home games at the Parkville, State Basketball Centre and Gippsland Regional Indoor Sports Stadium during the 2022/23 WNBL regular season. 
General Admission membership seating allows you to sit in the General Admission stands located within the venue (please see seating maps). General Admission works on a first in first served basis at home games. 
WHAT IF A GAME IS DECLARED A SELL-OUT?
Reserved seat members do not need to worry, your reserved seat will be there waiting for you! General Admission members need to be aware that all General Admission is subject to capacity. If any game is declared a 'fully ticketed match' it may be necessary to upgrade to a reserved seat ticket (may attract ticket fees).  
Members with a General Admission membership access can upgrade to a reserved seat on a game-by-game basis through www.ticketek.com.au. 
DO I RECEIVE A MEMBERSHIP PACK?
All members will receive a membership pack which will vary depending on membership type. 
Membership packs will be available for pick up at home games, Interstate members will have theirs sent via post.
HOW DO I GET TO MELBOURNE SPORTS CENTRE PARKVILLE (RIGHT NEXT TO MELBOURNE ZOO)?
Parkville is located at 10 Brens Drive, Royal Park, Parkville 3052. 
Parking 
Free parking is available on site.   Disabled parking is also readily available also. 
Public Transport 
Melbourne Boomers suggests using public transport when travelling to Parkville. Both trams and trains stop directly out front of the stadium and walk straight to the entrance.  Use route 58 with Yarra Trams and get off at stop 25 or take the Upfield line by train and get off at Royal Park station to arrive right outside the stadium. 
HOW DO I GET TO THE STATE BASKETBALL CENTRE?
State Basketball Centre is located at 291 George Street, Wantirna South 3152. Take the High Street Road Exit on Eastlink for easiest access to the stadium.  
Parking
Melbourne Boomers suggests driving to the Home Games and parking on site.  
Public Parking at State Basketball Centre is readily available but there are restrictions on numbers due to the current redevelopment project. Disabled parking is also readily available also. 
Public Transport
There is limited public transport to the State Basketball Centre. 
Buses operate along Ferntree Gully Road, dropping you outside the Eastlink Freeway on High Street Road. From there it is a short walk down George Street to State Basketball Centre (291 George Street, Wantirna South 3152). For more information about getting there including timetables, fares and maps visit www.ptv.vic.gov.au.