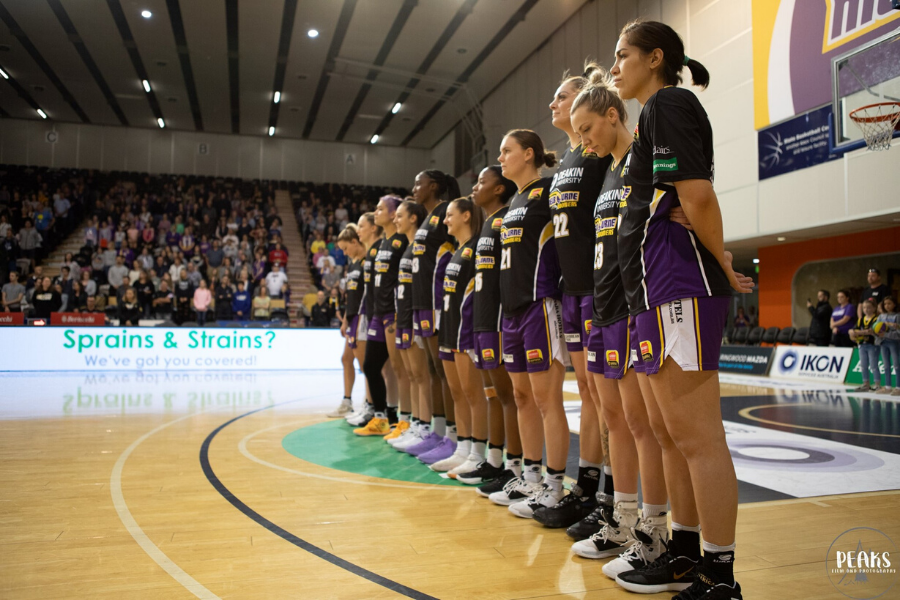 December 3, 2019 | Melbourne Boomers news
Well, we're seven rounds into the 2019/20 WNBL Season and currently sitting in second place on the ladder – not bad! We thought we'd take a look back on our season so far before looking ahead at what's to come, including our rematch against the Southside Flyers this Saturday night.
It all started back in October when we went head-to-head with Bendigo Spirit in Rounds 1 and 2. In Round 1 we made the journey up to Bendigo where we came away with a 15 point victory, before getting to play in front of our fans at our home opener in Round 2. A four point win here saw us head to our Round 3 regional home game in Geelong sitting 2-0. 
Lining up against the reigning premiers, UC Capitals, this was a highly anticipated match in Boomer land. We came out ready to play, producing a result not many people could have seen coming. In a 35 point defeat over the Caps, we were seemingly unstoppable throughout the game, shooting an astonishing 73% from two-point land to end the game in triple digits, 107-72. High on confidence, we headed straight from Geelong up to Townsville to continue our double-header weekend on Sunday. Keeping with our winning streak, a slightly closer game left us coming away with another victory and sealed us a 4-0 start to the season. This game also marked the 250th WNBL game for two of our own, Cayla George and Toni Farnworth.
Coming into Round 4, there was only one other undefeated team in the league – the Southside Flyers, and as fate would have it, we were set to play them in our Cup Eve match. In front of a season-high crowd (2346 people), we went down by seven points and recorded our first loss of the season. We faced our second loss in Round 5, where we matched up against the Caps again, this time losing by a devastating three points. 
Sitting on four wins and two losses it was time for the international league break, where six of our players, as well as Head Coach Guy Molloy, headed overseas to compete in the FIBA Pre-Olympic Qualifiers. 
A few days after our Opals and Tall Ferns returned, we hit the road for double-header of away games in Round 6. First up we faced Adelaide Lightning, a team we hadn't yet met this season. Despite a slow start, some impressive defense and a quick surge of points in the final term gave us a 14 point advantage at the final siren. A short turnaround and we found ourselves in Bendigo, where we were to play our third and final game of the home and away season against the Spirit. In a similar story to our Adelaide match, it was our fourth quarter that go us over the line in Bendigo, Coach Molloy praising our defense, but stating our offence, "…left something to be desired."
Coming into Round 7, we were ready to prove that we could play as well at home as we have been on the road. Facing off against Sydney Uni Flames for the first time, we managed to take away a 13 point victory, a win which sees us sitting in second place on the WNBL ladder with seven wins and two losses. 
Having been named in the WNBL Team of the Season (so far), as well as WNBL Player of the Week in Round 6, Lindsay Allen has shown little signs that she had knee surgery in the WNBL off-season. Allen is currently averaging 17.6 points and 5.4 assists per game. Co-Captain Cayla George was also named in the Team of the Season (so far), averaging just shy of a double-double with 13.8 points and 9.8 rebounds per game, to go along with 4.1 assists.
This weekend is a huge one for us, our Round 8 double-header beginning with an away game against top-of-the-table Southside Flyers, before we head back to our home court on Sunday afternoon to take on the Perth Lynx.
We have five home games remaining this season and we need your support more than ever! It's time to #GetOnBoard and join our family. SIgn up for a 4-game adult membership and you will receive a 4-game junior membership for FREE! Take a look here. 
Our game vs Perth Lynx is at 5pm this Sunday at the LED Media Showcourt, State Basketball Centre. Get your tickets here.