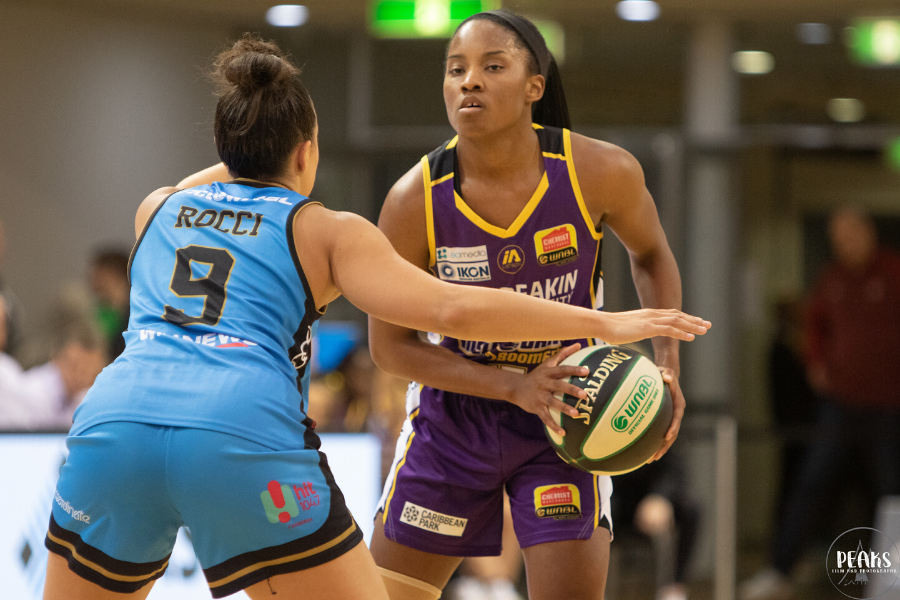 January 24, 2020 | Melbourne Boomers news
Burdened with a niggling knee injury, Deakin Melbourne Boomers star guard Lindsay Allen has been forced to watch her team navigate the decisive games before the WNBL Finals without her.
Confined to the sidelines, Allen's frustration is palpable, but she knows it's the right move as business end of the season approaches.
"It's definitely tough, it's never fun having to sit out, especially because of injuries," she said.
"We just wanted to give it as much time as possible to settle down, because there's no need to push it right now, we're already in the Finals, it's about our position in the ladder at this point – having the time to let it rest is crucial."
Allen has played a crucial role to the Boomers' success. She has the highest average points of all her teammates (15.3) and the highest average assists (4.9).
But the mercurial 24-year-old feels confident a return to the court isn't far away.
"Not this weekend against Townsville but possibly the last game against Perth. We'll see how things go next week."
It's been a rollercoaster few weeks for the Boomers, who suffered narrow defeats in overtime to their closest rivals the Southside Flyers and UC Capitals, before picking up a much-needed win against Sydney in their last outing.
That leaves the Boomers needing to win their final two games and hope that the Capitals slip up in one of their remaining fixtures; should both sides finish with the same win-loss record, the Capitals will secure home advantage for the Finals due to winning the three-game series between the two sides during the season.
For Allen, the Boomers performed admirably in both defeats, but lacked a killer instinct when it mattered in the final moments.
"I think our team has learnt a lot from those two losses, how we need to finish games and have more composure down the stretch" said Allen.
"Those final seconds of the game is when the nerves can kick in, it's a tough environment and it's a crucial moment to us" she said.
"It's about talking to each other, reassuring each other out there on the court to help us with our composure" said Allen.
"We've definitely learnt a lot from these losses and will do better from there for the Finals."
The Boomers make the trip north to take on Townsville Fire this Saturday. They play their final match before Finals the following week against Perth Lynx at the State Basketball Centre, tickets can be purchased here.