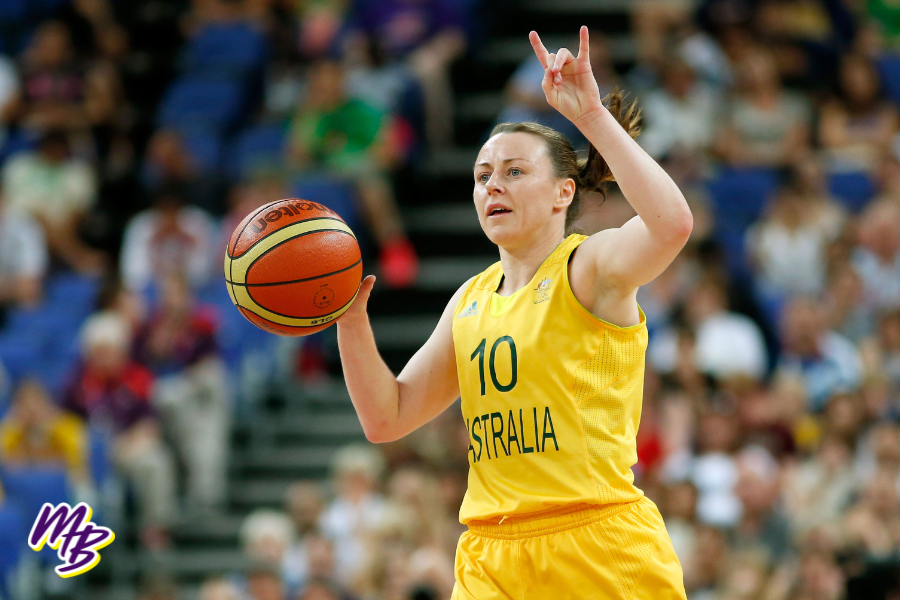 July 30, 2022 | Melbourne Boomers news
By Hayley Wildes
The Deakin Melbourne Boomers continue to build towards WNBL season 2022/23 and have added one of Australia's greatest ever point guards to their coaching staff. The Boomers are thrilled to announce Opals legend Kristi Harrower has joined Chris Lucas' coaching panel as an assistant coach for the upcoming season.
Harrower enjoyed an incredible playing career across the WNBL, WNBA and most notably, four Olympic campaigns resulting in three Silver medals and a Bronze, and an unforgettable World Cup Gold medal in 2006 with the Opals.
Her WNBL career spans 329 games as a player across 18 seasons, winning two WNBL Championships with Bendigo and WNBL MVP honours in 2009/10. This all added to seven seasons in the WNBA.
"It's exciting for me just to be back involved with basketball again," Harrower said. "I've been out of it for a while – and that was for personal reasons with having my own business and my kids – but to get back involved, and with the Melbourne Boomers is very exciting."
Harrower retired from playing in early 2015 and has since had stints with Diamond Valley and the Melbourne Tigers in a coaching capacity.
"I retired with Bendigo in 2015 because I had my first son Cooper and then I did a bit of coaching in the NBL1 with Diamond Valley and the Melbourne Tigers," she said. "We only got halfway through the season with the Melbourne Tigers and then COVID hit in 2020 and I just felt that I needed to be more at home for my kids who are five and seven."
Joining Chris Lucas' coaching staff, Harrower can't wait to work with and learn from the most experienced coach in the WNBL. Having battled against each other for many years in the WNBL, the two will now look to lead the Boomers to back-to-back titles.
"I've known Chris for a long time," she said. "We've played Grand Finals against each other – Bendigo won two (in 2013 and 2014) and we lost the third one against Townsville (in 2015) when he was with them. I think Chris is probably the most experienced coach in the league at the moment. I played under my Dad, Bernie Harrower, for such a long time that I thought it was time to learn from someone else and Chris will be such a great person to learn from because of his experience."
"Every coach has a different way of coaching, but we talk a lot and we're on the same page of what we expect from our team and what we'll try to emphasise as coaches, so that's a really good start for both of us."
After being seen as a coach on the court during her playing days as a point guard, Harrower is looking to build on those skills from the sidelines and doing that at the Boomers, alongside Lucas, is an opportunity she can't wait for.
"A lot of people always suggested I'd be a great coach but it's so different – it was difficult because being that leader that I was as a point guard, I could always go out on court and make the decisions, but as a coach you can't do that, you've got to let the players do it," she said.
"It's just so different and I didn't want to jump into head coaching straight away, I wanted to be an assistant, do my time that way to learn and understand the way coaches think on the sidelines, not as a player. Learning from Chris is going to be great."
Since Harrower's retirement from the WNBL in 2015, she's seen the league evolve and could've only dreamt of having the facilities that the Boomers have access to now when she was playing.
"The league has changed a lot, there's a lot more athletes now compared to my time – I mean we had athletes, but I think they're longer, leaner and more professional now. We didn't have that and that's the stuff I dreamt of," she said.
"I look at Melbourne's facilities and I think that's what I needed as a player, so it's a step in the right direction as we seek to fully professionalise the league. It's really exciting that I will get to be part of this professional development.
"I just want to give back so much of my experience, and I felt towards the end of my playing career I was a real teacher of the game. Especially help players improve their basketball IQ – understanding why you do things in certain situations and why I would look at an offensive play for that person at that time; that's the stuff I love."
Having represented Australia on the world stage and helped lead the Opals to incredible results, Harrower has much knowledge to share. Whilst she spoke about her eagerness to work with the entire roster, she mentioned Boomer guards and Opal squad members Tess Madgen and Kristy Wallace as two athletes she's particularly looking to share her wealth of point guard knowledge with.
"I think Kristy is one of the up-and-coming point guards, even though she is 26," she said. "I didn't make my first Olympics until I was 25, and she's having a great season in the WNBA. She's got so much potential because she's an athlete and plays hard every possession. It's just little things that I want to teach her; things like understanding tempo, understanding what play to run for what person and at what time – that's what a good point guard is.
"Tess has a good IQ and I played with her early days in Bendigo when she first came out of the Institute [Australian Institute of Sport] and she's obviously developed a lot since then and matured. To work with those two, I'm really excited for that."
Harrower was a relentless competitor every time she stepped on the floor and despite often being undersized, her determination and commitment was made her a truly special player. As a coach, she asks her athletes to give their all and commit to the cause.
"Because I was somebody who always had to work hard to get where I wanted to go the one thing that does frustrate me is work ethic," she said. "Even when I played, if people weren't pulling their weight or were lazy, I'd let them know. That's the stuff I'll do as a coach too."
Harrower will join the Boomers when pre-season commences in October with the season commencing on November 3 when the Boomers are Back to BOOM for the WNBL 22/23 season.