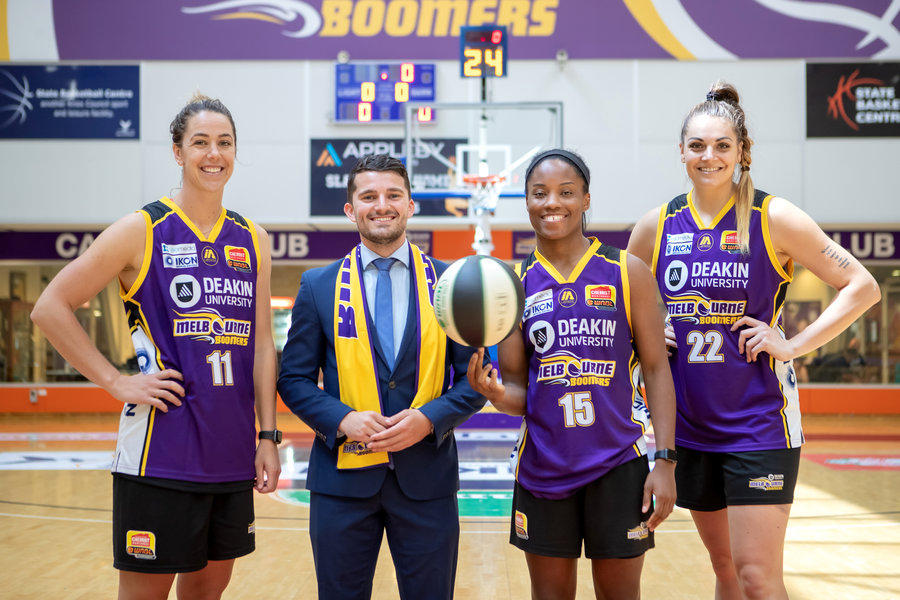 January 29, 2019 | Melbourne Boomers news
A newly announced Deakin Melbourne Boomers partnership with the Knox City Council is set to inspire a new generation of hoop dreams.
The partnership, worth $160,000 annually over five years, will deliver unprecedented access to elite female sport, while supporting a host of Council community engagement activities and initiatives across Knox.
Boomers players will form a key part of the initiative, with their direct involvement with the Council's community activities and events inspiring budding athletes of the future.
"Knox City Council is absolutely thrilled to unveil this fantastic and innovative partnership with leading WNBL Club, the Deakin Melbourne Boomers," said Knox Mayor, Cr Jake Keogh.
Boomers captain Jenna O'Hea highlights the importance of giving young children access to positive role models.
"As elite level athletes we genuinely understand the need for strong, positive and active role models within the community, especially for boys and girls. We all had role models we looked up to when we were younger," said O'Hea.
The Boomers are determined to further foster the growth and development of female participation in sport at a grass roots, regional and elite level.
"The partnership between the Boomers and Knox City Council really highlights the importance of grassroots and elite levels of sport coming together," said O'Hea.
Boomers Chairman, Tony Hallam, said the partnership demonstrates the Club's and the Council's shared commitment to supporting women's sporting achievements.
"As a Club, we are passionate about empowering women in sport to achieve their goals. Knox City Council has demonstrated the same – and are putting money towards making it happen," added Hallam.
News of the partnership follows the State Government's announcement last year of $82 million funding towards expansions and upgrades, including a new show court and upgraded facilities for the Boomers.