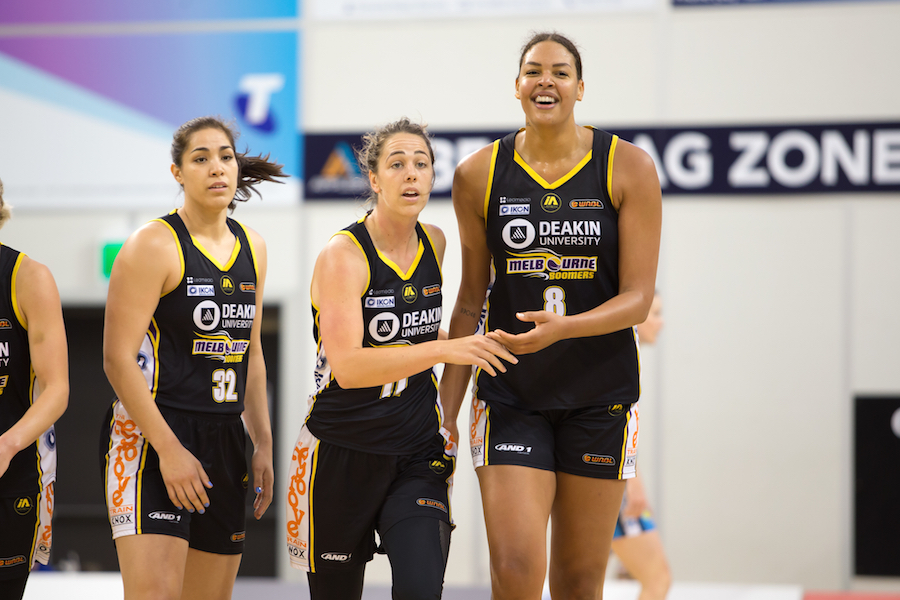 December 2, 2017 | Melbourne Boomers news
The Deakin Melbourne Boomers have bounced back from consecutive losses to put up a dominant display against the UC Capitals, 92-72. The win pushes the Boomers back into the WNBL's top four as the battle for the playoffs heats up.
Despite the wild Melbourne weather, plenty of Boomers fans made their way to the State Basketball Centre. The Boomers handed the UC Capitals their twelfth consecutive loss in front of over 2,113 fans at Dads and Daughters night.
Liz Cambage and Jenna O'Hea led from the front, putting forward a confident performance off the back of their naming in the Commonwealth Games Opals training squad the previous day. Cambage finished with an incredible 38 points and 13 rebounds at a thunderous shooting clip of 89 per cent.
The Boomers got off to a roaring start, putting up the first 13 points before the Capitals could find their way onto the scoreboard. Melbourne kept the Capitals to a mere six points in the first term and won the rebounding battle 18-5.
By the half the home team had raced to a 51-20 lead.
The Capitals came out from the long break revved up and delivered a 28-13 quarter. However, the Boomers continued to push forward, with Kalani Purcell, Garrick and dynamic young guard Monique Conti dropping shots from all over the court to keep the Boomers well in front, 64-48 at the final break.
With her parents in the crowd after jetting in from New Zealand, Purcell continued to bolster the Boomers defensive efforts with her continued strong work on the glass. Ash Grant also had her parents fly over from Perth for the game, helping to generate plenty of excitement for the Boomers on the family-fcused night.
Dominating at both ends of the floor, Cambage brought the Boomers home strong, making nine consecutive buckets to finish off the Capitals, 92-72.
The win also marked forward Louella Tomlinson's 100th WNBL game.
"It's really exciting, and it's good that I can be part of such a great team and [I'm] really enjoying the group of girls and the exciting things we can do this season, and hopefully that run keeps happening." Louella said.
The Deakin Melbourne Boomers now turn their focus towards next Thursday night (December 7), when they face the Bendigo Spirit at the State Basketball Centre. The game is sponsored by Basketball Victoria and any juniors wearing their own club colours will receive free entry.
RESULT
Deakin Melbourne Boomers (Cambage 38, O'Hea 13, Garrick 13) def UC Capitals (Hurst 21, Bass 10, Hooper 9, Froling 9)