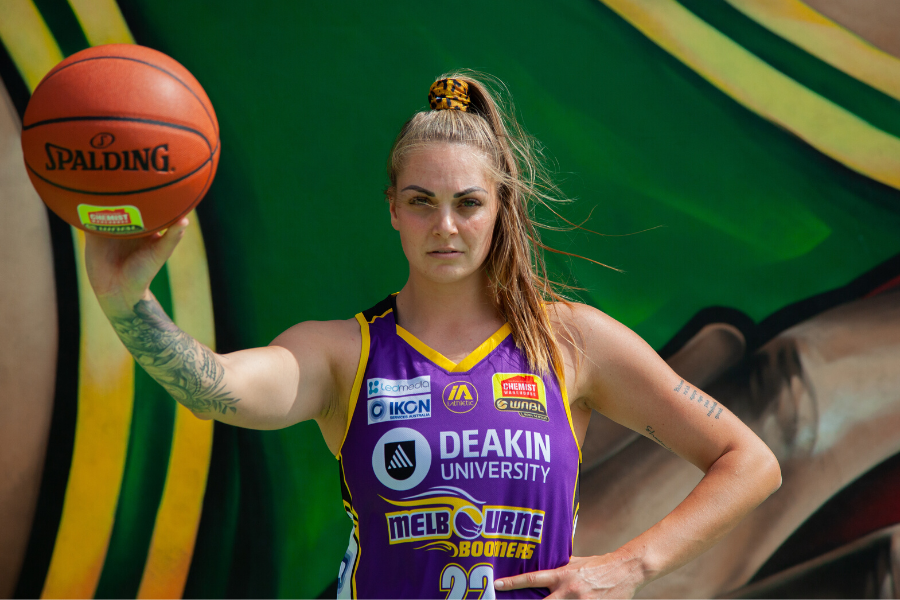 January 10, 2020 | Melbourne Boomers news
The Deakin Melbourne Boomers face a huge WNBL double header this weekend in what is likely to decide whether they finish in the top two for the Finals series.
The Boomers are going strong having won three on the bounce, but make a daunting trip to fourth-placed Adelaide on Friday night, arguably the league's in-form team having recorded four straight wins, before a short turnaround to host the table-topping Southside Flyers in a crunch Melbourne derby clash on Sunday.
Two wins will put the Boomers in the driving seat to land home court advantage for the Finals, and Boomers co-captain Cayla George is fully aware of the challenge that awaits her side, but stresses the season won't be decided this weekend.
"Adelaide are in great form, they've won four in a row, so we'll have to be smart this weekend," said George.
"Guy's (Molloy) managed us really well and we're feeling crisp coming into this weekend.
"But it won't be the be-all and end-all; there are still four more rounds after that and then the Finals, there won't be panic stations whatever the result." 
The match up with local rivals the Flyers on Sunday could be the final Melbourne derby of the season and having lost their two previous outings to the Flyers, George admits there is added motivation this Sunday, urging Boomers fans to turn out in force.
"I definitely think we've progressed since we last played them, they've probably made adjustments too, but right now we're just focussing on us and we'll come out all guns blazing," she added.
The Boomers will be raising money for the Gippsland Emergency Relief Fund at the State Basketball Centre on Sunday, an area devastated by the bushfires and a home away from Melbourne for the Boomers who toured there in pre-season.
George feels a sense of national pride witnessing Australians pull together in the face of adversity and hopes the club can rally to raise a healthy amount for the people of Gippsland.
George and co-captain Maddie Garrick are auctioning a double date as part of the fund-raising efforts.
"We've been blessed with this platform that is basketball, so it's only right that we join in the effort with sports people from around the world to do our bit and I would hope that people come down to the game.
"There will be lots of great things up for auction, a double-date with Maddie and I, a whole range of stuff from the playing group which is really exciting.
"We're hoping to raise money as much money as we can, it's been absolutely devastating what's been happening in our country, but it's all about sticking together and dealing with adversity as a country.
"It's been really great to see everyone coming together as Australians the past few weeks, it makes me proud to be an Aussie."
Tip-off at the State Basketball Centre on Sunday is at 5pm, tickets can be purchased here
Activities to raise funds at the State Basketball Centre on Sunday include:
1.           Promotions on big screen to donate
2.           Collection tins outside the SBC
3.           Silent auction items provided by Boomers players:
Dinner at Rococos in St Kilda with Cayla George and Maddie Garrick
Cayla George playing shoes – designed by Penina Davidson
Signed Maddie Garrick Boomers playing jersey
Signed Maddie Garrick 3×3 Australian team jersey
Signed Cayla George Opals jersey
Signed Maddie Garrick playing shoes
Signed New Zealand Tall Ferns gear
Monique Conti & Sydney Stack signed Richmond jersey
Signed Ezi Magbegor Opals jersey
4.           The Boomers organisation will make donations for big plays throughout the game:
$100 per 3-point shot made
$100 per block
$100 per steal
Further to this the Boomers will be providing 100 free tickets to those in the Gippsland region to attend the game on Sunday, or our next home game on Saturday 1 February.
Tickets to Sunday's game are available here.