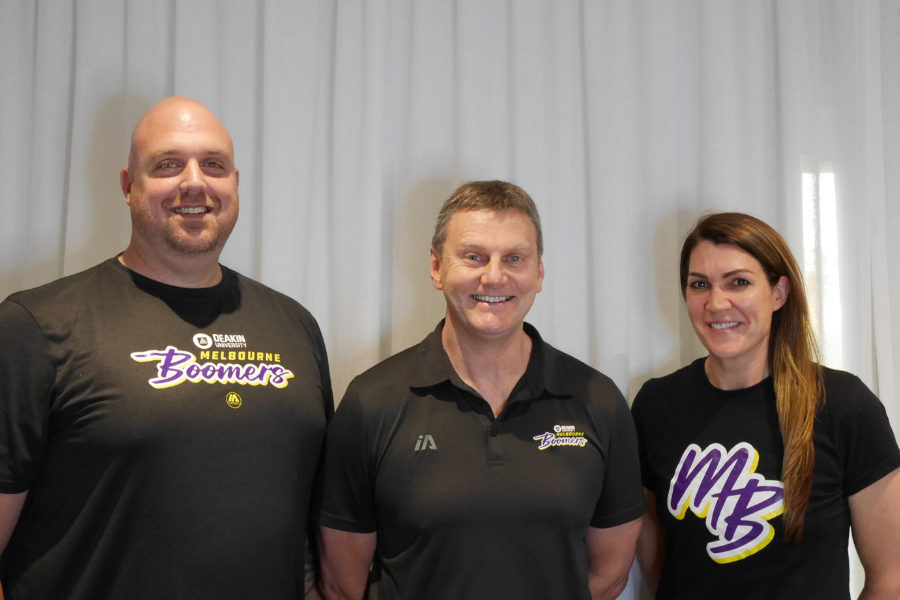 October 22, 2021 | Melbourne Boomers news
By Annie McKee
The Deakin Melbourne Boomers are delighted to officially announce their coaching staff for the 2021/22 WNBL Season.
Returning for yet another season together, Head Coach Guy Molloy and Assistant Coaches, Larissa Anderson and Paul Flynn, are looking to lead the Boomers to success this season.
Entering his ninth season with the Boomers, Molloy is still approaching the upcoming season with anticipation.
"So much can go wrong in the COVID-world, so how we navigate the uncertainties will be important, [but] we have a very strong playing team that will represent the Boomers with distinction," says Molloy.
"Our internal standards are very high, and we have become a high-performance leader in the WNBL with the relocation to Parkville."
"We are a very stable coaching staff. Flynnie will have been at Boomers for five years and Riss is entering her third year."
"Both coaches understand the fabric of the club and bring a wealth of knowledge and experience to the table."
Assistant Coach, Flynn, has been with the Boomers since 2017 and is also NBL1 Nunawading Basketball's women's Head Coach.
Like everybody else, Flynn is keen to start hitting the courts with the playing group.
"Guy and the front office team have done a great job in player retention, with large contingent of Boomers from the WNBL hub-season set to return."
"We welcome Lindsay back into the fold plus a number of exciting new faces; that's a great foundation to build on."
Anderson, who was recently appointed Dandenong Basketball Association's General Manager, is returning for her third season with the Boomers and is looking forward to getting the group back together and hopefully playing a home and away season in front of full crowds.
"After what has been a really challenging 18 months, particularly for Victorians, everyone is really excited to get back together and play in front of their family, friends and our amazing Boomer fans"
"I have such wonderful history with this club and it is great to return for another season. My role will be a little more challenging this season juggling with a full-time job, but I am looking forward to it," says Anderson.
Both Flynn and Anderson make a point to add they are excited to capitalise on the great player culture that exists between the core group of returning players – the new players to the group will only serve to strengthen this.
Australian Opals and Olympians, Cayla George, Tess Madgen and Ezi Magbegor (also Seattle Storm in the WNBA), New Zealand Tall Fern, Penina Davidson, as well as Rachel Brewster and Izzy Wright, bring an existing team chemistry that makes up the 'Boomers' brand' of basketball.
Not to mention, the exciting additions of returning import, Lindsay Allen, and fresh recruit Tiffany Mitchell – both joining the Boomers from the WNBA's Indiana Fever.
"We have a great mix of returning players and some new faces. It will be fantastic to have LA back and Tiffany is a fabulous addition. This really is a wonderful group of athletes that will leave it all out on the floor, it is going to be a really exciting season!" says Anderson.
"We often talk about our 'Boomers' brand' of basketball; we have great talent and character, and the Melbourne sporting public can really embrace this team as their very own," adds Flynn.
"Knowing this team and the characters within, there will be a strong desire to win."
Flynn is especially thrilled to be playing at home for the 'Boomers family'.
"It's no secret that the Boomers have the best fans in the WNBL and whilst we felt the love from afar, we really did miss having them courtside – so to be back playing in Melbourne is incredibly exciting."
Deakin Melbourne Boomers Coaching Staff:
Head Coach: Guy Molloy
Assistant Coach: Paul Flynn
Assistant Coach: Larissa Anderson