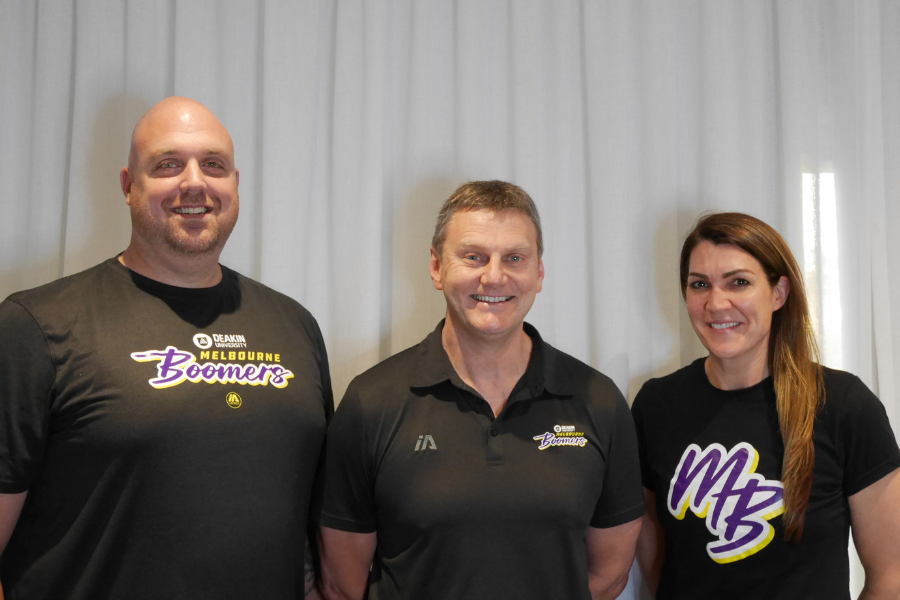 November 8, 2020 | Melbourne Boomers news
The Deakin Melbourne Boomers are delighted to officially announce their coaching staff for the 2020 WNBL Chemist Warehouse Season.
Returning for another season together, Head Coach Guy Molloy and Assistant Coaches, Larissa Anderson and Paul Flynn, are looking to lead the Boomers to a Championship in this Hub season.
Despite entering his eighth season with the Boomers, Molloy is excited for the season ahead.
When speaking about his goals for the team, Molloy's holistic approach shines through – focussing on the factors that can bring about the most change and ensure challenges can be overcome with the best results possible.
"First of all, we always set out to do 'what we do' well and don't focus too much on the other team.
"Secondly, we work on the true strength of our culture and how we handle highs and lows. And finally, we want to really enjoy the experience together," says Molloy.
Assistant Coach, Flynn, has been with the Boomers since 2017 and is also NBL1 Nunawading Basketball's women's Head Coach.
"This is my fourth season working with the Deakin Melbourne Boomers and Head Coach Guy Molloy.
"I've learnt a lot from Guy and am fortunate that I can then apply some of the concepts we discuss to my own coaching with Nunawading in the WNBL offseason. I'm excited to keep developing in my role, supporting Guy and having a positive contribution to our team at Melbourne."
Anderson is returning for her second season for the Boomers and is looking forward to the opportunity to further build on her experience with the club.
"I am really enjoying working with Guy, Flynnie, the staff and the girls. Being my second season and a little more familiar, hopefully I can offer even more support to everyone.
"Stepping back into the league as an Assistant coach is allowing me to invest a lot more time into my personal development and to get back to loving the game and enjoying coaching again."
Earlier this year, Anderson was selected as one of five coaches for Basketball Australia's the inaugural Elite Female Coach Advancement Program (EFCAP).
Both Flynn and Anderson agree that maintaining the core playing group is one of the club's greatest strengths.
"We have been able to retain the nucleus of our roster from last season, I think that detail alone can sometimes be understated when putting together a team for success," says Flynn.
"The [culture is] very player driven, so it was important that we fostered an environment where that could be built on rather than have to start from scratch.
"The club has done a tremendous job of facilitating this and it puts us in a great position heading into pre-season development."
"It speaks highly of the chemistry and culture that exists. I am really looking forward to getting the whole group back together," Anderson adds.
After such a challenging year, all coaches are thrilled to have the group back on court together, despite missing imports, Lindsay Allen and Sophie Cunningham.
"Teams are going get creative in trying to generate extra point production from our local contingent. I'm excited by the developmental opportunities this has for all of our players," says Flynn.
Anderson agrees, adding, "I am really looking forward to seeing players be given the extra opportunity to step up and carry more responsibility. I have no doubt we will see more young stars put their hand up and the veterans of the league stamp their authority."
"I have no doubt the whole group will be very hungry to make finals again, we have unfinished business."
Deakin Melbourne Boomers Coaching Staff:
Head Coach: Guy Molloy
Assistant Coach: Paul Flynn
Assistant Coach: Larissa Anderson