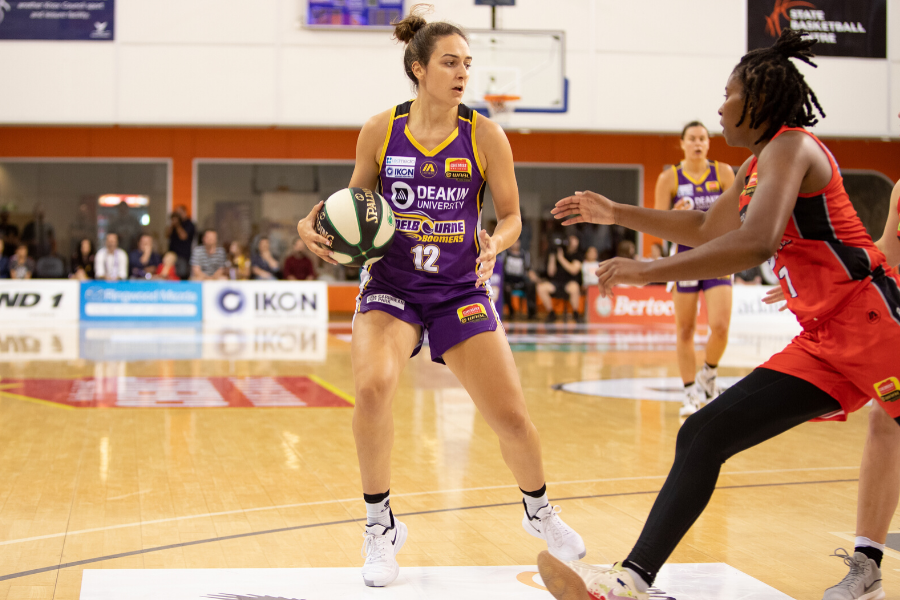 February 1, 2020 | Melbourne Boomers news
In their final home game of the regular season, the Deakin Melbourne Boomers have defeated the Perth Lynx in a 29-point thrashing, 104-75 in-front of a roaring crowd at the State Basketball Centre. 
The Boomers were simply unstoppable, hitting triple digits for the second time this season. Co-captain Cayla George had a massive night, finishing up one assist off a triple-double (25 points, 12 rebounds, 9 assists) while Ezi Magbegor also followed up on her star performances of the past month with a double-double (15 points, 12 rebounds)
Kalani Purcell had an exceptional outing, making two from three beyond the arc and finishing up with her highest score this season, 17 points (six rebounds, three assists). Maddie Garrick also had a good night on the scoreboard, with 17 points, one rebound and three assists.
With the lead extending coach Guy Molloy had the opportunity to get his entire roster on the floor tonight, including Lindsay Allen who had rested the past four games, and young star Chelsea D'Angelo who made a beautiful shot from beyond the perimeter that had the entire bench on their feet cheering. 
Despite a tough loss for the away side who couldn't shut down the Boomers, Perth's star import Ariel Atkins put on a strong performance, making 24 points, eight rebounds and three steals as well as Marena Whittle who finished up with 17 points and eight rebounds.
The Boomers, who led the entire match, played to their height and strengths ending the match with 49 rebounds over the Lynx's 31. Which was commended by Molloy post game.
"We rebounded very, very well and I was really pleased that the girls took that on."
Molloy was impressed with the game, and gave credit to Stella Beck who has in the past few rounds stepped up in the absence of Lindsay Allen.
"Great way to end the regular season, we wanted to work hard in our defence in the first quarter which we did."
"Stella Beck, has done an amazing job in Lindsay's absence, I think Stella probably feels great individually that she's been able to step up so much and I know that the team has a lot of confidence in her."
Sophie Cunningham (10 points, two rebounds) was also excited about the victory and says the team is looking to the Finals,
"It's really good, I don't think that our culture could be any better at this point in the season. When you come out and score 100 points at this point in the season and you get to have your whole bench play, that says a lot."
"We're anxious to get going"
Deakin Melbourne Boomers – 104 (George 25, Purcell 17, Garrick 17)
Perth Lynx – 75 (Atkins 24, Whittle 17, Katie Ezbery 15)