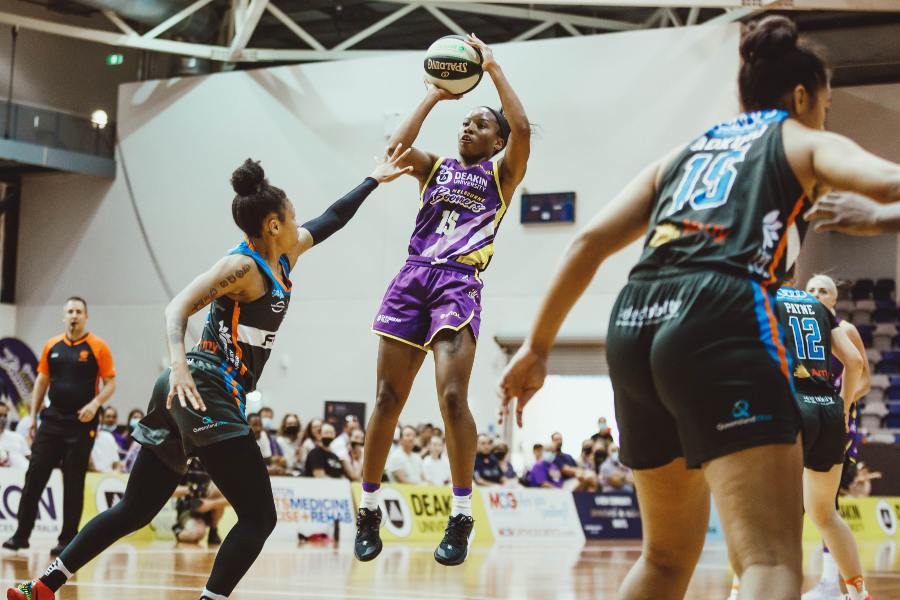 January 22, 2022 | Melbourne Boomers news
SATURDAY 22 JANUARY 2022
The Deakin Melbourne Boomers have ended their two-game winning streak with a loss against Townsville Fire at the Boom Box.
Despite Cayla George and Ezi Magbegor's efforts to light up the team with a shared 38 points, the Townsville's heat in the final term was too much for Melbourne to handle.
Melbourne was able to create strong movement in offence and provided opportunities inside for their talls.
George started the night off with the first five points for Melbourne and continued her shooting accuracy with three shots from the arc. Magbegor was able to use her athleticism inside the key, at one point with a rebound shot off the board.
Townsville was unable to keep up with Melbourne's offensive transition and shooting efficiency, missing multiple opportunities in their offence. The Boomers had a hot start and ended the first term with a 16-point spread.
Melbourne continued their momentum into the second term, although Townsville was also able to stand their ground and convert on their opportunities.
Lindsay Allen lit it up for her teammates as she provided multiple looks, ending the second term with five assists.
As each team answered each other, Townville's Courtney Woods bagged a three-point shot with 1:04 minutes remaining of the term, closing followed by Sug Sutton's steal, of which she capitalised on with a step back jump shot.
A lead that had been 20-points on multiple occasions throughout the term, had been reduced to 15 at half time for the Boomers. Townsville's hint at clawing back some momentum took the score to 50 – 35 at the main break.
Townsville had fire in their bellies in the third term, although Melbourne was able to maintain their lead as Mitchell and George continued to hit from outside the arc. Boomers led by seven at the end of the third term, 62 – 55.
Four minutes into the final term, Townsville were able to continue their momentum and get back into the game to with a 4-point difference.
Melbourne showed glimmers of hope that they could hold onto the hard work done in their stellar first term. At one stage Mitchell and Magbegor linked up with a turnover and fast break into the offence, but Melbourne also missed multiple opportunities including three attempts in one offensive transition.
Lauren Nicholson lit it up for Townsville and was able to obtain the lead for her team. Melbourne continued to misfire and were unable to regain the lead, losing to Townsville in eerily similar moments to last season's three-point preliminary final loss. Final score, 68 – 66.
George secured another double-double after last Monday's match against Perth Lynx, with 24 points, 14 rebounds and 2 assists. Magbegor walked away with 14 points, 2 rebounds and 1 assist, whilst Allen ended the night with 6 points, 4 rebounds and 7 assists.
Despite the loss, Boomers will be hungry to bounce back with another clash against Townsville Fire at the Townsville Entertainment Centre, on Sunday the 30th of January.