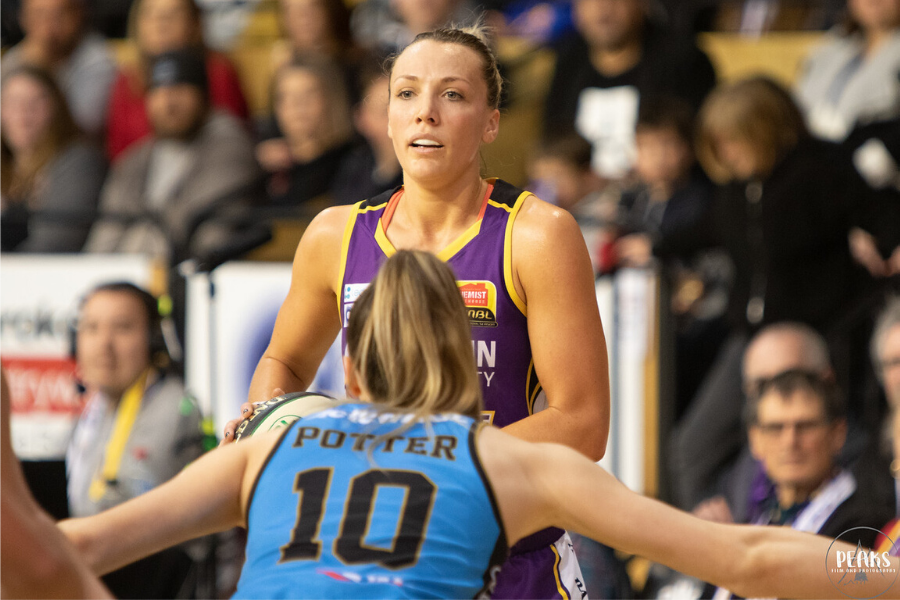 January 18, 2020 | Melbourne Boomers news
In a crucial game heading towards Finals, the Deakin Melbourne Boomers have gone into their second consecutive overtime thriller, this time against the UC Capitals who claimed a nail-biting one point win 76-75.
Despite the agonising loss Sophie Cunningham (23 points) had her best game in the WNBL to date, especially in the five minutes of overtime where she made two layups to keep the Boomers in the game. 
In the absence of Lindsay Allen, it was Stella Beck who stepped up as starting five point guard, and showed she was upto the task. Beck was strong defensively but put on a superb offensive display, making three of four from beyond the arc, and finishing with 17 points (shooting at 77%), six rebounds and three assists. Kalani Purcell also had a great outing for the Boomers, making four points, five rebounds, three assists and four steals. Ezi Magbegor was dominant while on court, but early foul trouble saw her on the bench for long periods, before fouling out in the last quarter.
Again posing a major threat for the Boomers, Kia Nurse was lethal on the scoreboard for the Caps, scoring 10 points by quarter time and finishing on 23 points and seven rebounds. Marianna Tolo was also strong for the home side, and the Boomers couldn't stop her as she made 22 points and nine rebounds.
In a slow first quarter the Boomers trailed to the Caps 20-14, but in the duration of the second quarter they started to find their groove and at 5:47 left on the clock till the half, the Boomers took the lead for the first time. However after a few foul calls and bonus shots for the Caps, the Boomers again trailed at the half 39-34.
However after some tight contests in the third which saw the Boomers take the lead 53-51, it was the fourth quarter that bought it down to the wire. With 2:07 remaining on the clock, it was one point in the Boomers favour, to take out the win. 
With 0:26 remaining the Boomers had a three point lead on the Caps, when an unsportsman-like foul was called on Sophie Cunningham, sending Maddie Rocci to the line. Rocci hit one from two, putting the Caps only 2 points behind with 0:06 left on the clock. 
In that time Kia Nurse managed to sink an open shot from inside pushing the match into overtime. 
In basket for basket play in overtime a three from Maddie Garrick looked to seal a Boomer win however the Caps', Keely Frolling managed an extra basket to seal a one point win.
The Boomers weekend is far from over as they'll take on the Sydney Uni Flames tomorrow evening at 5:00pm at Bryden's Stadium, a win here will be critical to maintain second spot on the ladder. 
Deakin Melbourne Boomers – 75 (Cunningham 23, Beck 17, Ezi Magbegor 13)
UC Capitals – 76 (Nurse 23, Tolo 22, Frolling 12)