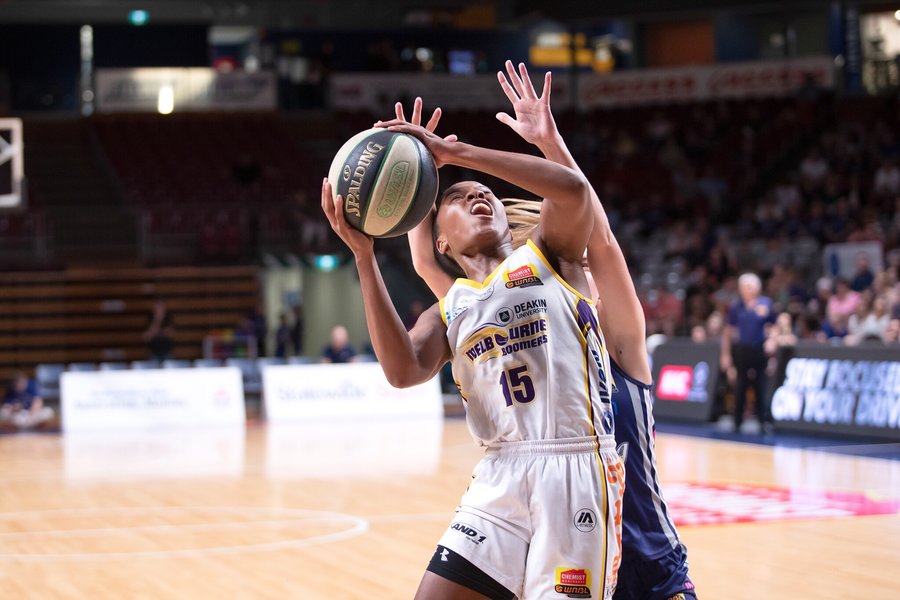 February 1, 2019 | Melbourne Boomers news
The Deakin Melbourne Boomers 2018/19 WNBL season came to an end on Thursday night after being defeated by the Adelaide Lightning in a tough Game 2 of the Semi-final Series, 92-100.
In front of a vocal South Australian crowd, the Boomers put everything on the line to challenge the Lightning throughout all four quarters however the home team proved too strong in the second half.
Adelaide's inside game proved unstoppable for the Boomers, with their hot starts to each quarter causing continuous trouble for the visitors.
American import Lindsay Allen once again led the Boomers finishing with 29pts, along with 6asts and 4rebs.
Cayla George led from the front with 24pts and 9rebs before she fouled out in the fourth quarter.
In what was a tight and entertaining first half, the Boomers managed to outwork their interstate rivals to take a late lead going into the break. After trailing by as much as 12 points, the Boomers took the lead for the first time just before heading into the locker rooms with a 48-47 slender margin.
However, in the third quarter anearly 9-0 run by the Lightning got them out to a quick 10-point lead. With the momentum swinging their way, the Lightning managed to stay on top of the visitors in the second half.
Despite looking a chance late in the last term with Kalani Purcell and Allen working the ball at both ends to close the margin back to 6 points in the final minute, it just wasn't enough. The Lightning had all the answers and their early lead ultimately proved to be too costly for the Boomers.
Boomers coach Guy Molloy said his side were left with too much to do after losing game one in Melbourne.
"It was just difficult to kind of stop the interior scores and the foul trouble was mounting," Molloy said.
"After Cayla [George] we go very, very young with our posts – and when you are playing against two WNBA players the constant threat of interior scores makes things difficult."
Allen was hurting but said her side had made good strides and would bounce back.
"It's really tough but I don't think it takes away from what we did as a team this season," Allen said.
"They were getting really good position inside and they are two great players Kayla and Nia – their guards were making great passes as well.
"We just didn't have an answer."
The WNBL Grand Final Series starts this month over in Canberra when the UC Capitals host Adelaide.