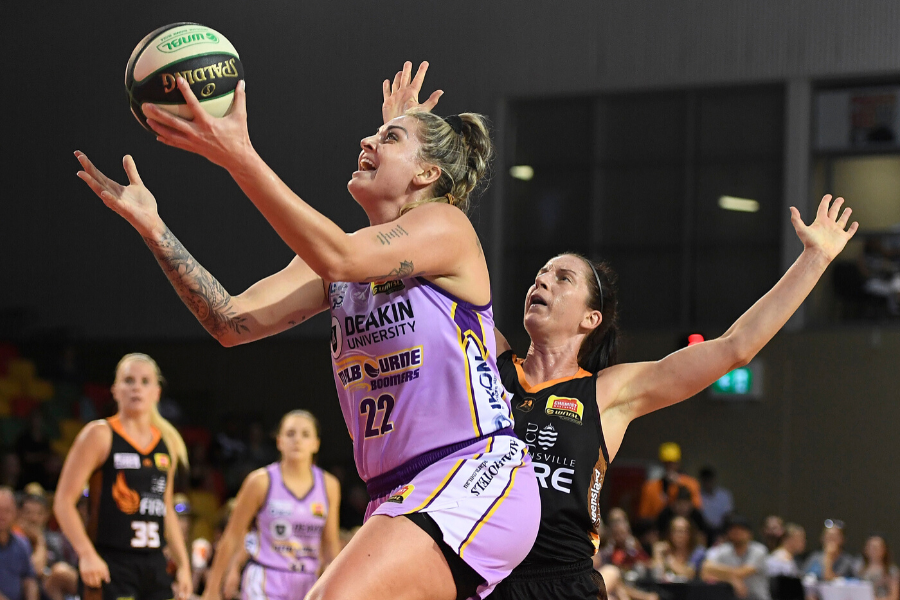 January 25, 2020 | Melbourne Boomers news
WNBL Match Report
The Deakin Melbourne Boomers rolled on towards the WNBL playoffs with a 79-68 victory over the JCU Townsville Fire at Townsville Stadium.
The Boomers were led all night by their twin towers: Ezi Magbergor (21 points, 5 rebounds and 3 blocks) and former Fire championship winner, Cayla George (19 points and 6 rebounds).
It was a very close encounter for the majority of the game but big game experience from the stars on the Boomers team was the difference in the end dousing a spirited Fire performance.
Inside the paint the Boomers dominated, scoring 48 points to just 20 for the Fire. That battle in the paint was too much for Darcee Gabin (13 points and 7 rebounds) and Bridget Carleton (16pts 6rebs 5asts) who battled hard against more fancied opponents and gave the home fans a lot to cheer for.
The twin towers of Ezi Magbegor and Cayla George began their dominance in the second quarter scoring all but 2 points for the Boomers using a potent inside outside game. Magbegor went inside for 11 points and George knocked down a three and another long range shot to keep the Fire close at half time 39-41.
The Fire held their biggest margin at 50-43 towards the end of the 3rd quarter before Cayla George scored the next 6 points and grabbed the momentum from the home team heading into the last quarter.
The Opal duo of Magbegor and George once again stepped up and took over at both ends of the floor, leading the Boomers on a 27 to 8 run, ultimately dampening the spirits of the Fire.
The Fire lost their leading scorer, Tess Madgen, after two minutes to illness but she returned in the second, looking visibly affected throughout the game.
The Fire were literally on fire in the first half knocking down 7/13 from three and shooting 52% overall with import forward Bridget Carleton hitting 3/3 from downtown on her way to 11 half time points. The Boomers made an adjustment at half time to not allow her to get any open looks from beyond the arc and consequently only ended up with 16 for the game.
Boomers import Point Guard Lindsay Allen missed her 4th consecutive game with a minor knee injury but Sophie Cunningham well and truly stepped up in her absence with a stellar all-round performance finishing with 15 points, 6 rebounds and 4 assists.
LOOKING AHEAD
The Melbourne Boomers will return home to the State Basketball Centre Saturday for their last remaining game in season 2019/20 taking on the Perth Lynx. A position in the top 2 for the Boomers will be up for grabs with a huge reward of home court advantage in the first round of the 2019/20 playoffs.
The Townsville Fire will be chasing their final win of the season on Saturday night against the Bendigo Spirit at Townsville Stadium.
WNBL ROUND 15

MELBOURNE BOOMERS 79 (Cayla George 19, Ezi Magbegor 21, Sophie Cunningham 15)
TOWNSVILLE FIRE 68 (Bridget Carleton 16, Darcee Garbin 13, Micaela Cocks 12)