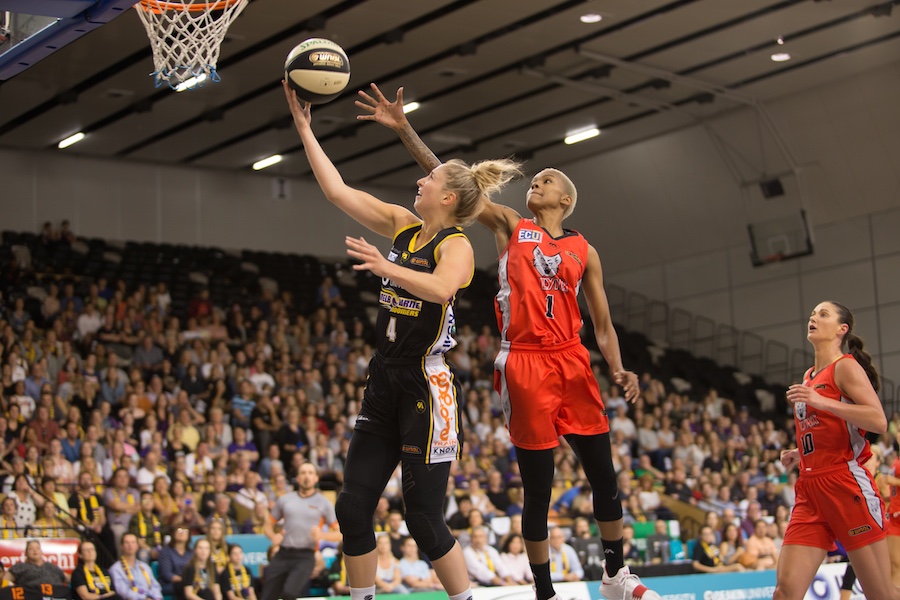 January 3, 2018 | Melbourne Boomers news
The Deakin Melbourne Boomers have made a strong start to their semi-final series, defeating the Perth Lynx, 92-76, in front of another vocal crowd at the State Basketball Centre.
Returning from a knee injury that saw her miss the final two games of the season, Bec Cole produced a top-notch game to see the Boomers take out their first semi-final match of the series. Finishing with 21pts, 3rbs, 3asts and 3stls, the Boomers veteran was supported by an impassioned Boomers side from start to finish.
The Boomers got off to a confident start in front of a packed house, with Liz Cambage, Maddie Garrick and Britt Smart taking the home side into a steady lead through the first term.
Bec Cole took her chance to make a statement off the bench late in the first quarter. A bucket from the outside, shortly followed by a steal converted into a lay-up saw the point guard take the Boomers into the first break up by six.
Maddie Garrick and Britt Smart stole the show in the second quarter. Making four consecutive 3s within 90 seconds, the duo got the energetic crowd up on its feet and pushed the Boomers into a 12-point lead midway through the term.
With a 56-43 lead at the main break the Boomers faithful sensed a win was on 

the

 way.
Smart ball movement and good communication kept the Boomers on an upward trajectory in the third quarter, restricting the Lynx to just 10 points.
It rained down buckets in the final term with Jenna O'Hea (11ast), Smart and Purcell all scoring from the outside to secure Melbourne a 16-point winning margin.
Boomers Coach Guy Molloy said that the win is a good start to the Boomers semi-final series.
"Look I was pleased our defensive plan held together really well. We're not going to get carried away though, it's a series, we understand that, adjustments will get made…So many positives with what we did and good contributions, and the area of concern is we just didn't keep them off the boards."
The series now heads to Perth, where the two teams will hit the court on Friday January 5 at 9:30pm AEDT for their second match of the series. A win in Perth will see the Boomers through to the Grand Final. While a loss on Friday will send the series to a third game, with the tie-breaker scheduled for January 9, again at the Bendat Basketball Centre in Perth.
For Boomers fans in Melbourne, Game 2 will be aired live on Fox Sports at 9:30pm, Melbourne time.