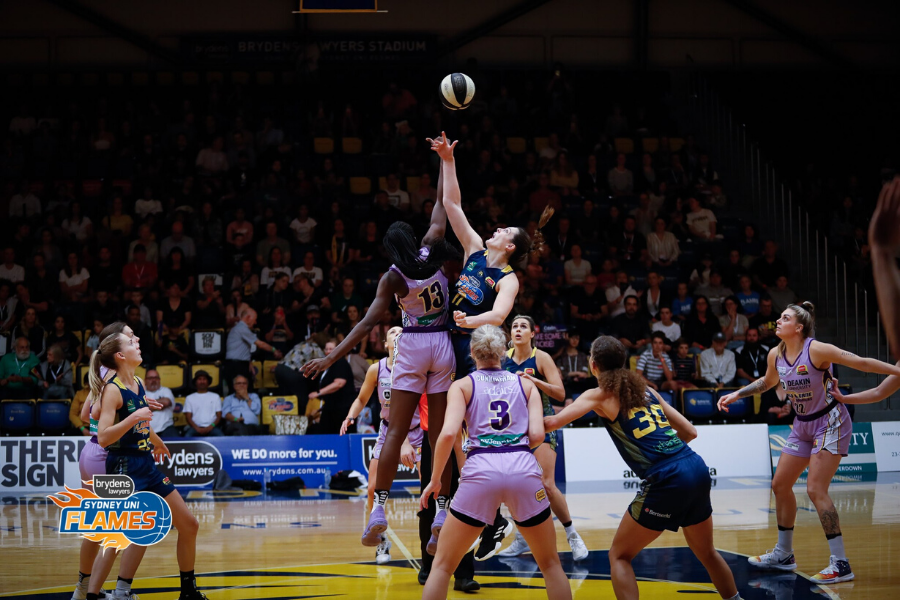 January 19, 2020 | Melbourne Boomers news
SATURDAY 18TH JANUARY
Less than 24-hours after an overtime loss to the UC Caps, the Deakin Melbourne Boomers recorded a 14-point victory over the Sydney Uni Flames. With tired legs and still without star point guard Lindsay Allen, the Boomers managed to hold off the Flames, who got back to within a three point margain early in the fourth term. It was a win much needed for the Melbourne side, who have narrowly lost their last two games.
Boomers young gun Ezi Magbegor once again put on a massive performance, top scoring the game with 25 points, 11 of which were in the final term. Coming off the back of a 24 point, 12 rebound double-double against the Flyers in Round 13, as well as a 14 point game against the Caps on Friday, Magbegor is in her best form of the season. She finished with five rebounds and four assists next to her 25 points last night. There's no doubt that she will play a key role in the Boomers upcoming Finals campaign. 
Co-captains Maddie Garrick and Cayla George both played a crucial role in the Boomers win, with Garrick putting 13 points on the board in the first term, including three shots from beyond the arc at 100% efficiency. Whilst kept scoreless for the remainder of the game, Garrick still had a huge impact, recording seven assists, four rebounds and four steals. George also fed the ball extremely well to her teammates, ending the game with five assists, alongside 14 points, eight rebounds and two steals. 
A big talking point from this weekend's double-header is also the performance of Stella Beck, who started in place of Allen in both games. To follow on from a standout performance on Friday against the Caps, Beck had 10 points and an assist to her name down the offensive end, as well as two rebounds and two blocks down in defence. 
Despite an 18 point game from ex-Boomer Brittany Smart and a double-double from Lauren Scherf (14 points, 11 rebounds), the Flames weren't strong enough to hold off a Boomers side desperate for a win. Melbourne now head back home to recover before another trip on the road in Round 15, this time to face the Townsville Fire. 
Deakin Melbourne Boomers – 76 (Magbegor 25, George 14, Garrick 13)
Sydney Uni Flames – 62 (Smart 18, Scherf 14, Greaves 8)