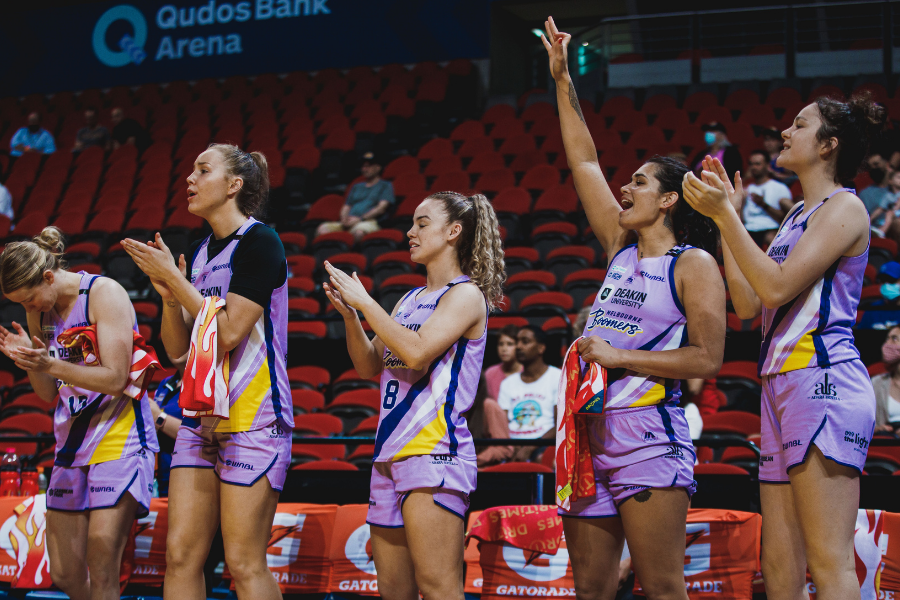 January 14, 2022 | Melbourne Boomers news
Dear Deakin Melbourne Boomers members,
Sport around Australia and across the world has been impacted by the virus, with games postponed and rescheduled in most elite competitions and the WNBL is no exception. As we work through the impacts of the virus, we send our best to everyone working so hard to help the community at this time. Equally, we are managing our home game operations to balance the interests of COVID safety and give you and your family/guests the most comfortable live experience at Parkville. The good news is that we are back in front of our home crowd on Saturday as we take on cross-town rivals and defending WNBL champions, the Southside Flyers:
Deakin Melbourne Boomers vs Southside FlyersSaturday 15th JanuaryMelbourne Sports Centre: Parkville
Brens Drive, Parkville (next to Melbourne Zoo)Tip off at 5pm (doors open at 4pm)
With 4-2 record and sitting near the top of table, it's a crucial match in the context of the season. The game is also the National TV game this week on ABC, Fox Sports and Kayo, so if you cannot make it, be sure to tune in. On Monday we head to Ballarat for a rescheduled away game:
Perth Lynx vs Deakin Melbourne BoomersMonday 17th JanuarySelkirk Stadium
Norman St, WendoureeTip off 6.30pm (doors open at 4pm)
 MEMBER ARRANGEMENTS FOR BOTH GAMES: HOME GAME vs FLYERS ON SATURDAY AT PARKVILLEWe have made some changes to home game operations and seating for this Saturday to balance the interests of Covid safety and give you and your family/guests the most comfortable live experience at Parkville.
ALL MEMBERS ATTENDING THE GAME WILL ENTER THRU GATE A AND PROCEED UPSTAIRS
MEMBERS BE ABLE TO SIT IN ANY SEAT IN THE EASTERN; NORTHERN OR SOUTHERN STANDS
ALL SEATING WILL BE FREE SEATING FOR THIS GAME TO ALLOW PATRONS TO SPREAD OUT
THE WESTERN STAND WILL NOT BE OPEN
IF YOU WANT TO SIT IN YOUR ALLOCATED SEATING PER YOUR MEMBERSHIP, YOU SHOULD ARRIVE EARLY
We appreciate this may mean sitting in different seats from the home opener, but we trust that you understand we are doing our best in current circumstances – as such please be patient and kind to everyone on Saturday as you settle into your seats to watch your team play.AWAY GAME vs PERTH ON MONDAY AT BALLARATTickets for this game can be purchased from today HERE via the Ticketek landing page.  There will be plenty of capacity so don't worry about waiting until the day of the game to purchase if you are concerned about the potential cancellation of the event.
Not a member? 
As a SPECIAL OFFER FOR THIS SATURDAY you will get a 20% discount on ticket prices – use code "BOOMERS20".
Jake KeoghActing General Manager
Thank you for your ongoing support of the Boomers and we look forward to seeing you on Saturday or Monday and if you cannot make it, via the broadcast. Stay safe and well.  Go Boomers!