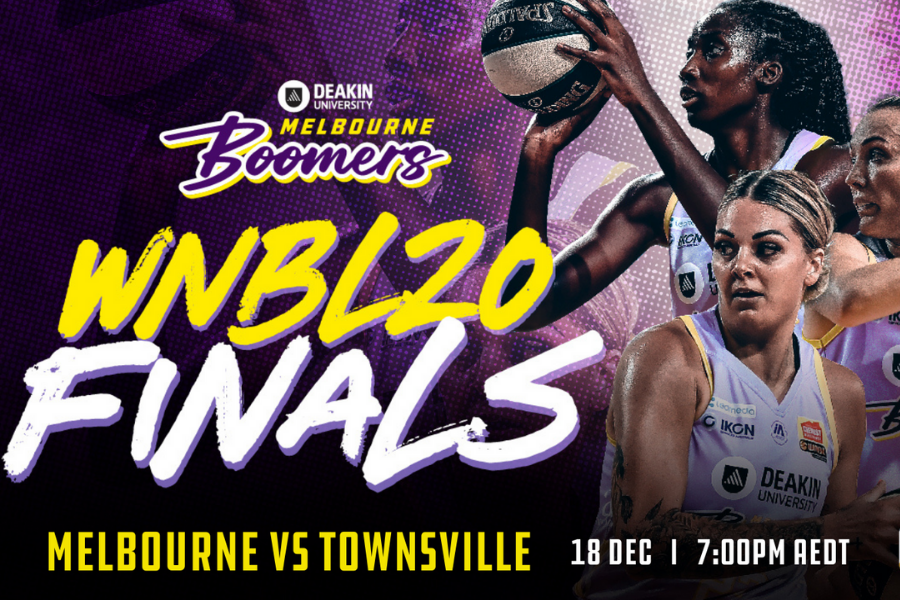 December 18, 2020 | Melbourne Boomers news
Cayla George hopes to quieten the same fans she thrived on winning championships in front of with her Deakin Melbourne Boomers on a mission to reach the 2020 WNBL Chemist Warehouse Grand Final.
George is fully aware of just what the JCU Townsville Fire will have behind them in terms of fan support in Friday night's WNBL preliminary final at Townsville Stadium with the winner to advance to Sunday's Grand Final against the Jayco Southside Flyers.
After all, George had some of the best moments of her career winning championships with the Fire in 2015, 2016 and 2018.
Back in 2018, George was playing for the Fire against the Boomers in the Grand Final series but how times change and now the Chemist Warehouse Opals superstar can't wait for the atmosphere on Friday night either way.
"The majority of the crowd will be wearing orange and will be really loud, and I've been on the other end of that which was really awesome for three championships," George said.
"They are one of the best fan bases in the league and the small town community helps with that and essentially all basketball fans got behind them when the Crocs went down.
"It's been great for women's sport for the Fire to have the exposure and support they do, but when things are normal our Boomers fans are great as well and we did have a good chunk of them at the semi-final.
"We've had some sponsors and families come up now that the border is open. I'm sure we'll have some Boomers fans making some noise. It won't be equivalent to what the Fire gets, but we won't feel like it's a ghost town out there for us either.
"I know it'll be electric and the atmosphere will be very much for them, but I've played in a lot of big games. I'll use my experience to filter through the group and keep us settled so we can hopefully come out with that win."
To eliminate the defending champions and put in such a strong performance on Wednesday gives the Boomers great heart as will their confidence in getting another big showing from frontcourt pair George and Ezi Magbegor.
George can't hide how much she is enjoying playing alongside her Opals teammate. She has no question they bring out the best in each other but their relationship away from the court helps in that chemistry too.
The fact that George takes pride in playing some role in Magbegor's continued development and how much she enjoys having front row seats to the show she puts on all adds to why they are such an imposing and impressive duo.
"Ezi is a phenomenal athlete and hasn't come close to her ceiling yet and she is an even better person. That makes it really fun to be around her, to create a great culture and atmosphere, and she wants to learn and is a sponge," George said.
"I've absolutely loved playing with her the last three seasons with the Boomers and she's honestly such a joy to be around. Then on the court she just knows how to be in all the right places, and we have such great chemistry to know where to go and find each other.
"It's just an easy type of game we play because we read each other really well and respect each other so much that it relays into how we play. We have a lot of fun because of that and we are happy for each other's success, and know that our success leads to team success."
George was part of the Townsville team that broke the hearts of the Boomers in 2018 and now she has been part of their attempts to get back to earn another championship opportunity.
She knows just how much it would mean for everyone involved to win on Friday and advance.
"It would mean a lot for us to reach the Grand Final. It has been a journey and my first year with the Boomers we had such high expectations with four of us being Opals fresh off a silver medal," George said.
"We had a target on our back all year and couldn't produce the goods in the end, falling short to a really good Adelaide. Then last year we fell short to the Caps when were good enough to maybe go all the way but that's what happens with finals basketball.
"This year we have Ezi on the rise, we've added some fierce competitors like Tess Madgen and Izzy Wright has had a great season off the bench, and we've kept our core group.
"The Boomers have been knocking on the door now for four years and it's about the process to build to this point, and it has been a journey.
"Mentally we overcame a few things this year and then beating the Caps showed that we have been able to handle a lot of resilience, and learned things from previous seasons for sure."
Secure your seat to the game and purchase your tickets HERE!
Chris Pike is a freelance contributor to WNBL.basketball 
Broadcast Details
Friday 18 December 2020
6.00pm AEST / 7.00pm AEDT
Live on Fox Sports Australia, Kayo Sports and ABC iview