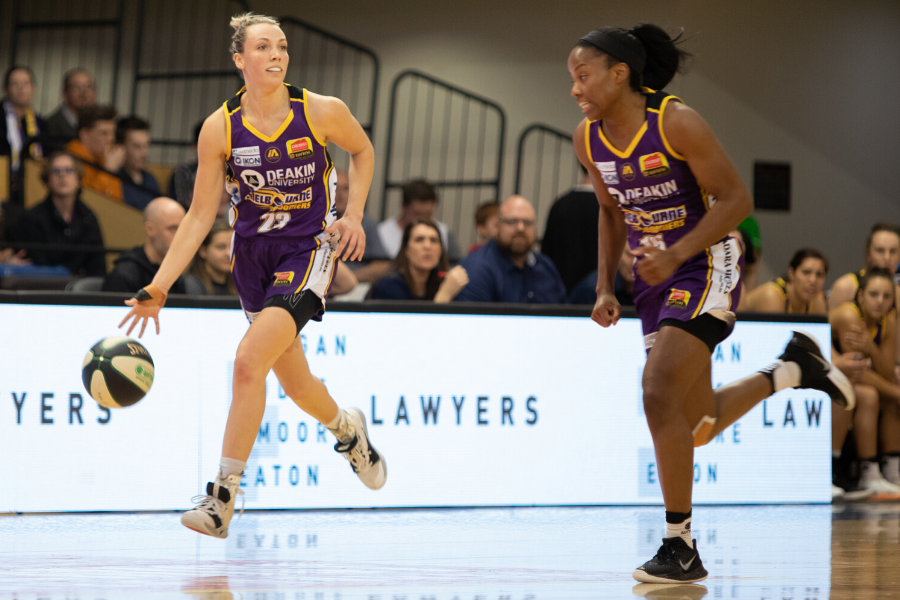 November 30, 2019 | Melbourne Boomers news
 Despite a strong outing from the Sydney Uni Flames, the Deakin Melbourne Boomers racked up their 7th win for the season tonight at the State Basketball Centre, taking the game 94-81.
Boomers co-captain Maddie Garrick may have started off slow in the first quarter, but once she started sinking buckets she became unstoppable. Garrick had a match-high 26 points which included 6-11 from beyond the arc, to go along with three rebounds, four assists and three steals.
Garrick wasn't the only threat on the scoreboard tonight, with three more of the starting five (Sophie Cunningham 14, Ezi Magbegor 20, Lindsay Allen 11) hitting double digits, while Stella Beck, off the bench, had her strongest game for the Boomers to date with 10 points and four rebounds.
It wasn't all smooth sailing for the Boomers though, who started slow, trailing the Flames 12-20 at the first quarter break.
However an explosive 32 point second quarter, which included a quick seven points from Sophie Cunningham within a minute and twenty seconds of play, saw the Boomers take the lead into half time 44-39.
Despite the efforts of Alice Kunek, who had an outstanding night, finishing on a team high 24 points and five rebounds, Sydney just couldn't seem to claw back the deficit.
While having a superb game herself, Garrick spoke highly of her team, their skill and confidence with one another on court.
"We talked about the past couple of weeks we've been on the edge of unlocking something pretty great. We've got such a talented team that if you shut down the inside we've got presence on the outside."
Head Coach Guy Molloy praised the efforts of Garrick and Cunningham on the court.
"We wanted to be patient and then we found our shooting via Maddie and via Sophie into the second quarter, and I think Maddie really led our defence. I thought she did a great job with that end of it and poor Sophie she's had issues with her back and her nose and she still played 24 minutes and defended really well."
The Boomers will now look to recover and prepare for a tough double next weekend, facing off against the Southside Flyers on Saturday night at Dandenong, and the Perth Lynx at home on Sunday.
Deakin Melbourne Boomers 94 (Garrick 26, Magbegor 20, Cunningham 14)
Sydney Uni Flames 81 (Kunek 24, Planeta 17, Kuster 16)