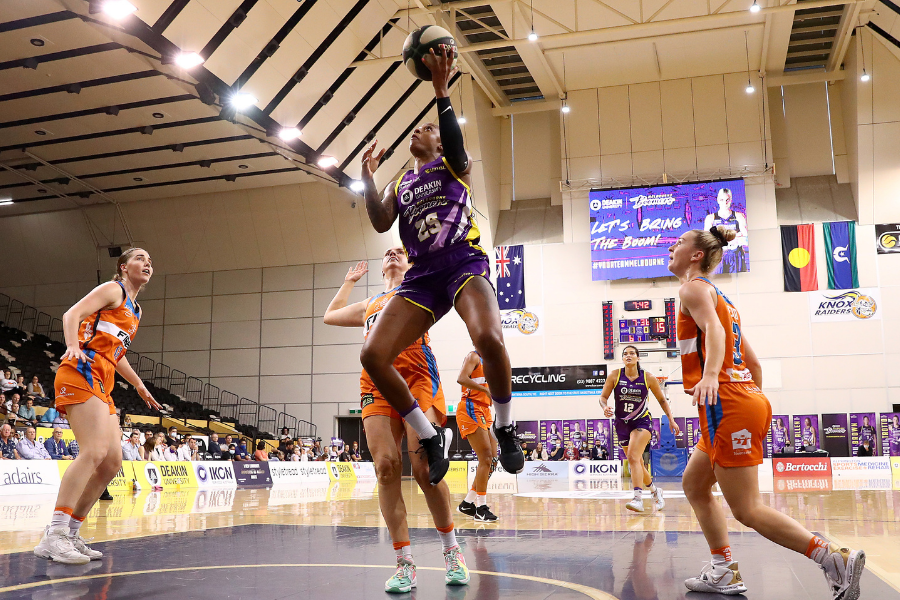 February 26, 2022 | Melbourne Boomers news
The Deakin Melbourne Boomers secured a dominant home victory over the Townsville Fire at the State Basketball Centre last night in their first of two round 12 games this weekend.
The stakes are high at the business end of the regular season, with overall winning percentage deciding the ladder placings ahead of the finals – and this was a must-win for both sides.
Fourth placed Melbourne needed the win to stay in touch with the Adelaide Lightning, who got the job done the night before against Bendigo and secured clear third on the ladder after both teams had sat on equal percentages.
Melbourne took the chance to work the full breadth and depth of the bench, with Ezi Magbegor and Izzy Wright both out for this round but Melbourne were just as lethal regardless.
Townsville, however, were missing star Lauren Nicholson and had a depleted line-up to draw from that left them struggling to match Melbourne's intensity consistently throughout all four quarters.
It was a matter of seconds before Lindsay Allen found the first bucket to secure the first points of the game, with Townsville's Monique Billings answering immediately with one of Townsville's own. Allen wasn't taking this response lying down and took on Stephanie Reid to score another two for Melbourne.
Two minutes and fifteen seconds into the opening term and Tess Madgen pulled up for a long two, Tiffany Mitchell finding her way into the key not long after to convert with an athletic drive, not just once but twice in quick succession. Scores are 10-3.
Townsville's Nadeen Payne nabs a three off a pass from Reid, keeping them in the game.
Reid's efforts kept Townsville within a point, but Madgen gained pace and began to show she was about to have a night out, nabbing five points (two free throws and a jump shot three) inside less than a minute of play. Townsville began to show signs of struggling to maintain momentum.
Mitchell showed why she is a league MVP contender, stepping back for a huge jump shot three and drawing a foul from Reid for a huge four-point play.
Carley Ernst pushed go on her stellar run of threes for the night. Proving she hasn't missed a beat since her comeback to the WNBL. Scores, 22-11.
Townsville were not backing down but struggled to claw back enough points to threaten Melbourne in the first term.
Ernst drained another deep three on the buzzer to finish the first term and nail down Melbourne's 11-point lead, 27-16.
After the break, Monique Billings opened the second period with a fade away bucket for Townsville within the first 30 seconds, although they continued to hurt from turnovers and Boomers' shooting accuracy.
Mitchell made the most of a pick and roll screen and bagged another two points followed by a stop for Melbourne on Townsville, their defensive pressure forcing a shot clock violation.
Ernst drained another deep shot from outside the arc and continued the good times to repeat this again less than half a minute later, taking the score to, 35-18.
Townsville's Courtney Woods responds with a three of Townsville's own.
A quick bucket from Micaela Cocks is followed by a Melbourne turnover to take the ball straight back down the away side's end, resulting in another two-points from Zitina Aokuso to bring the Fire back within 10 points (35-25).
Mitchell went on a run and capitalised on multiple scoring opportunities, proving why she's close to averaging 16 points per game so far this season.
Townsville worked their way to back within 10 points but Melbourne showed great movement at their offensive end.
With 1:56 minutes remaining in the second term, George steps back for a three to take the totals to 49-31, and the game starts to open up into what could be a match wining lead.
In a touch of déjà vu from the first quarter, George then came off a great screen from Lou Brown to drain it for another three in the dying seconds of the second term, closing out the first half in style, 49-31.
At the main break Mitchell sits on 16 points, Madgen, 11 points, and Ernst on 12 – all from beyond the arc.
Woods fired a three-pointer from long range for the perfect start to the third term for Townsville but an assist from George allowed Madgen the opportunity to secure another three-pointer for Melbourne, taking us to 8/15 from beyond the arc.
Mia Murray kept Townsville active on the scoreboard with three points from the perimeter.
A driving bucket from Madgen took her personal game total to 16 points and rounded the lead out to 20-points for Boomers.
George continued to be cool and calm under pressure and went on to bag two more shots from beyond the arc for the term, taking the team's three-point shooting accuracy to 59%.
Townsville started to fall away, although not through lack of trying. Their accuracy to finish plays and sink shots was lacking, becoming more obvious with four attempts at a three-pointer within a matter of moments.
Madgen continued to show her class with a nice pull-up jump shot and 1:18 minutes remaining on the clock, taking the scores to 68-41.
Ending the third term's scoring the way she ended the first, Ernst went for her fifth triple and put it in the bag. Melbourne wins the quarter by six points, leading the game by thirty, 71-41.
The final term opened with a three-point jump shot by Townsville's Woods. Reid and Woods battled hard all game and led the scoring for Townsville by a large margin.
A charge on Brown by Townsville's Murray turns the ball over, resulting in yet another deep three from Ernst – taking her to a 6/7 overall for the night – and bringing the scores to 81-54.
Lauryn Hippolite came on to make her WNBL debut and Brewster joined the party to drain a three from deep for herself.
Scanlon made a steal to drive down the court one-on-one with Cocks, drawing a foul and going to the line but is unable to convert.
Woods fired for Townsville to secure them another three points (her fourth) with just under a minute left on the clock (86-60).
Making a reverse lay-up to finish tough with a bucket was Penina Davidson. This closes out the scoring and secures the dominant win for the Boomers on their home court. Final score, 88-60.
Consistent performances across the board saw four of Melbourne's own in double digits.
Madgen showed why she is a class performer with a season-high 23 points, three rebounds and four assists. George walked away with a double-double in 15 points, 10 rebounds and two blocks. Mitchell notched up 18 points, 3 assists 3 steals, and Ernst 22 points for the night, with 85% from the three-point line.