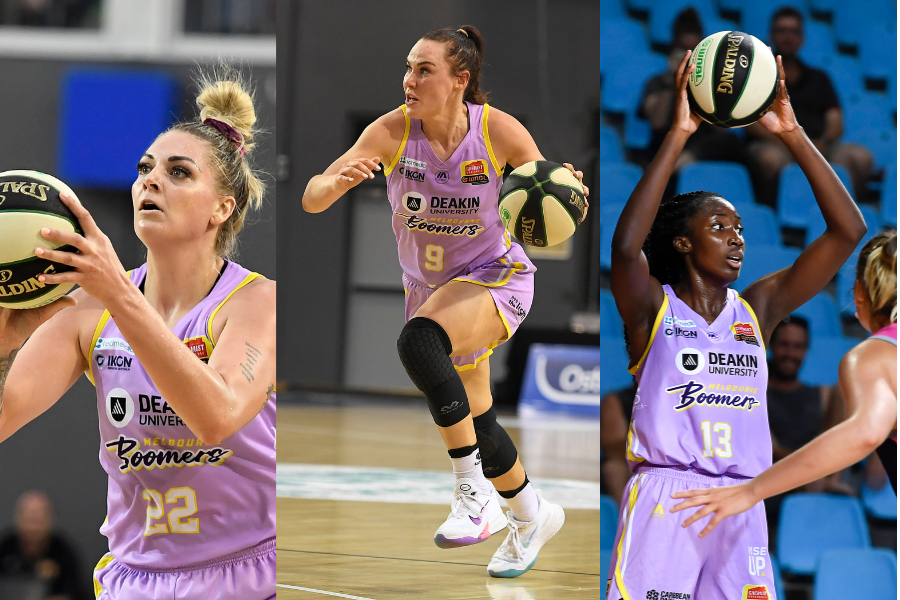 December 14, 2020 | Melbourne Boomers news
The 2020 Chemist Warehouse WNBL End of Season Awards were held this morning at The Ville Resort in Townsville, an opportunity to celebrate and recognise the talent and hard work put in by all of the amazing athletes of the WNBL.
With plenty of accolades going around, we were thrilled to see some of our Boomers names come up! Co-Captain Cayla George was listed in the All WNBL First Team after an outstanding season, with Ezi Magbegor and Tess Madgen both being listed in the All WNBL Second Team.
Ezi also finished runner-up in the Betty Watson Australian Youth Player of the Year Award, finishing just one vote below the winner, Shyla Heal from the JCU Townsville Fire, and took fourth place in the Suzy Batkovic Most Valuable Player. Steph Talbot (Adelaide Lightning) was awarded MVP with 73 votes, followed by Liz Cambage (Jayco Southside Flyers) on 67 votes, Fire's Lauren Nicholson with 65 votes, with Ezi tallying 56 votes.
The 2020 Coach of the Year was awarded to Townsville's Shannon Seebohm, with Boomers Head Coach Guy Molloy taking out second place.
A huge congratulations to all who received awards this morning, and in particular our Boomers who we are extremely proud of. A full list of Award Winners can be found below:
2020 WNBL Suzy Batkovic Most Valuable Player
Steph Talbot (Adelaide Lightning)
2020 WNBL Coach of the Year Winner
Shannon Seebohm (JCU Townsville Fire)
2020 WNBL Betty Watson Australian Youth Player of the Year Winner
Shyla Heal (JCU Townsville Fire)
2020 WNBL Robyn Maher Defensive Player of the Year Winner
Steph Talbot (Adelaide Lightning)
2020 WNBL Gatorade Sixth Woman of The Year Winner
Zitina Aokuso (JCU Townsville Fire)
2020 All-WNBL First and Second Teams
All-WNBL First Team:
Liz Cambage (Jayco Southside Flyers) – 28 votes
Lauren Nicholson (JCU Townsville Fire) – 26 votes
Steph Talbot (Adelaide Lightning) – 24 votes
Katie Ebzery (Perth Lynx) – 21 votes
Cayla George (Deakin Melbourne Boomers) – 17 votes
All-WNBL Second Team:
Ezi Magbegor (Deakin Melbourne Boomers) – 16 votes
Sara Blicavs (Jayco Southside Flyers) – 16 votes
Tess Madgen (Deakin Melbourne Boomers) – 15 votes
Shyla Heal (JCU Townsville Fire) – 12 votes
Maddy Rocci (UC Capitals) – 12 votes