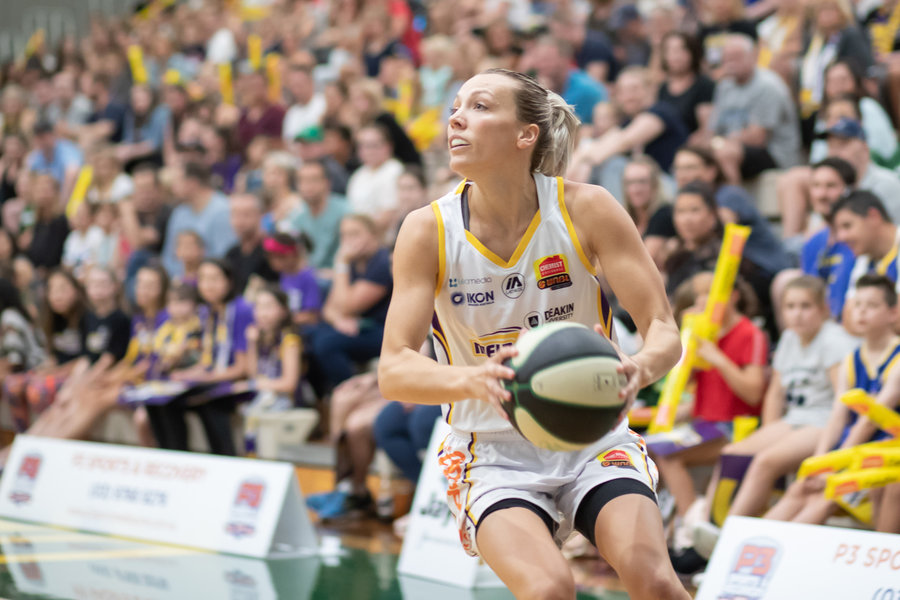 January 20, 2019 | Melbourne Boomers news
The Deakin Melbourne Boomers have stormed into the 18/19 WNBL Finals by finishing their regular season with a 11-point victory over arch-rivals the Dandenong Rangers.
Making it a clean series sweep over the Rangers, along with ending their home-and-away season with back-to-back wins, the Boomers showed why they should be feared ahead of next week's WNBL Finals.
A solid crowd of 1,283 came out to Dandenong Stadium to witness a very entertaining Melbourne Derby which marked the final game of the Michele Timms Cup.
The Boomers led for the entire match to fire home an 89-78 victory, thanks to some sharp shooting from Maddie Garrick who finished with a career-high 28-points, including six three-pointers.
Lindsay Allen (21pts, 8rebs, 6asts), Ezi Magbegor (12pts) and O'Hea (11pts, 4asts) also had too much firepower for the Rangers to handle.
The game formed part of the inaugural Lifeline Round, an initiative led by Boomers captain Jenna O'Hea to shine the spotlight on mental health and suicide prevention.
During Round 15, every club donated $100 to Lifeline Australia per three-pointer, and the Boomers made it count contributing $1,200 towards the charity by hitting 12 impressive treys in the game.
It all started with an impressive first quarter by the Boomers which saw them take a comfortable 28-16 advantage going into the first break. The Rangers then managed to close the margin in the second term, but with a late 7-points from Allen to finish the quarter the Boomers were able to extend their lead to 52-39 at the half.
Despite another strong comeback by the Rangers in the third period to level the scores, the Boomers steadied and denied the Rangers of any lead. The Boomers were able to keep this momentum going in the final quarter and as a result, claimed their 15th win of the season.
With the finals schedule now locked in, the Boomers will meet the Adelaide Lightning in Game 1 of the Semi-finals on Sunday January 27 at the State Basketball Centre.
RESULT
Deakin Melbourne Boomers 89 (Maddie Garrick 28, Lindsay Allen 21, Ezi Magbegor 12) DEF Dandenong Rangers 78 (Bec Cole 26, Betnijah Laney 24, Carly Mijovic 14).
KEY STATS
View the full live stats here: https://www.fibalivestats.com/u/wnbl/913556/
NEXT UP
FIRST SEMI-FINAL: Deakin Melbourne Boomers vs Adelaide Lightning – Sunday Jan 27, State Basketball at 5pm.