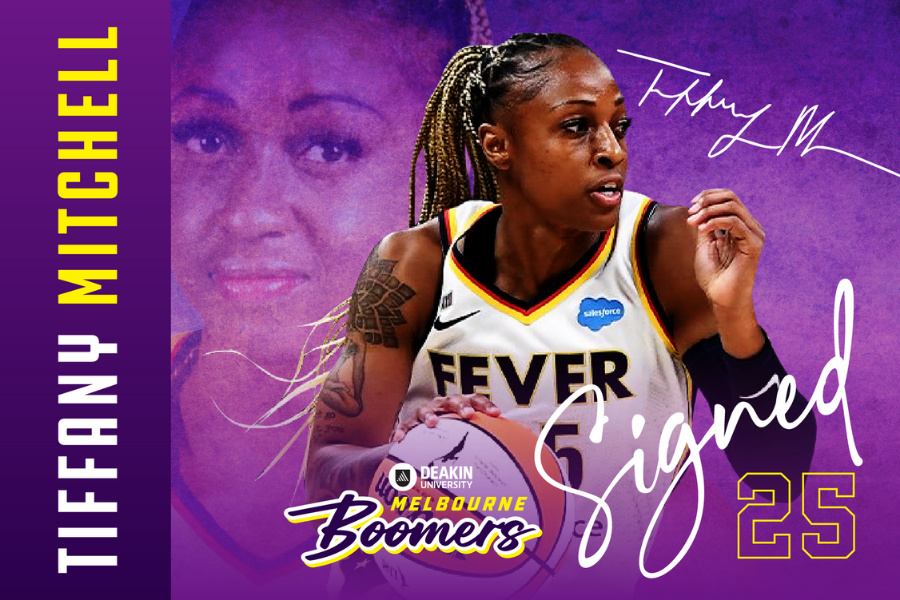 July 15, 2021 | Melbourne Boomers news
The Deakin Melbourne Boomers' hunt for a second WNBL Championship is well and truly underway with the signing of WNBA star and USA international, Tiffany Mitchell.
Currently playing her sixth season for Indiana Fever, 26-year-old Mitchell was keen to play in Australia.
The 5-9 Guard and Lindsay Allen's teammate has played in Turkey and Russia in the past, but Mitchell knew she was looking for more in finding a competition and club that she could dedicate herself to.
"What led me to sign with the Boomers is hearing nothing but positive things about the country and the organisation.
"I always try to find a home away from home, since going overseas is hard for me. So, the culture the Boomers create between competitive basketball and a family atmosphere is everything I look for in choosing a team."
Mitchell is thrilled about getting to live the Australian lifestyle, but this doesn't take away from the determination she is already showing to contribute to the club's success.
"Some of the things I'm excited about is just meeting new people and experiencing things I haven't yet.
"Australia is beautiful so of course having time to sight see (will be a great experience). But my main my goal is to help bring a championship back to the boomers!"
A first round WNBA Draft pick in 2016, the South Carolina graduate has been a staple member of the Indiana Fever for all her five-year career.
Mitchell made an immediate impact, scoring a game-high 18 points in her rookie debut, and setting a franchise record with 42 consecutive made free throws to close her rookie campaign (beating that same record the following year).
Mitchell rounded out the season by being named on the WNBA's All-Rookie Team of 2016.
Former Fever coach, Stephanie White, has called Mitchell a "two-way player," meaning that not all players contribute so thoroughly on both ends of the floor, while her college head coach and mentor, Dawn Staley, called her "Superwoman."
A two-time Southeastern Conference (SEC) Player of the Year back in college, Mitchell helped South Carolina to national title contention, including a trip to the 2015 NCAA Final Four.
A fan favourite in Columbia, Mitchell won the Dawn Staley Award, presented to the best Division I guard in the country and named for her coach, as a junior in 2015.
The most decorated women's basketball player in South Carolina program history, Mitchell made more starts (135) and played in more games (139) than any player.
She capped her college career as the recipient of the University of South Carolina President's Award, the highest annual award bestowed on a student-athlete, honouring achievement in athletics, academics, and community outreach. Mitchell was also a three-time All-American.
Last WNBA season, Mitchell rounded out her fifth WNBA season with career high averages in points (12.7), rebounds (3.4), assists (2.6) and minutes played (26.4).
She led the Fever in scoring four different games, and July 29 against Phoenix, Mitchell poured in a career-high 24 points as the Fever tallied the second highest point total in franchise history.
Mitchell ended the season as the league leader in free throw shooting percentage at 95.1 percent – even after missing three games due to injury.
When asked about her basketball career so far Mitchell admits it's been a whirlwind.
"I've experienced so much through the game of basketball, met some incredible people and formed amazing bonds all through playing basketball. So, for that I am forever grateful for this game."
"Making basketball my occupation is something I grew up always dreaming, so when people ask how I'm doing daily, I always say, 'Living the dream.'"
Excited to see Tiffany and the Boomers play this season?
Join us for the journey by registering your interest in a Boomers membership, and to hear all the latest news join our mailing list here!