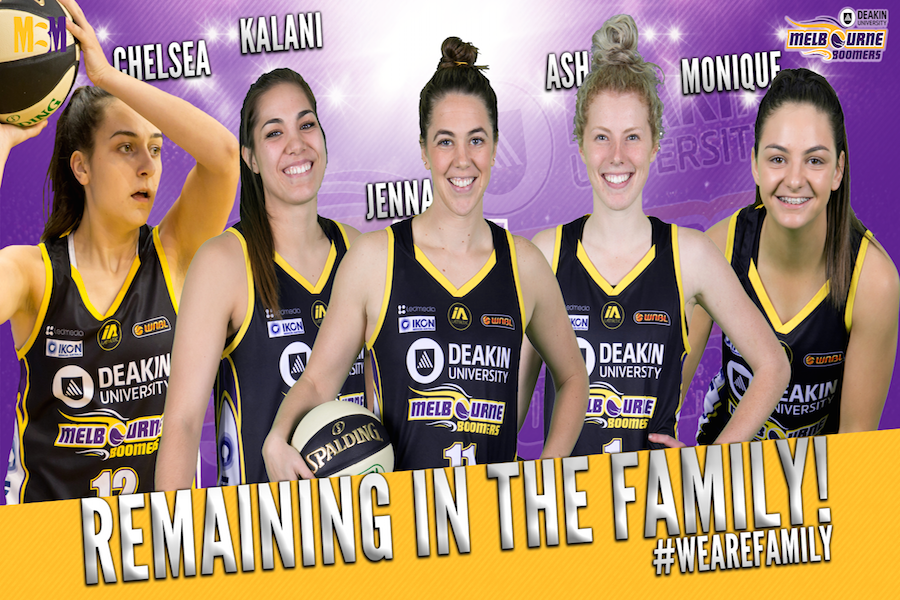 March 15, 2018 | Melbourne Boomers news
Tipping off five days of player announcements, the Deakin Melbourne Boomers are excited to confirm five players who will be back with the Boomers Family for the 2018/19 season.
All five players remained contracted for the coming season having previously signed extended or multi-year deals.
The group is headlined by Captain Jenna O'Hea and includes Tall Ferns forward Kalani Purcell, young Victorian stars Monique Conti and Chelsea D'Angelo, along with rising West Australian forward, Ash Grant.
"It was really important we kept a core group together moving forward and the club has done a very good job at putting some multi-year contracts in place," said Coach Guy Molloy.
"The WNBL tends to see a lot of player movement each season, so having some stability will go a long way towards helping us achieve our goals. I'm looking forward to once again be working with Jenna, Mon, Kalani, Chelsea and Ash."
Stay tuned for more player news over the next four days as the Boomers welcome three new faces, and also confirm the return of another favourite Boomer!
Coming up tomorrow we'll welcome a young star on the rise.