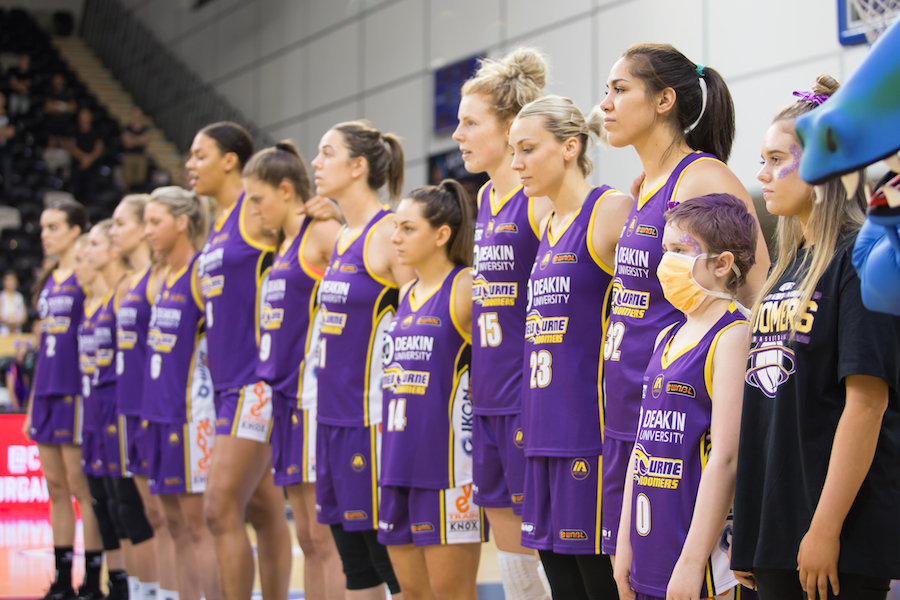 November 18, 2017 | Melbourne Boomers news
Decked out in purple for the first time this season, the Deakin Melbourne Boomers welcomed the WNBL's youngest ever player, nine-year old Inndyanna Harper, into the team and celebrated her debut with a crushing 96-66 win against Canberra.
Recovering from Bone Marrow Failure, Indyanna's presence was felt by all, especially her teammates who lifted for the cause and delivered the club's biggest win of the season.
During a time-out in the last quarter Indyanna ducked out of her team's huddle to draw the winning raffle ticket for the day and right on cue the 1400-plus crowd stood and applauded the brave little Boomer.
Earlier in the game 
Liz Cambage backed up her outstanding performance last round with another huge game for the Boomers, picking up a double-double by three quarter time to finish with 32 points, 11 rebound and 4 assists, the juicy stats line coming in a little over 26-minutes of play.
Early foul trouble caught Canberra on the back foot, leaving the Boomers to take advantage of a vulnerable visiting side and finish the first term, 21-16. From there the home team never looked back with Cambage being well supported by Maddie Garrick (16 points) and Rebecca Cole (13 points), while Kalani Purcell (12 rebounds) made her presence felt at the defensive end of the floor.
Melbourne's 29-14 last term made it a memorable day for the fans wearing everything from purple wigs to gloves, stocking and fairy wings.
Boomers captain Jenna O'Hea fronted the media post-match flanked by her spritely young teammate Indyanna and said the club getting behind the Maddie Riewoldt Vision, plus the win, had made for a "proud captain."
"I get quite emotional thinking about it. I have nieces and nephews and for the club to support Indyanna like we did today and Maddie Riewoldt's Vision, it just means a lot to me and the team. I'm very proud that our club has been able to put on such a special day," she said.
Kalani Purcell added that the game is one the team will never forget.
"I don't even have words for it. It's just so special for us, and I think especially for her (Indyanna). It's a moment that she we will never forget."
The Boomers now have a full week to recover, a rarity in the WNBL's most compact season on record, before fronting up at home against Sydney next Sunday as the last of four games to be played across the league's Cluster Round where all eight teams will play at the State Basketball Centre.