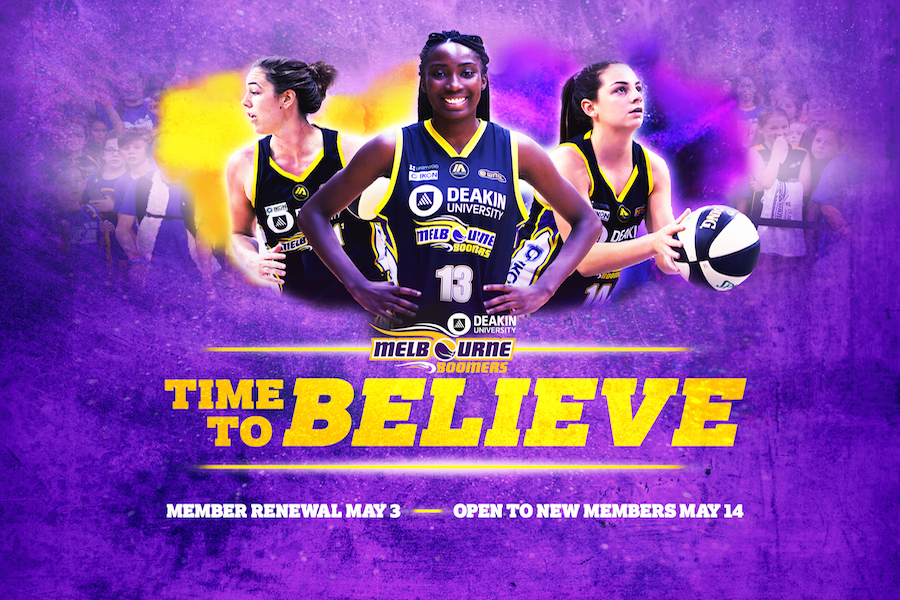 May 2, 2018 | Melbourne Boomers news
The promotion for the Deakin Melbourne Boomers' WNBL championship quest in season 2018/19 says it all ….. It's Time To Believe!
The Boomers will launch membership renewals on Thursday May 3, before new members are welcome to join from Monday May 14.
With an increasing link to junior clubs and associations across Melbourne and Victoria, the Boomers believe membership numbers will balloon to more than 2,500 this season.
Boomers Assistant General Manager Lauren Jackson is once again getting behind her club's membership program and is excited by the remarkable interest being shown by basketball players and their families to step up from being supporters and joining as members.
"You only have to look at what we did last season to know how much we value our members," said Jackson, adding "Our members are the lifeblood of the club, they are so important to us, and the rapid growth we are experiencing is largely due to the community getting right behind us."
"We have been able to keep most of our membership pricing the same as last season, which we're really pleased with, plus we have added a premium area to be known as the Captain's Club, which comes with some real exclusivity," added Jackson.
"We can't wait to see all of our members again, and of course many new faces as well."
Existing members will have until Thursday May 10 to renew their memberships and claim preferred seating.
Any existing members yet to receive details via email are encouraged to contact the Boomers directly at steph.melbourneboomer@gmail.com
Memberships start at just $49 for juniors aged 17 & under. Though the WNBL schedule is yet to be released, the Boomers expect to again play 10 regular season home games at the State Basketball Centre.
All full-season members will receive a Boomers Member Scarf and will have priority access to finals tickets, which of course proved to be extremely popular last season.
Further details for new members (on sale from May 14) will be released shortly.