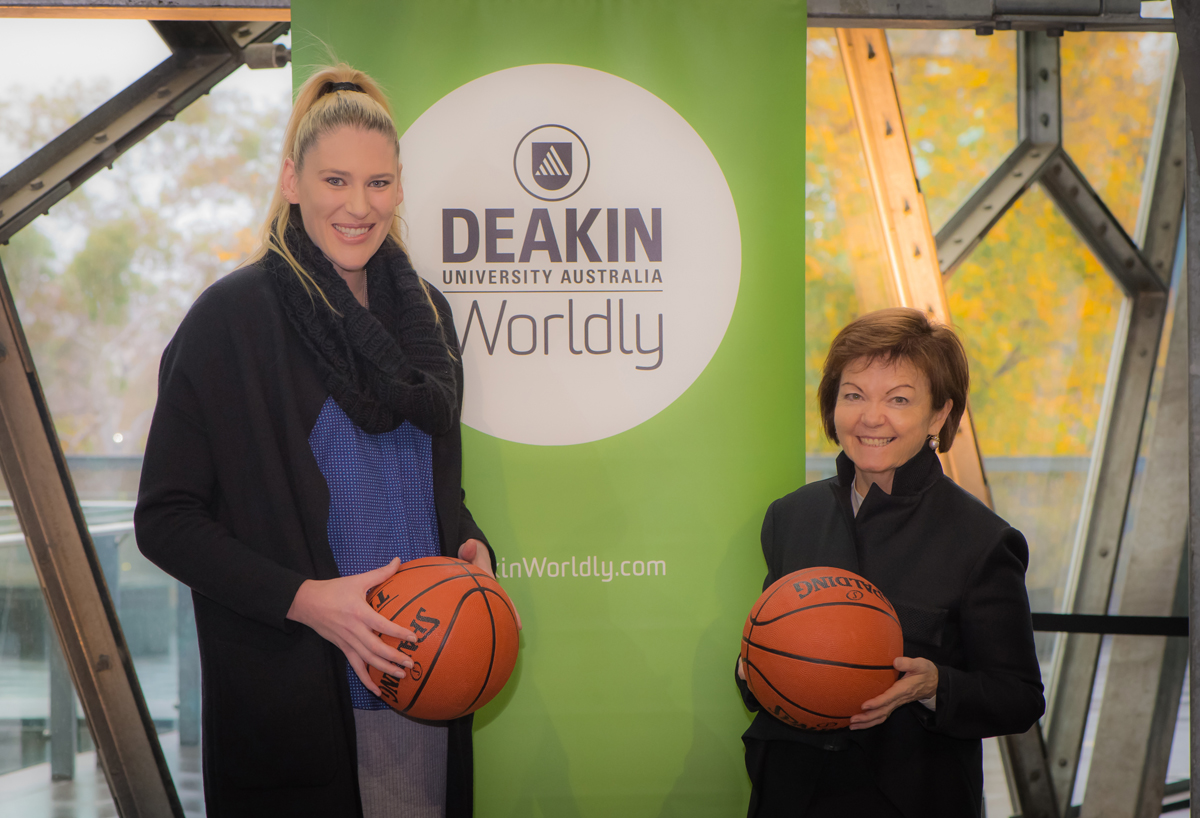 September 20, 2017 | Melbourne Boomers news
The Deakin Melbourne Boomers has enlisted one of the team's biggest supporters as an ambassador for the coming season with Deakin University Vice Chancellor, Jane den Hollander, joining as the seventh of eight ambassadors to be announced in eight weeks in the lead-up to the WNBL season.
With memberships and ticket sales at record levels, the VC is looking forward to being a part of the action when it tips off on Saturday October 7 when the Boomers take on Townsville at the State Basketball Centre.
"I am delighted to be a Deakin Melbourne Boomers ambassador," Jane said earlier this week at the team's official season launch at Deakin Downtown.
"At Deakin, we focus on the education of the next generation, and we know that sport is a great motivator and influence in our world. There is much evidence to indicate that both sport and education have the power to transform lives and to unite communities."
"We are passionate about supporting women to achieve their goals and that's why we support Melbourne's WNBL team – a team which aligns strongly with our passion for inspiring women to achieve at the highest possible level in whatever they choose to do."
"Deakin University's continued sponsorship of the Melbourne Boomers cements our commitment to supporting women's sport while giving the whole Deakin family a sensational WNBL team that we can follow with pride," the Vice Chancellor added.
For the Boomers, having Deakin's Vice Chancellor as an ambassador come as excellent news.
"The Vice Chancellor is such a strong advocate for women in sport," said Boomers GM Justin Nelson, adding "Jane is also a very passionate supporter of the team and wears the Deakin Melbourne Boomers colours with great pride."
"Our partnership with Deakin University is a strong one, we are continuing to see a rise in crowd numbers, we are fostering a terrific relationship with interns and we are enjoying working across a number of the sports, media, events and various management faculties."
8 Ambassadors in 8 Weeks
Week 1: Michele Timms
Week 2: Elyse Penaluna
Week 3: Sam Stynes
Week 4: Bec Allen
Week 5: Sharin Milner
Week 6: Joe & Fiona Riewoldt
Week 7: Jane den Hollander
Week 8: TBA