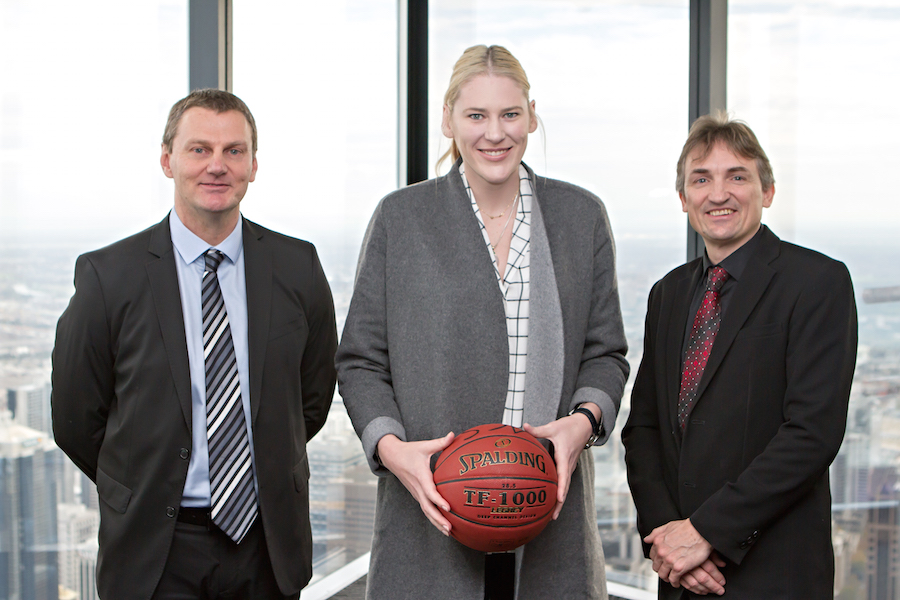 December 28, 2017 | Melbourne Boomers news
It was May 2016 when Deakin Melbourne Boomers Head Coach Guy Molloy and General Manager Justin Nelson posed the question to each other of whether they had the finances to keep Australia's longest running elite-level women's sports team alive?
Just a few months earlier a bloke they had never heard of, Tony Hallam (now Chair of the Melbourne Boomers), contacted Basketball Australia after reading that Bulleen-Templetsowe Basketball Club would be exiting the WNBL and handing back its 32-year old license.
Tony and his fellow owners had a plan and in late June 2016 after months of due diligence, the Melbourne Boomers found themselves with seven new owners and if that wasn't enough, Australia's greatest player Lauren Jackson decided to commence her off-court career by being part of this new family both as a Board member and working with Justin in the Front Office.
Fears were brushed aside and it was game on.
Now, 18 months later as the Boomers head into the WNBL finals for the first time in four years we catch up with Jackson, Molloy, Hallam and Nelson to ask them about the club's rise to being the WNBL's leaders in so many areas.
Q: Can you remember the feeling around the Boomers in early 2016 when the news broke that the Boomers' WNBL license was being handed back?
Nelson: It was bleak, there probably isn't any other way to describe it. I remember telling the team the license was being handed back, it was a fairly ordinary meeting to be honest, not a lot of talk, just disappointment and some tears. I was putting on a brave face, asking everyone to trust me and assuring them that we'd find new owners. Away from the group Guy and I just didn't know what the future held, but we approached it positively and I think that really helped in the end. The players showed amazing support, their own jobs were on the line, but even through a period of uncertainty they held together and supported the Club.
Molloy: When the news was delivered it created immediate uncertainty and even some anger. We'd had some overtures from an NBL group in prior years and I think people thought this may pave the way for an easy takeover.  However, I had spoken to the general manager of that Club and he said the time wasn't right because the NBL team had lost a major sponsor. Justin and I just weren't sure what was going to happen.  We had to keep faith, however, that a solution would present.
Q: Lauren and Tony, what were your first thoughts when you heard about the plight facing the Boomers?
Jackson: I was sad. The Boomers had such a rich history in the league and it sort of felt like it would be the end of an era in women's basketball, the end of an era that the sport itself was not ready for. It would have been disastrous for the league if the Boomers closed the doors.
Hallam: The first thought after we understood the situation was that saving the Club was very doable, but it would require support from a whole range of stakeholders both in and outside of the Victorian basketball community.  We were fortunate that people bought into what we were proposing and supported not just with nice words, but also with financial and in-kind support.  It is always a risk to list specific organisations but it included Basketball Victoria, Bulleen-Templestowe Basketball Association, Deakin University, Knox Basketball, the Victorian Sports Minister John Eren and his Department, new sponsors such as Ikon Services, AVJennings, LED Media, Adairs, Lucerne Financial and Ringwood Mazda, and existing sponsors such as Knox Groove Train, AND1, Bertocchi and Securiton. We presented a three year plan and these organisations gave us the opportunity to implement it.
Q: Tony and Justin, tell us about that first meeting between you both.
Hallam: Our first meeting was at my house and after an hour my wife Catherine joined the conversation.  Anyone who knows Justin Nelson will tell you he wears his heart of his sleeve.  One of the things we always look for when dealing with new people is a sense of whether we can trust the person and that was the main takeaway from our first meeting with Justin.  This positive feeling was re-enforced when we met Guy Molloy and a core of the existing players.
Nelson: I think Tony read in the local newspaper about the license being handed back and he gave me a call to meet up for a chat. We met up and instantly I knew his interest was genuine, he was passionate and understood the iconic nature of the Boomers and the Club's place in Australian sport. He is a genuine family man with fantastic experience in sport. From that day forward he has pushed me and all of us to be better, to take the club forward and make it great. It was a cup of coffee and chat that went a long way to starting the transformation we are seeing today.
Q: Guy and Justin, there is a story going around that at one stage you both talked about taking the whole thing on. How serious was that conversation?
Molloy: Yes we did talk about it.  We wanted to know we had a fallback for keeping the Club alive for at least another year. Perhaps that could buy us some time. We're not owners and it would have been a bare-bones operation, but we figured some version of the Boomers was better than none! Thankfully, a wonderful new ownership group emerged.
Nelson: We did talk about it at one stage, we asked each other how much money would it take and could we do it? But I think that was really only because we didn't want to see the Club go out of business, we were very committed to the cause. Guy and I aren't owners, we are better to the organisation as a coach and in management. Thankfully others came along because I'm not sure how our wives would have reacted had we told them we were taking it all on!
Q: We don't hear much about the owners of the club, Tony can you tell us a bit about them?
Hallam: Well the first thing is that we like to see ourselves as custodians of the Boomers as much as owners.  We did not all know each other before joining forces and there are eight of us – Jim Avgerinos, Julia Walsh, Mark Russell, Bernie Dodd, Richard Wilson, Warren Swain and Keith Noack.  Lauren is on the Board also.  We all have some connection to basketball and in particular, girls basketball. We share a passion to make the Boomers the best Club in the WNBL and a visible part of the Melbourne sporting landscape.  You will see us at most of the home games and we are passionate fans – however we are also aware that our aim is to make the Boomers sustainable for years to come so our primary role is one of governance.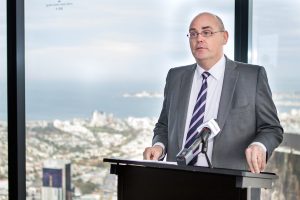 Q: How did Lauren get involved?
Jackson: Well I remember getting a call from Guy pretty soon after I announced my retirement and not long after that I had Guy, Tony and Jim, another one of our board members, at my home in Bellbridge talking about the team, what they wanted to do and asking me how I wanted to be involved. Naturally I jumped right on in and it has been very rewarding both personally and professionally.
Hallam: It was a simple phone call from me to Lauren to ask her what she was thinking about in the next stage of her life.  From there we met Lauren and her parents in Albury (Jim, Guy and me) and started to work through what it might look like and how it would work logistically (Lauren is based in Albury).  It's taken some twists and turns (the arrival of baby Harry as an example) but I think Lauren has made a significant impact on our Club from a basketball and values perspective and in turn I think our Club has had a positive impact on Lauren as she develops her career.
Nelson: I remember Lauren appearing on television when she retired from international basketball and she spoke about a desire to stay in basketball. I really felt at the time that we were heading into a new and exciting direction and Lauren would be the perfect person to be a part of that, especially given her enormous love of the game and legacy across all sports, not just basketball. I was on the phone to Tony within an hour and the rest is history. I've never asked Lauren what she thought about a group from the Boomers arriving at her house up near Albury literally a day after she announced her retirement, asking her to come and join the Club, but she said yes and has fitted in really well ever since.
Q. How tough was it last season when wins were hard to come by?
Molloy: Yes honestly it was very, very hard. The season before we had been ravaged by injuries and I didn't think things could get worse, but they did. The coach is always the brunt of condemnation when things don't go well. I never expected so much adversity after so long coaching. Things are meant to get better – right? The losing meant a lot of relationships suffered but the message from Justin and the new Board was clear: "things will change, keep moving on, we will fix this".  This was so encouraging in a pretty bleak time.
Nelson: I think it was extremely hard on Guy and the players in particular. We missed free agency entirely and the bigger focus of the organisation was to get the business side of the Club in order. It wasn't that we were ignoring our on-court operations, but we needed to get the house in order. I still think it is amazing that we had a 5-19 season yet our crowds went up by fifty per cent. I'm not sure there are too many sporting organisations anywhere in the world that could boast about something like that. The fans really backed us, Guy and the team.
Jackson: That was just the nature of sport and organisations. You have to ride the highs and the lows. We knew last year was going to be tough, but we had goals off the court we wanted to achieve so that we would have a shot at making playoffs this season, and beyond.
Hallam: The win/loss ratio was not relevant to us in the first year because our first focus was to get the business model right off the court. But in hindsight I think we underestimated the impact on the coaches and players and that was a learning for us as a Club. I think this year we have a better balance and it is great for our members and fans to have a competitive team on the court.
Q. There looks to have been a real rise across the whole club this season; exciting new recruits, record membership and crowd numbers, lots of publicity – do you feel like the Boomers are back?
Jackson: I feel like the Boomers are still growing. There are still things we could get better at and things we can do on and off the court that will continue to develop this club into something very special… and sustainable.
Hallam: We are blessed with loyal fans and increasingly they are joining the Club as members which is crucial to the sustainability of our Club.  Equally as a Club we are very much a "work-in-progress" with many areas we can and need to get better at.  Hence, we are happy with our progress, but I don't see it as being "back" because expectations of members and fans are much higher than they have ever been (quite rightly) and our job is to consistently exceed these each season.
Molloy: For the first time we have a more-level playing field with the higher budget Clubs. This means we can bring in talent.  You can't win in elite sport without talent no matter how much time you spend in youth development. Secondly, now we're out of survival mode, we can actually plan for a better future on and off the court and I believe the Boomers will become a long-term force in the WNBL.
Nelson: The fans have been amazing. The connection between Melbourne's grassroots level and the elite level of the Boomers has been exciting to watch grow, there is a real passion across the community for the Boomers. We still have plenty of work ahead of us, but we are heading in an exciting and sustainable direction. I love it when I catch up with people like Michele Timms, or any former player for that matter, and tell them about the transformation of their Club. The history and legacy of the Boomers will never be lost, and that was worth saving in the first place.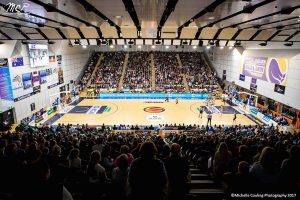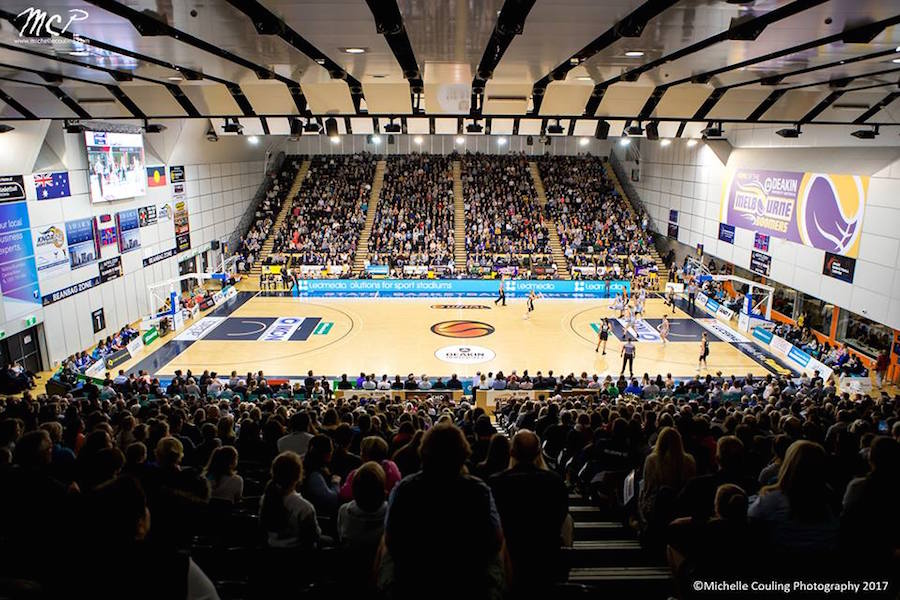 Q. What has been the impetus for the rise of the Boomers?
Hallam: I think saving the Boomers was a simple message and this was the initial impetus.  However, the next stage is harder as we strive to become the best Club in the WNBL. A group of people have been prepared to buy into this – we are not at that point yet, but with a fair degree of hard work and fun we are heading in the right direction.
Molloy: The rise is more like a re-birth.  The Club found new life, resources, values and strategy within its own walls first.  The flow-on effect of this have been big moments like the signing of Jenna and Liz, large crowds, increased prominence in the Victorian sporting landscape, and then the wonderful embrace by so many people for women's basketball in this state.
Jackson: Team effort. I think Justin has done a brilliant job off the court in putting on a good show, bringing in some dollars and pushing the Club in the right direction. I think we have great leadership and a different perspective from Tony and the Board, it's been so good having supportive owners with business brains and a winning mentality, and then the basketball with Guy at the helm is taking care of itself!
Nelson: Good people, passionate members and supporters, incredible sponsors and a focus on pushing and constantly testing each other. As an organisation we try and bring the best out of each other. I like the fact we speak our mind and question each other, we push each other to be better, but most importantly we support each other and that has been critical to our success. The support by all the grassroots clubs and associations across Melbourne has also been vital – they have really embraced Melbourne's WNBL team and should be congratulated for supporting the Boomers, and girls and women in basketball.
Q. 18 months on does it all feel like a bit of a dream?
Molloy: We've always counted our blessings that we exist as a Club and that we're so healthy now.  Given this chance, Justin and I have been committed to working hard and aiming for success. The new additions on staff, a supportive Board and our loyal band of volunteers has made it into something special to be a Boomer.  It's a journey and sometimes we stumble, but there's no doubt the general direction is up.
Jackson: No, not really. It's been an exciting time but we haven't won a championship yet. When we do, then it will feel like a dream!!!
Nelson: I think it is a bit surreal, especially when you see more than three-thousand people turn up to the Cup Eve Derby. While we came close to closing the doors, I think the transformation of the Boomers is a win for the fans. No matter how much work we do or have done behind the scenes, or the improved performance by Guy and his team, the club's success and sustainability is only possible if the fans turn up, if the supporters become members and if the sponsors remain invested … and that's happening.
Q. What does it mean to make the finals just 18 months after nearly closing the doors?
Jackson: Oh it's special for sure, but we put this team together to win, so we are only half way there.
Hallam: It is a pleasing result but our expectations are much higher than making finals.
Molloy: It's a great start. We are up against other competitors with good basketball operations and very strong teams. But we want to be known as entertainers too, and positive role models for young females via fan engagement. This is Justin's real message. So making the finals becomes one standard and although we want to stay there and contend for Championships, the other standards are just as important.
Nelson: It's great, but I think it's just the start of the next 18 months, and the next period of time after that. I don't dwell too much on the past, but I do know that coming from second last on the ladder, from a 5-19 season last year, making the finals this season is a small reward for everyone in the Boomers family. This Club has always belonged to the people and that will never change. I'm really pleased every part of the Club is moving in a positive direction. I just feel like the organisation won't look back from here, those dark days are well and truly behind us. The dream is alive.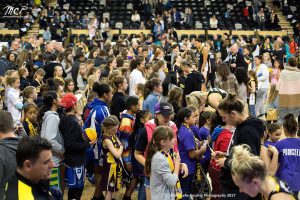 Q. What's next for the Boomers?
Jackson: We build and build and build. I feel like with the visionaries we have leading this organization the sky is the limit for the Boomers and we really could lead the way in women's sport and create a successful business model for other teams and codes. We must also create a culture of winning and success on the court.
Hallam: We want to be a great Club and great Clubs have a culture where making finals is expected, and this provides the opportunity to win Championships.
Molloy: We have a strong belief within. The next steps are about improving and getting better at what we do. To know your role and be the best you can be at performing your role is a strong message that everyone within the organisation has bought into. The next step for all of us is being consistently great at what we do.
Nelson: Consistency and stability. We want to keep growing, particularly our membership base which I think can get to two-thousand. Being in finals each season and regularly contending for titles is ultimately the measure of success. The business is getting stronger and the future is bright, but there would be no better feeling than delivering championships to the Boomers family on a consistent basis.