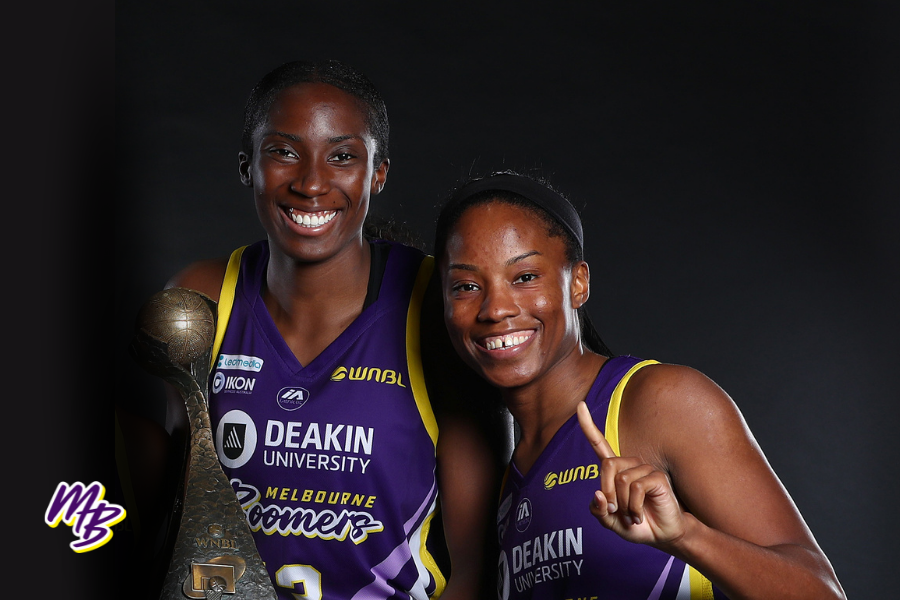 May 14, 2022 | Melbourne Boomers news
The Deakin Melbourne Boomers thank Ezi Magbegor and Lindsay Allen for their significant contribution to the Boomers as they each announce they will be taking the next step in their playing careers in Europe this season.
Allen and Magbegor have both achieved incredible accomplishments in their time at the club which culminated in their roles in winning the 21/22 WNBL Championship last month.
Magbegor joined the Boomers as a fresh-faced 18-year-old four years ago, and although she has relished representing her hometown and being close to family & friends, she is taking the chance to spread her horizons with the current EuroLeague Champions, after claiming the ultimate prize with the Boomers this past season.
"After a great four years with the Boomers I've decided to take my career to Europe and I've signed with a team in Hungary, called Sopron," said Magbegor.
"I'm super excited to play over there. Playing in Europe is something I've wanted to do, and I think now is as good a time as any.
"Obviously having success last season with the Boomers, I felt like the time was right."
An Australian Opal and currently in her third WNBA season with the Seattle Storm franchise, fans of basketball have relished watching her develop into a world-class player with the Boomers.
Magbegor has accumulated number of WNBL accolades throughout her time in the league, including this year's Betty Watson Youth Player of the Year award and All-WNBL first team.
"Obviously, I'm going to miss everyone – the family we've created – and I'm sure there's going to be success in the future…I'm very grateful for the experience and opportunity that I've had."
Allen doesn't stop short of heaping on the praise for her three years with the Boomers and her time in Australia but feels a move to Europe (team yet to be announced) is the best next step for her career.
"I'm going to play in Poland in the Polish I Liga and EuroCup as well," said Allen.
"It's the next best step for me in my career and (being in Europe) puts me in a position to challenge myself.
"I couldn't ask for a better season or a better experience for my time in Australia.
"All the teammates I've had over my three years in Australia, it was incredibly special and another one of the reasons I decided to keep coming back.
"I'm definitely going to miss playing for the Boomers, playing for the club and for the fans more than anything but this isn't a goodbye forever but maybe a see you later.
"So, maybe in the future I'll play in Australia again and if I do it'll definitely be for the Boomers."
Allen walked away with this year's WNBL Rachael Sporn medal (Grand Final MVP) and earned herself a place on the All-WNBL second team.
A fan favourite, Allen missed WNBL20 due to COVID-19 restrictions, but proved once again to be one of the star players of the WNBL this season. Her high-quality skills, as well as her natural on court leadership proved to be a nightmare for opposition players.
In her previous two seasons in the WNBL, the tough American point guard looked at home with the Australian style of play.
Speaking on behalf of the club, Boomers' Chair Tony Hallam, was first and foremost proud of what Magbegor and Allen had brought to the club and wider community.
"Obviously, Ezi and Lindsay are and always will be part of the Boomers' family and we are disappointed to see them go. We are, however, extremely proud and thankful for all they have brought to the club in recent years," said Hallam.
"Watching them grow and develop into the athletes they are today and the pivotal role they both played in winning the Championship means they will be part of our Boomers history forever."
"We celebrate the opportunity they have created for themselves in the WNBA and Europe and how our basketball program has contributed to this.  We see this as one of the key the reason athletes want to come to our club and be part of the Boomers community."
The Boomers thank Ezi and Lindsay and wish them the best of luck in the next step of their careers. As Lindsay says, it's not good-bye but 'see you later'!