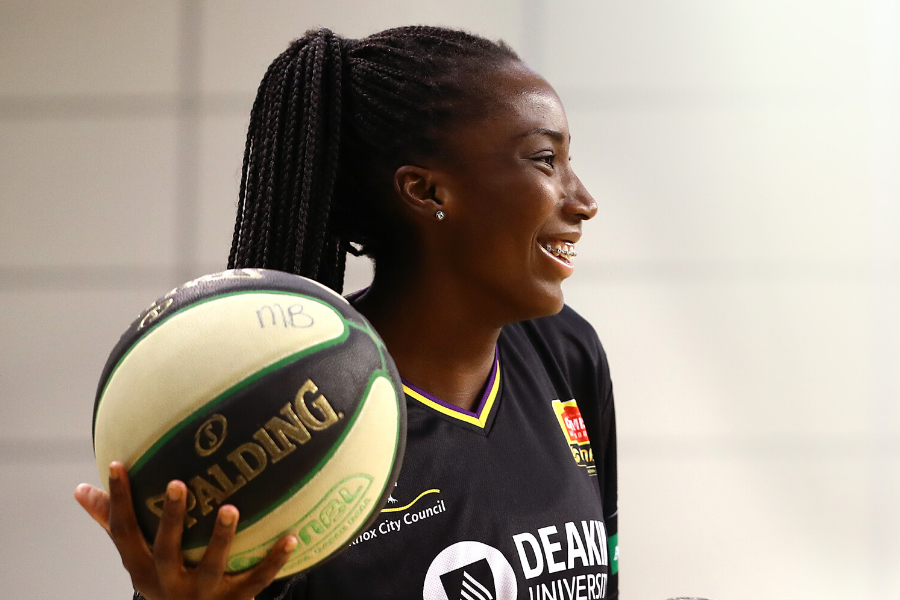 June 29, 2020 | Melbourne Boomers news
Ezi Magbegor jetted off to the USA this morning to begin her campaign with the WNBA's Seattle Storm! She will return before WNBL Season 20-21 kicks off later this year, and we are so excited to be following her journey along the way.
All plans were still up in the air until recently, when the WNBA confirmed they'd play a 22-game regular season in a closed 'hub'. Some rostered Australian players made the choice to pass on playing this season but Magbegor decided to go.
Despite travel normally being a massive component of a WNBA season, with so much settling in to do, there's a chance this unique season format it might work in Magbegor's favour. She admitted, "It's a first experience for everyone," when speaking to Roy Ward from The Age. It's the first time in the league's history where all players will be at the same place, at the same time.
Sacrifices will be made to keep everyone safe, but it is something Magbegor is happy with if it means she still gets to play. She spoke more about this and how she feels about her trip overseas, to Roy Ward in today's The Age.
Taking up position with the Storm after being selected by them as the No.12 pick in the 2019 WNBA draft, Magbegor fits into their long-term roster strategy.
"I'm very impressed by Ezi's body of work, especially considering her age," Storm Head Coach Dan Hughes has said.
"She has the athleticism and raw skill necessary to develop into a very strong player in this league."
Seattle Storm last took home the championship in 2018 but struggled last season due to two of their strongest players, Sue Bird and Breanna Stewart, battling injury. Both of the league's stars are expected to return this season, meaning there's a real chance they could have the same amazing finish.
Playing for the Opals against the United States in the 2018 FIBA Women's World Cup team, Magbegor faced her Seattle teammates, Bird, Stewart (tournament MVP), plus Jewell Loyd. In her 10 minutes on court, she achieved six points and four rebounds, with Australia taking home a silver medal.
Magbegor will have the chance to catch-up with the Boomers stars we will miss this year – Sophie Cunningham (Phoenix Mercury) and Lindsay Allen (Las Vegas Aces) – plus, play alongside fellow Opal, and Perth Lynx player, Sami Whitcomb.
We will be keeping you up to date with all the latest during Ezi's time in the USA – with exclusive insights into life at the IMG Academy.
Make sure to stay tuned and follow us on Instagram, Facebook and Twitter to follow her journey!!