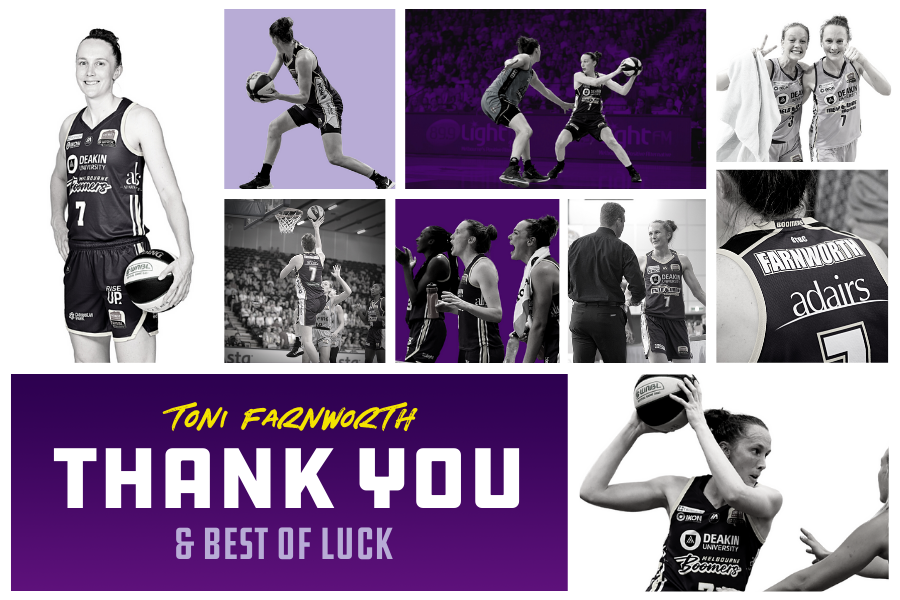 August 27, 2021 | Melbourne Boomers news
Sky Sport New Zealand Tall Fern and Deakin Melbourne Boomers guard, Toni Farnworth, has called time on her 283-game Women's National Basketball League (WNBL) career.
Earlier this month, Farnworth announced she had made the hard decision to step away from her long international career after amassing more than 100 games for New Zealand – one of just nine players to have achieved such a figure.
Farnworth debuted for the Tall Ferns in 2007 and has been a constant in the senior side since. Although unaware at the time, she played her 104th and final international in 2019 against South Korea in front of a home crowd, at the Olympic qualifying tournament in Auckland.
Here in the WNBL, Farnworth has competed in 13 seasons, been inducted as a WNBL Life Member, and worked her way into the record books – her 283 appearances a record number for a New Zealand player.
Debuting for the Christchurch Sirens in 2007/08, she played for Dandenong Rangers (2009/10), Bendigo Spirit (2010/11), Adelaide Lightning (2011/12), Perth Lynx (2013-19), before joining us at the Melbourne Boomers for her final two seasons in purple.
When asked about whether she's taken the chance to reflect on her long, successful career, Farnworth admits she hasn't dwelled on it too much just yet – but there's no shortage of fond memories.
"I haven't really looked back on things too much. There are definitely a lot of good memories and experiences and I definitely will miss being around a team day in day out.
"Representing my country has always been the biggest thing for me. Playing in the Commonwealth Games in 2018, and a lot of the longer tours to Asia and Europe are definitely highlights, particularly with how the world is at the moment."
The list of those people Farnworth would like to thank is many. There are so many individuals who have made the journey special along the way and helped shaped her career.
"All of the coaches and teammates I have played with and under (too many to name).
"My parents for always supporting me and allowing me to play heaps of different sports growing up.
"My husband Josh and dog Tess who have been my support network over the later years of my career."
Head Coach, Guy Molloy, has worked with Farnworth since 2018, when he took up the same roll with the Tall Ferns, and was big admirer of her work ethic and the example she always set for her teammates.
"Toni was a teammate that everyone wanted to play with. Perhaps there is no higher accolade in a team sport.
"She was always striving to get better, even as her career wound down. This made her a pleasure to coach and a positive influence at training every day."
Aside from her love of taking to the court, Farnworth has left a mark off-court as well. She never made it a secret she loved spending time with the team and made a significant contribution to the club culture.
"Toni was an exceptional person to have at the Boomers – both on and off the court. Her longevity in the league is a testament to her professionalism and work ethic.
"From all at the Club we wish Toni all the very best for the next chapter in her life," says Boomers General Manager, Christy Collier-Hill.
Praised for her versatility as a basketball player, this quality also extends beyond the court.
Farnworth has successfully managed the tough juggling act of a pursuing a second profession as an accountant alongside much of her basketball career.
Now with a little more time on her hands, it's some of the simplest things she looks forward to making the most of.
"Definitely not having to plan my life around a basketball calendar. I haven't spent a Christmas at home in New Zealand in 6 years so that will be awesome."
Toni, from the Deakin Melbourne Boomers, we wish you all the best for the adventure ahead.