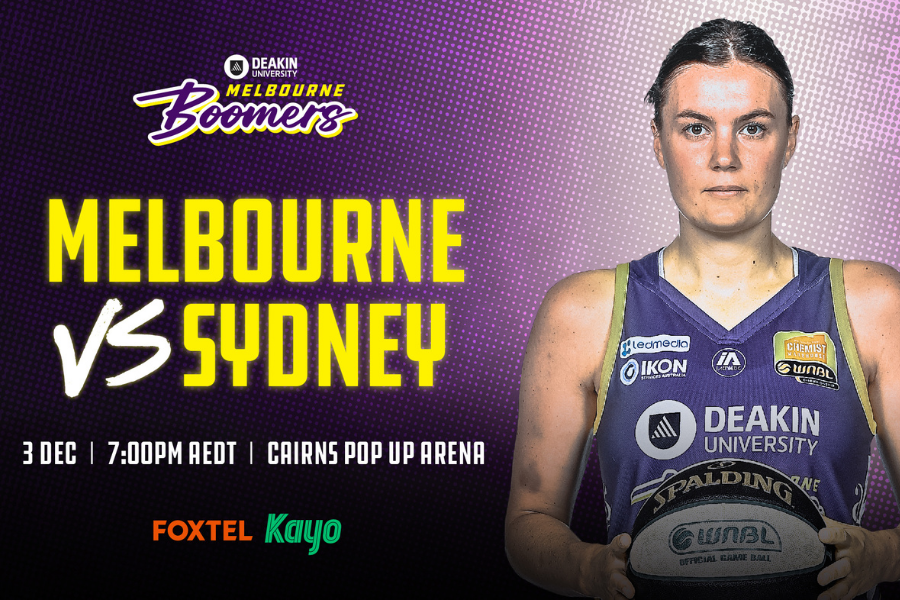 December 3, 2020 | Melbourne Boomers news
The Deakin Melbourne Boomers sent a message as a fresh unit knocking off the defending champions on Tuesday but the Brydens Sydney Uni Flames aren't giving up on the 2020 Chemist Warehouse WNBL and feel their best is ahead of them coming into Thursday's clash in Cairns.
The Boomers played their first WNBL game in a week on Tuesday in Townsville and snapped the seven-game winning streak of the UC Capitals to win 73-67.
Melbourne is the only team to beat both Grand Finalists from last season having also won over the Southside Flyers even more impressively by 17 points.
Their best has been as good as any team and now they look to improve on their 5-2 record and continue their momentum up against the Flames at Cairns Pop-Up Arena on Thursday evening.
Sydney Uni hasn't quite hit their peak this season currently sitting at 2-6 coming and the Boomers clash might very well be just about a must-win game in terms of staying in the finals hunt.
However, co-captain Ali Schwagmeyer-Belger always thought it might be slow going early.
While she is somewhat familiar with teammates Carly Boag, Lauren Mansfield, Christina Boag and Nat Burton either as opponents or teammates in Perth both with the Lynx and the state league where she was a three-time MVP at the Lakeside Lightning, it's a new group for her too.
She is still fighting hard with 11.0 points, 5.3 rebounds and 3.3 assists a game, but like the rest of the team, only expects to keep getting better.
And when you have the talent level that Schwagmeyer-Belger knows the Flames possess, she knows it's only a matter of time before they begin to click and fire.
She hopes that happens now in the run home for this season and if that means they can stay in finals contention then great, but in the bigger picture it will give them plenty to already have them excited for the 2021/22 campaign.
"It's really tough because it is pretty much a new team with the exception of a couple of players. So with only having a four-week pre-season and trying to put a new team together to go into the hub, it made it difficult," Schwagmeyer-Belger said.
"I think that in another season where we had a little bit more team's offences and everything else down with time to work on it I think we'd be an even tougher team to beat. You can tell with the quarters that we do put together we are a talented and tough team.
"We just have to keep pushing on and hopefully a lot of us will come back for next season, and we'll keep pushing on for the rest of this season. We will use each game to progress and get better so hopefully we are hitting our peak right at the end."
The Flames might be talented, but it's a stacked Boomers team they face on Thursday who need to keep winning if they hope to finish in the top two.
Ezi Magbegor is one of those superstars at the Boomers coming into the WNBL season fresh off winning a WNBA title with the Seattle Storm.
Magbegor was happy with their win over the Capitals on Tuesday after a week off, but knows how important it is for them to now back it up on Thursday against the Flames.
"It was a great start to a tough stretch for us with five games in eight days so starting off with a win gives us some confidence especially against a great team like Canberra," Magbegor said.
"We just need to continue to start games well too, because we didn't do that at the start of the season. That's going to be a big focus for us and so will playing great defence as well as playing without fouling but still playing with physicality."
Chris Pike is a freelance contributor to WNBL.basketball 
Broadcast Details
Brydens Sydney Uni Flames vs Deakin Melbourne Boomers
Played at Cairns Pop-up Arena
Thursday 3 December 2020
6.05pm AEST / 7.05pm AEDT
LIVE on Kayo, Fox Sports