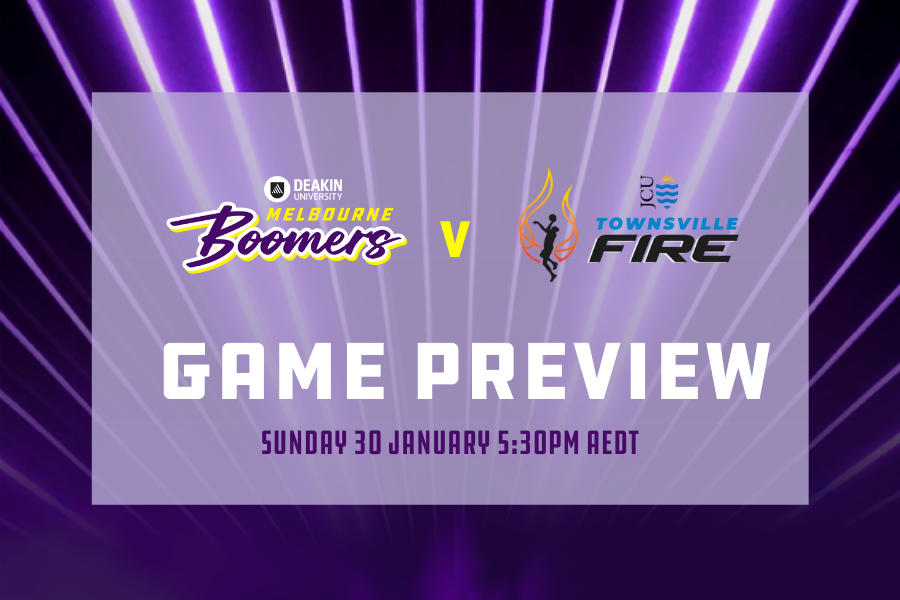 January 30, 2022 | Melbourne Boomers news
The Deakin Melbourne Boomers take on the Townsville Fire for the second week in a row tonight and will be hungry for redemption after giving up a significant lead to the Fire last time they met.
The Fire trailed by 20 points last game but made a gutsy comeback to take on the win, showing how dangerous they can be if left unchecked. They will be out to maintain this standard in front of their home crowd tonight.
Boomers' assistant coach, Paul Flynn, knows that to walk away with the win in the second leg of the Townsville mini-series we will need to stay locked into our offensive execution and get pressure on the rim.
"For the most part, last week we achieved quality looks at the hoop but didn't convert as well in the second half," says Flynn.
"The more we can get on the rim and to the free throw line, the more opportunity we give ourselves to win in what is an incredibly tough league.
"The Fire have multiple scoring threats, so defensively we'll need to lock into our team and individual tasks.
"Early communication in the pick and roll will play a significant role in our ability to disrupt their offensive flow.
"We have enjoyed a solid (full) week on the practice floor and feel like we're positioned well coming into this rematch with the Fire."
Cayla George and Ezi Magbegor made a solid 38-point contribution between them last week.
The Boomers will need to continue to hold fast and stay cool when the Fire bring the heat, to consistently create strong movement in offence and provided opportunities inside for their talls, maintain opportunities with offensive rebounds, as well as defensive pressure.
After a thrilling start of play last week, can the Boomers bring their grit and resilience to the floor to improve their consistency, and break free of last week's disappointing loss to walk away with the win?
You'll have to watch and find out!
Game details:
Townsville Fire vs Deakin Melbourne Boomers
Townsville Entertainment Centre
Sunday 30th January
5:30pm AEDT / 4:30pm AEST
Watch LIVE & FREE on Kayo Freebies