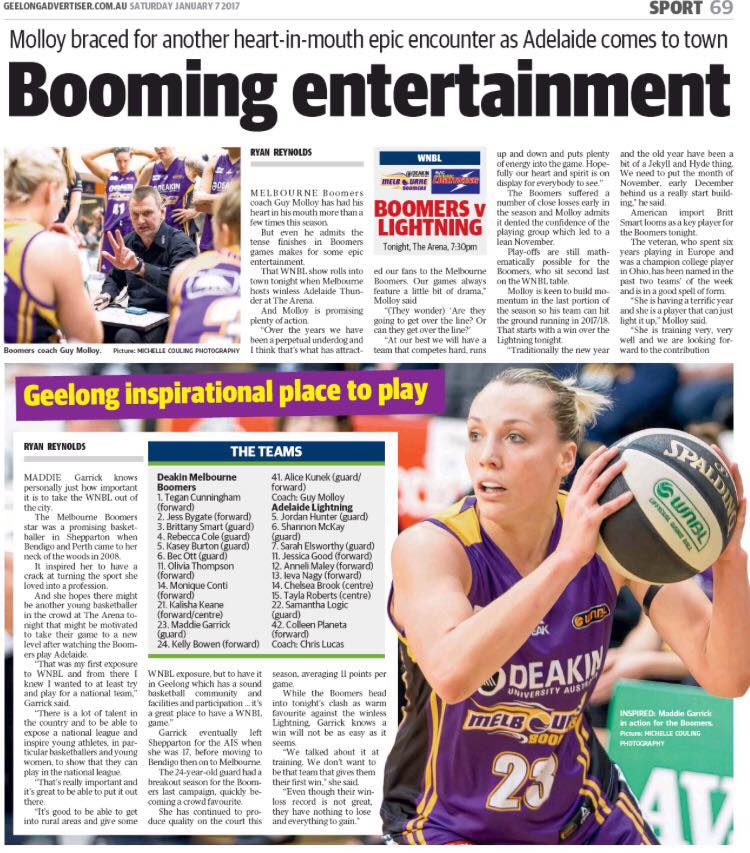 January 7, 2017 | Melbourne Boomers news
In the lead up to the WNBL's return to Geelong, the popular Geelong Advertiser has thrown its weight behind the league with outstanding coverage promoting the Deakin Melbourne Boomers and Adelaide Lightning clash at The Arena. The game marks the first time the WNBL has been in Geelong for nearly a decade and a strong crowd will almost ensure the event becoming an annual one. "We've been really impressed with the support of the media in Geelong, in particular the team at the Geelong Advertiser, they have really got behind the WNBL and the Boomers," said the club's GM, Justin Nelson.
"We want to see the people of Geelong really embrace this game and make it a great event. I have no doubt for those who come along it will be something they will go and tell others about. A night out with the Boomers is very much a family event," added Nelson. For Lauren Jackson, who works in the Boomers front office, the trip to The Arena will be her first since 1995 when she played in the National U16 Championships for NSW Country. "I think the reason I remember that tournament and coming to Geelong so well is because I was told at the time that I'd never play for New South Wales again, or for Australia," said Lauren. "I guess the person who said that to me didn't realise I'd already been selected in the U20 national squad, so it's kind of funny when I look back on it all now. Mind you that one incident really stuck with me because hearing those words at such a young age crushed me, but I'm pleased I was able to overcome it and go on and represent my country with great pride. "I remember my dad went in to bat for me and supported me, strong parental support is so important for young players. Hopefully that person took on board that there's a right and wrong way to communicate with young athletes. On that occasion they got it wrong. "Down here in Geelong this time, however, it's all about the Boomers and our desire to play a game in Geelong each season. I really want the fans here to come out and see just how incredibly talented our players are. They'll enjoy what they see for sure," Lauren added. The game tips-off at 7:30pm tonight. Tickets available at the door.