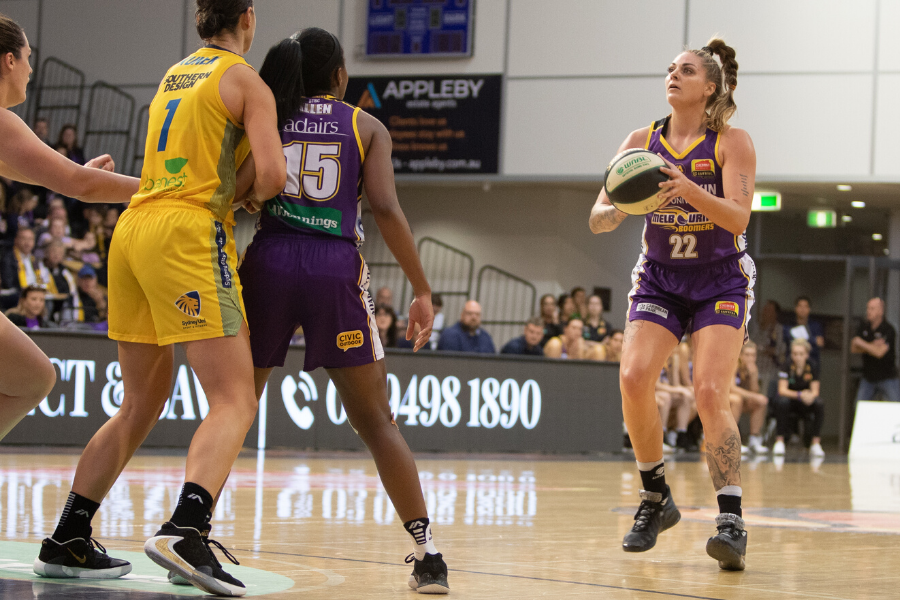 December 5, 2019 | Melbourne Boomers news
Cayla George has quite a decorated career within the WNBL. A triple premiership player with the Townsville Fire, George also won Rookie of the Year in 2007 and is currently the co-captain of the Deakin Melbourne Boomers. To add to her list of accomplishments, George recently played her 250th WNBL game, a milestone that also grants her Life Membership to the league. When asked what 250 games meant to her, the 30-year old laughed and said, "250 (games) means that I'm old", before reflecting more seriously. 
"Honestly, it was a real honour to play 250 in this league, and I've been fortunate enough to play in multiple leagues around the world but I always love playing at home in front of my family and friends, and I love playing here at the Boomers. I love the culture that we have here and the group that we've got together this year is really special." 
Beginning her professional career at the Australian Institute of Sport (AIS) in 2005, George then played a couple of seasons with her hometown side, the Adelaide Lightning, before moving to the Logan Thunder (dissolved in 2014). From 2012-14, George played a stint of basketball in France, before returning to Australia to begin her very successful tenure with the Townsville Fire. In between three championships with the Fire, Cayla also kickstarted her WNBA career, heading to the States to play with the Phoenix Mercury, and more recently with the Dallas Wings. She also played another season in Europe, this time with Sopron in Hungary. In 2018, George made the decision to part ways with the Fire, a decision that saw her end up with the Boomers for the 2018/19 Season and where she currently still plays. 
In relation to her time in the WNBL, George highlights her three championships with the Fire as obvious 'stand-out' moments. 
"Obviously the three championhips with Townsville were pretty special, but in particular that first one. They'd lost to Bendigo two years in a row and it was Bendigo again and we just felt that it was our year". George continues on, "It was also my first year back in the league after being away for a few years in Europe, so that was really exciting." 
On top of her careers within the WNBL, WNBA and Europe, Cayla has also been prominent within the national sides, donning the green and gold in Under-19s and Under 21s, before her first Opals selection back in 2008. George represented Australia in the 2016 Rio Olympics, and was a part of the Opals side that won gold at the 2018 Gold Coast Commonwealth Games. Hearing her talk about her place in the Australian side, it's clear that it's something she is extremely proud of.
"Nothing will ever beat playing for Australia," George says. "Wearing the green and gold, there's just nothing like it. I think I get emotional almost every time that I'm singing the anthem with the green and gold on, it's hard not to – thinking of who you're representing, we're so lucky to be from this country, and the hard work I've put in to get to that moment. I never take it for granted, it's such a blessing." 
Cayla also reminisces about the moment that she was selected for the Olympic team, describing the feeling as "euphoric". 
"To make that team, I was just so relieved and it was so overwhelming. I think I was crying on my way into the meeting and they hadn't even said anything yet." 
"To be at the Olympics was just amazing… the magnitude of how big it actually is is quite insane. I've worked really hard in my career and I'll continue to work hard because there's still goals I want to achieve with Tokyo coming up next year as well."
Before Tokyo, however, Cayla and the Boomers will play the remainder of the home and away WNBL games. The Boomers are currently sitting in second place on the ladder, but George believes they are only going to keep getting better. 
"We've had a pretty good start and I don't think we're anywhere near where we can get to, I feel like we're working really hard and the progression is great, but I also think we need to have fun in the process of it and not be too far ahead of ourselves." 
The Boomers go into this weekend with a double-header, starting with an away game against the first placed Southside Flyers on Saturday night, followed by a home game against the Perth Lynx on Sunday afternoon.
Tip off for our game against the Lynx is at 5pm – get your game tickets here.
With five home games left, now is the perfect time for a 4-game membership. Take a look here.