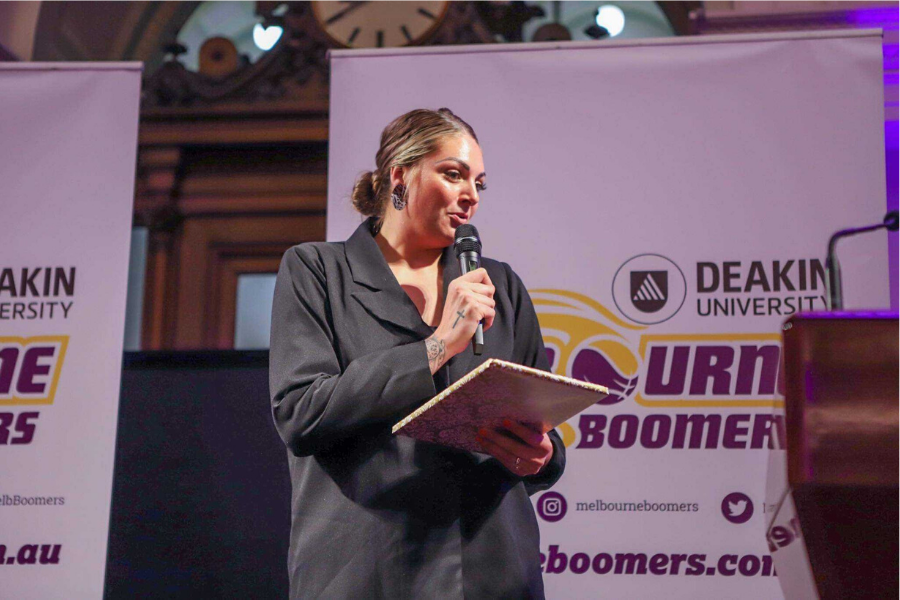 March 13, 2020 | Melbourne Boomers news
Boomers Co-Captain and Australian Opal, Cayla George, has taken home the Michele Timms Medal for the Most Valuable Player of the 2019/20 WNBL Season for the Deakin Melbourne Boomers.
George finished third overall in the WNBL League MVP voting, coming off the back of what was arguably her best season yet in the league. George was especially grateful for the opportunity as a leader this season and attributes a lot of her success on court to the culture she had with her teammates.
"Honestly I wish I could break it up into 12 small pieces and give it to all of my teammates because this might sound cliche but this has been one of the most enjoyable seasons for me." George said.
"I love creating a good headspace for people around me and gettIng to embrace that role this year with Maddie, I've really loved it and I felt as though I really thrived in that leadership role this year."
"I've felt so confident and been in such a great headspace this season. Thank you from the bottom of my heart." she said.
However the Michele Timms Medal is not all George headed home with, voted by this seasons members as their player of the season also.
Boomers young gun, Ezi Magbegor, also had her best year to date. She helped the Australian Opals qualify for the Olympics, was drafted to the WNBA, and finished up her best season with the WNBL where she won the Betty Watson Youth Player of the Season.
To top her 2019/20 campaign Magbegor has now also taken home her second consecutive Most Improved Player award with the Boomers.
"It was a big decision for me to stay here instead of going to the states to play and I think for me I can confidently say that it was the right decision."
"I know a lot of people say how well I'm doing but I have such a long way to go and I'm surrounded by the right players and coaches to get there." Magbegor said.
It was also a big night for New Zealand import Stella Beck who in her first season with the Boomers has taken home the 2019/20 Coach's Player and Deakin University's School of Exercise and Sports Science High Performance Player awards.
The Tall Ferns player stepped up to the challenge of starting point guard during the season as Boomers star Lindsay Allen sat benched with a knee injury for the latter half of the season.
"I can confidently speak for the rest of the team when I say that we think the world of our coaching staff, they want the best for us and we want to do well for them too."
"So receiving these awards, where people whose opinions I care about a lot, think highly of me too, is a huge honour." she said.
In her first season with the WNBL Sophie Cunningham has also made an impression, being voted by her fellow teammates as the Player's Player of this season. 
Whilst Cunningham couldn't attend the evening, she is beyond grateful for the award.
"Thank you, it's an honour and a privilege to receive this award, because I was surrounded by such great girls, such great teammates and people in general." she said.
It was the name that everybody was ecstatic to hear, Guy Molloy, who took home the Linda Perry Award. This award, sponsored by the 'Bulleen Templestowe Basketball Club' is presented to someone with an undying passion for the club, upholds the clubs values and works hard to achieve for the Boomers and is the epitome of what the club represents.
Molloy gave a touching tribute to Linda upon accepting the award,
"I can't tell you how much she meant to the sport of basketball and how much she meant to this club." he said.
Before also talking about his history with the club and getting to where they are today.
"I was coaching the men's league and a couple of ladies approached me about coaching the Bulleen Boomers and told me it was going to be re-branded to the Melbourne Boomers… I thought I'll do it for a year."
"It's a character, it's people who want to do things together and the right way. We're not a club for everybody and we don't try to be. But we go after the best people we can find and we've worked really hard and have a wonderful core group of players, coaches, medical and managerial. We're also very fortunate a few years ago to have such a great board who came on." Molloy said.
Our game days wouldn't be possible without the amazing support of all our volunteers, and sponsored by AVJennings, this season our Volunteer of the Year went to John Wood, our game day commissioner and all-round helper.
John's support has been ongoing over many seasons, and this year he has really stepped up to ensure that everything has run smoothly and all our fans are leaving with a smile on their face. 
"I'm very humbled and it's a privilege to receive an award in the honour of John O'Brien who is the quintessential volunteer. Fortunately I work with a team of extraordinary volunteers who give up their time and enjoy what they do. Thanks Boomers."
Despite the Boomers season coming to a close at game three of the Semi Final series, it was a great year and we thank everyone who has been a part of it. Bring on the next one… BOOM UP!