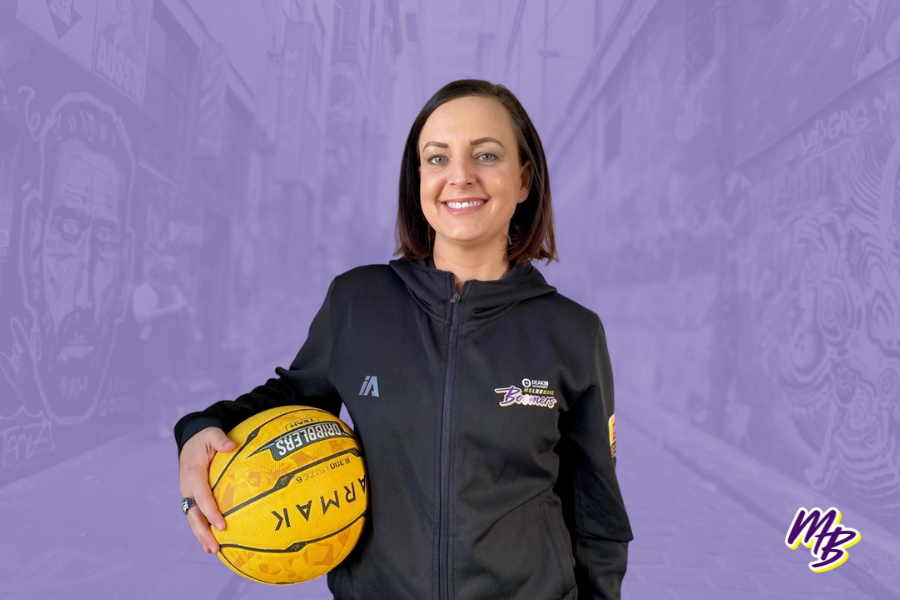 December 2, 2021 | Melbourne Boomers news
The Deakin Melbourne Boomers has announced that the club's General Manager, Christy Collier-Hill, will be leaving the WNBL club in mid-January to take on the role as the Head of the WNBL with Basketball Australia.
Christy joined the Boomers in 2019 and has been instrumental in improving the professionalism of the club.
Christy drove and led the successful club rebrand. She rebooted the Boomers Academy and managed the creation of the new Boomers Online Academy, has overseen membership and sponsorship growth year on year despite a COVID hub season. Christy also commissioned the Boomers documentary currently being created and introduced the Boomers 3×3 Corporate Cup, that will be played for the first time in February 2022.
While her contribution in these areas is a real legacy, there is no doubt that her contribution to the Boomers during the unprecedented period of COVID is her most significant achievement.
Together with Guy Molloy, she has worked closely with the club's Chair, Tony Hallam, and the Board to lead the organisation through the many challenges that COVID presented to the club.
As a result, the club has emerged in a stronger position culturally and as a business than in 2019 when she joined.
Tony Hallam has nothing but praise for the departing General Manager.
"We are very thankful for her leadership and contributions. Christy is an emerging leader in the sports sector who has who has brought a passion for equality to the Boomers, and we are sad to see her leave. But we are also excited to see the impact she can have on the growth of the WNBL."
Commenting on her departure, Collier-Hill stated that it wasn't a planned move, but one she felt she had to make.
"I'm fiercely passionate about the growth of women's sport and women's basketball, and the WNBL.  So, while I wasn't looking for a new role at the time, it was an opportunity that was just too good to pass up.
"I've absolutely loved leading the Boomers and being part of such an exciting club. I know I will be leaving the club is in a strong position, both on and off the court."
Following Christy's departure in January, Boomers' Commercial Manager, Jake Keogh, will step in as Acting General Manager through to the end of the season, and Kerri Walsh has been appointed full-time Operations Manager.
In the new year the club will reassess the needs, roles and responsibilities of the club administration.