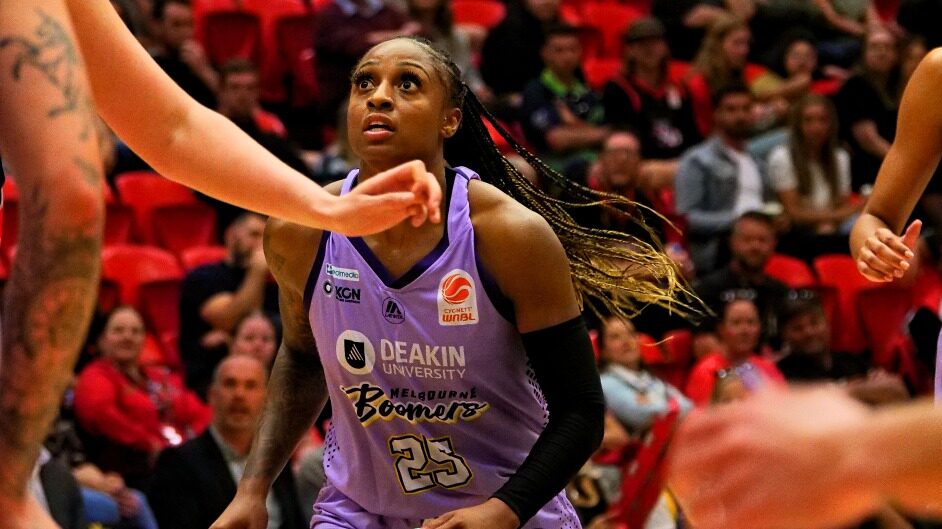 December 3, 2022 | Melbourne Boomers news

The Deakin Melbourne Boomers are returning home from Perth winners, and 4-and-1 on the season, after a convincing 88-73 win over the Lynx in Perth.
The night got off to a great start with Cayla George hitting the first shot of the game, which elevated her to seventh all time on the WNBL scoring list. Olivia Nelson-Ododa showed increasing comfort in the offence with some handy contributions early, but it was Mia Murray, along with George, who helped the Boomers rocket out to an early lead with her quick 8 first-quarter points.
The Boomers were keen to push the pace, and Perth struggled to keep up early, however a late-quarter fightback saw the Lynx eventually go into quarter-time with a one point lead.
George and Murray continued their hot shooting form in the second. Tiffany Mitchell began to insert herself into the offence to give the Boomers the momentum and a small lead at the half – 45-36.
The second half was all one-way; despite an admirable effort from Sami Whitcomb to keep the Lynx attached, the Boomers continued their hot shooting, which would ultimately see them hit 48% from the field (and 42% from beyond the three-point line). Murray was unstoppable and hit another deep ball to take the lead out to 15 before Perth tried a mini-comeback, using the three-point line themselves to claw the lead back under 10. But the Boomers withstood the pressure and went into the final quarter up 12.
George was everywhere, and poured in the points while contributing key rebounds at crucial stages. Miela Goodchild, a recent Boomers signing, provided key minutes at the backup point-guard position and impressed in her debut, while Kristy Wallace played the role of distributor, racking up 11 assists for the game.
With the lead blowing out to 17, benches were emptied as the Boomers went on to prevail 88-73. George was the Player of the Game with 23 points, 13 rebounds and 56% field-goal percentage. Mia Murray had 18 points and 8 rebounds, while Tiffany Mitchell was a steady influence with 16 and 8 herself.
Next up, the Deakin Melbourne Boomers return home to the heartland of basketball (the State Basketball Centre) against the JCU Townsville Fire on Wednesday 7th December at 6.30pm AEST. Tickets for the game are selling fast and available at ticketek.com.au.