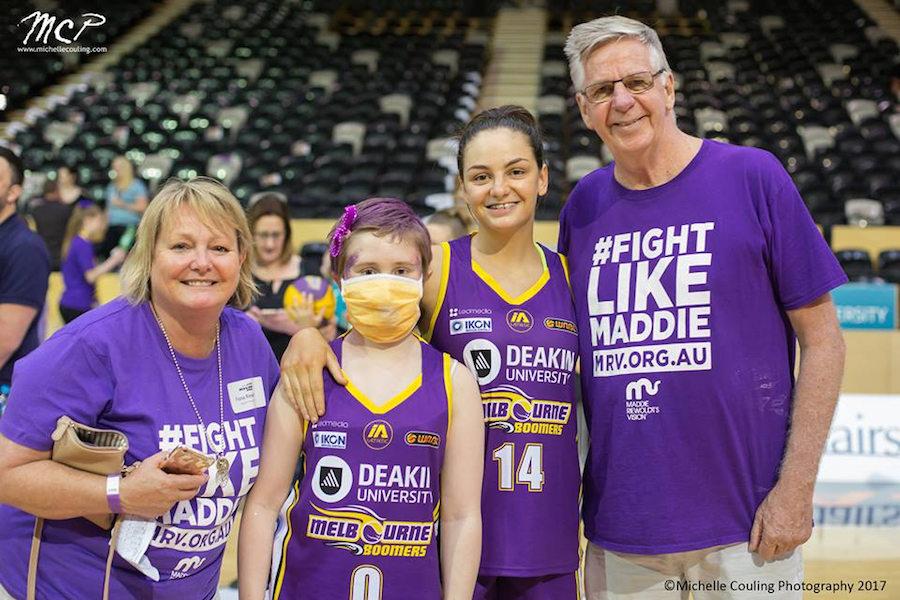 November 16, 2018 | Melbourne Boomers news
This time last year the Deakin Melbourne Boomers announced the signing of the WNBL's youngest ever player – at 9 years of age Indyanna Harper got her purple on and became an official member of the Boomers roster for the Club's annual Purple Power game to raise awareness for Maddie Riewoldt's Vision.
Locked in a fight against Bone Marrow Failure (Aplastic Anaemia), Indyanna enjoyed a day with the Boomers on the bench with team in what was to be a big win against Canberra.
Following the final buzzer Indyanna was a major drawcard with fans lining up for her autograph.
This Sunday the Boomers will again be encouraging everyone to dress in purple in support of Maddie Riewoldt's Vision and children like Indyanna, and their families. Tip-off is at 1pm at the State Basketball Centre in a Grand Final rematch against Townsville Fire.
A year on and not far from celebrating her eleventh birthday, Indyanna continues her fight, but according to Mum, Loree, the young Boomers star is taking it all in her stride.
"Indy is doing really well, much better," said Loree earlier this week in the build-up to another big Purple Power game.
"Her treatment has resulted in a hole in her heart and an abnormal heartbeat, but Indy is coping with that and feeling much stronger than this time last year.
"Indy's hair is growing longer, she has taken up dancing, enjoys spending time with her friends and is enjoying a lot of things she wasn't previously able to do."
The Boomers will play in their much-loved purple uniforms this Sunday and urge the crowd to dig deep for Maddie Riewoldt's Vision.
"The purple power game is a big one for our club," said Boomers Captain, Jenna O'Hea, adding "To see so much purple up in the stands is amazing. To also know we are playing for something bigger than basketball and supporting such a great cause in Maddie Riewoldt's Vision is really special to us all."
A year on and Loree still talks about the "confidence and happiness" that last year's experience brought to Indyanna.
"Indy really needed the boost at that stage of her fight and she still talks about the team, all the players and how special they all made her feel. They are such fond memories for us all.
"I'm pleased to report Indy is on the way to recovery, she's getting stronger every day and enjoying so many more things in life," Loree added.
To help support Maddie Riewoldt's Vision and others like the Harper family, the Boomers are encouraging everyone to attend this Sunday's game dressed in purple and to donate a gold coin. For every donation received a raffle ticket will be handed out with 10 prizes up for grabs throughout the game.
To support Maddie Riewoldt's Vision further, go to www.mrv.org.au
To buy tickets to this Sunday's game, go to www.trybooking.com/BOOMERS
WHAT: Purple Power Game, presented by Maddie Riewoldt's Vision
WHO: Deakin Melbourne Boomers vs Townsville Fire
WHEN: Sunday November 18 @ 1pm
WHERE: State Basketball Centre
TIME: 1pm tip-off
PARKING: Is free at the State Basketball Centre