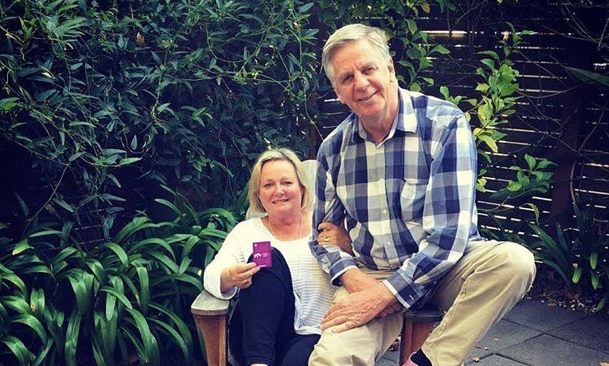 September 14, 2017 | Melbourne Boomers news
The Deakin Melbourne Boomers are announcing 8 Ambassadors in 8 Weeks in the lead up to WNBL season 2017-18 and the sixth ambassador announcement is a dual surprise with Joe and Fiona Riewoldt taking on the role together.
Parents of the late Maddie Riewoldt, Joe and Fiona have become passionate fans of the Boomers and in particular both are looking forward to the team's home game against Canberra on Saturday November 18 when all supporters will be asked to get their purple on to help celebrate Maddie Riewoldt's Vision.
"Maddie was an avid player of sport. She played and was a big fan of soccer, AFL and basketball," said Joe and Fiona, adding "She was frustrated by the lack of pathways for talented sports women, so we couldn't be happier with our involvement with the Melbourne Boomers."
"It's fitting Melbourne's WNBL club's colours include purple, Maddie's favourite colour, and we are connected to their drive to increase the profile of women's elite sporting talent."
"The coming season will be an exciting one – the line up of players we have assembled, the Maddie's Vision Purple Power game in November, and so many other exciting games – there has never been a better time to sign up for membership."
Speaking about the pride the Boomers have in partnering with Maddie Riewoldt's Vision, Boomers Assistant General Manager Lauren Jackson knows the MRV game on November 18 will be a huge day for the club.
"Our fans are the best supporters in the league, it will be a sea of purple for Maddie and the game will be televised live on Fox Sports," said Jackson.
"Joe and Fiona came to some games last season and really enjoyed the atmosphere and family values the Boomers display, so everyone at the club is really excited to have them join us as official ambassadors for the coming season."
To join Joe and Fiona as Boomers members, go to www.boomersmemberships.com.au today and join the Boomers Family.
8 Ambassadors in 8 Weeks
Week 1: Michele Timms
Week 2: Elyse Penaluna
Week 3: Sam Stynes
Week 4: Bec Allen
Week 5: Sharin Milner
Week 6: Joe & Fiona Riewoldt
Week 7: TBA
Week 8: TBA