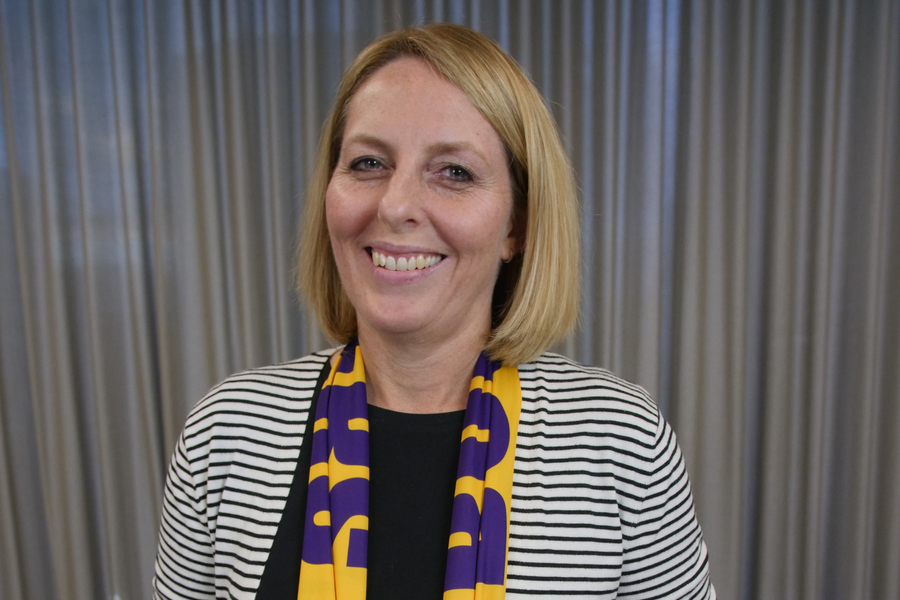 October 18, 2019 | Melbourne Boomers news
As a part of the Boomers Heritage Program, the Deakin Melbourne Boomers are excited to bring to you the story of another club great, Linda Brandt.
At the Boomers home opener this Saturday night, Linda will be presented to the crowd at half time in celebration of her commitment to the club during and beyond her basketball career.
Linda Brandt is all about loyalty and her Melbourne Boomers career shows it.
Over 252 WNBL games and 13 years, Brandt served the Boomers as a player before spending another eight seasons as team manager taking care of the players once her time on court was finished.
Such was the length and consistency of her service, Brandt (nee Barker) is still the club's record holder for games played and still sits in the top 10 in points (1625), rebounds (681), two-point field goals (582) and assists (629) despite finishing her career in 2000.
"I'm really proud I had done that. I'm not sure if there was even anyone [back then] who had played 250 games at the one club," Brandt said.
"I was pride myself on being a loyal person."
While Jess Bibby set a new WNBL games record with 394 games when she retired in 2016 there remains very few WNBL players who have passed 250 games with the one club.
Brandt didn't win any major awards in her career but that wasn't what she played for, rather Brandt filled her role at a club she came to love after arriving as a 16 year old in 1988.
As the seasons ticked over Brandt, who completed year 12, her accounting degree then practiced full-time as an accountant during her WNBL career, never contemplated leaving the club.
"There was no real reason to leave. There was always good coaches, good people around you and you would build relationships," Brandt said.
"Today, you can see someone you haven't seen for 20 years and still have a chat about playing together all those years ago.
"So building relationships, making friends makes it easier to stay around.
"The progression of the league was different over those 12 years. The way it was in 1988 wasn't the same 12 years later.
"The professionalism had grown quite a lot."
Brandt's time also covered major changes as the WNBL became more and more professional and more Australians started to go from developing in the WNBL to playing in Europe or the fledgling WNBA competition.
The league also went from playing in winter to following the NBL to the summer months in her final years as a player.
When Brandt first moved to the Boomers as a 16 year old, she arrived at a club which struggled to challenge for the finals but that changed as the years went on.
"I was playing juniors at Diamond Valley and I think I had made it into their senior team. I was 16," Brandt said.
"Then I had a call from the president of Bulleen at the time asking me if I would like to come down and try out for their senior [WNBL] team.
"So I went over there and played my top age under-18 season for Bulleen and played for their senior team.
"It was a great opportunity and I jumped at it. Who wouldn't want to play WNBL when you are 16 or 17? I definitely jumped on board."
Brandt was seen as a slashing player who could fill different wing positions either as a starter or off the bench along with being one of the league's better perimeter defenders.
"I used to like driving to the basket and putting up this funny little left-hand shot from the right hand side," Brandt said.
"So I was more of a drive to the basket player than a shooter."
The Boomers began to rise up the standings after Debbie Slimmon, Cheryl Chambers and some other key players moved to the club when Coburg Giants left the league.
The Boomers also won the Victorian Basketball Association competition which was played each Wednesday night between WNBL sides and the state's other leading associations.
"I remember we had a few years when we were down the ladder and struggling but when Debbie [Slimmon] and Karin Maar joined us and a few others came across from Coburg, when they came we did make finals," Brandt said.
"We won the 1990 VBA. Back then we had a Wednesday night competition which all the WNBL clubs played in. We did win that one year with the Boomers and made finals some other years.
"Winning the VBA was great as I think we would have had to beat Nunawading who were a powerhouse back then."
Brandt's association with the Boomers extended to over 20 years when including her service as team manager following her retirement in 2000.
"Linda was someone you just loved having on your team and then we loved having her on the sideline as team manager as you just didn't want her to go," Boomers teammate Larissa Anderson said.
"Her and her whole family were involved in the club.
"On and off the court she is just a beautiful person and a huge servant of this club."
While Brandt had been away for the side for a few seasons when the Boomers were playing in the grand final of the 2008-2009 season, she and her family flew home from an extended holiday travelling around Australia to watch the game and see the team claim its first WNBL title.
"I had finished being team manager a couple of years before they won the grand final and that particular year we were travelling up north," Brandt recalled.
"As a family we were away for three months and when they made the final we left the caravan up north and flew home for the weekend so we could watch it then we went back and continued travelling.
"It was awesome to see it. I was rapt."
As she watches the WNBL continue to grow and the Boomers continue to chase the title each season, Brandt looks at her own contribution and takes pride in her time in the league.
"I'm proud I did that back them and was part of the changes over that time," Brandt said.
"It evolves each year and now it's even bigger. I'm proud of that."
-Written by The Age's leading Sports Journalist Roy Ward