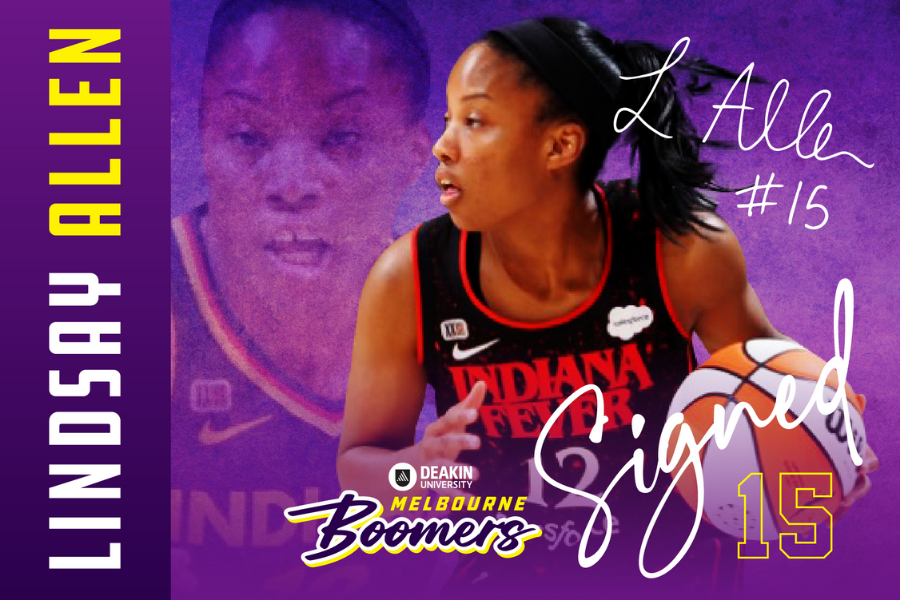 June 11, 2021 | Melbourne Boomers news
The Deakin Melbourne Boomers are thrilled to welcome WNBA star Lindsay Allen back to the team for season 2021-22.
This will be Allen's third season with the Boomers, playing in 18-19 which included taking out the Michelle Timms MVP Medal and Members MVP, and 19-20 when the Boomers narrowly missed out on a spot in the Grand Final.
A fan favourite, Allen missed WNBL20 due to COVID-19 restrictions, but after a season off, fans will be more excited than ever to see 'LA' back in the Boomers purple.
Since being drafted 14th overall in the 2017 WNBA draft, Allen has made a big impact in the WNBA.
In 2020, Allen helped the Las Vegas Aces to their first WNBA Grand Final appearance and this year she is continuing her good form for Indiana Fever.
Allen will again be one of the star players of the WNBL this season. Her high-quality skills, as well as her natural on court leadership will again prove to be a nightmare for opposition players to handle.
In her previous two seasons in the WNBL the tough American point guard looked at home with the Australian style of play. This ability to transition her world class game to the Australian style was a key reason that Head Coach Guy Molloy wanted Allen back for season 2021/22.
'I am thrilled that Lindsay is back for the upcoming season, she has made our team better each year. With her pure talent and ability to win games, Lindsay will be one of the best players in the league this season and we are all excited to see how she has continued to improve her game.'
For Lindsay, the appeal of playing for the Boomers and Head Coach Guy Molloy made her choice to return to Australia an easy one.
'I missed the Australian lifestyle, and I missed playing for Guy and playing with my teammates. I appreciate the Boomers club for their professionalism and the care they take in everything they do.'
Allen is a fierce competitor who wants to continue to test herself against the best, and the quality of the WNBL is something that she is excited to experience again.
'I'm excited to be back in the City of Melbourne and playing in the WNBL. It's one of the toughest leagues in the world, and I can't wait for the competition.'
When asked what else she was looking forward to about returning to Melbourne, there was one thing on Lindsay's mind.
'I'm really looking forward to having some Melbourne coffee!'
Allen joins Ezi Magbegor, Cayla George, Tess Madgen, Penina Davidson, Lou Brown and Lily Scanlon as the seventh Boomer announced for season 2021/22 as part of a high-quality line up.
Don't miss out on seeing Lindsay play this season – join us for the journey by registering your interest in a Boomers membership, and to hear all the latest news join our mailing list here!