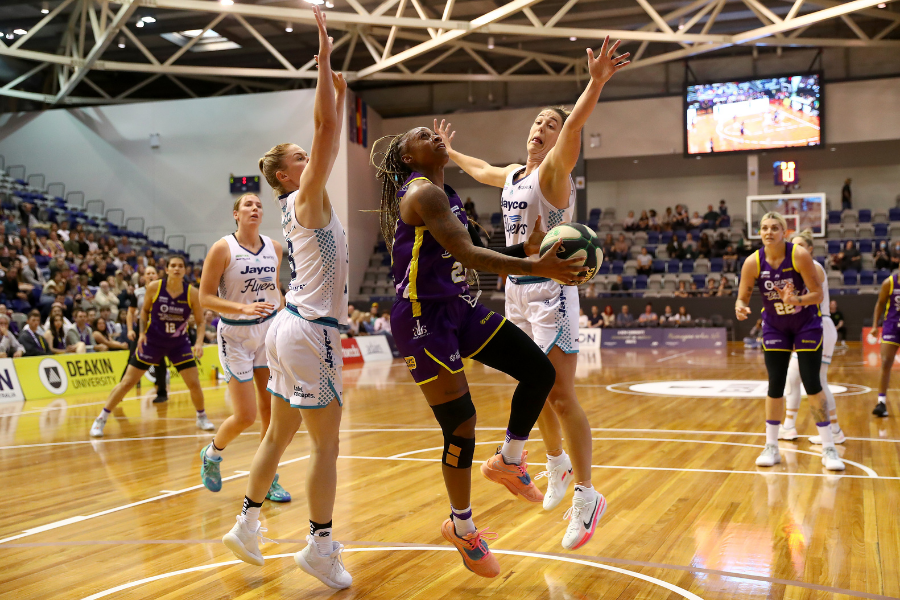 December 13, 2021 | Melbourne Boomers news
SATURDAY 11 DECEMBER 2021
The Deakin Melbourne Boomers took on cross-town rivals Jayco Southside Flyers with the return of fans to their home court in Parkville. Melbourne coming away with a convincing win, 91- 72.
Both sides came out with high intensity, Southside's Rebecca Cole adding the first two to the scoreboard, off the back of a foul called on Cayla George.
It wasn't long until Ezi Magbegor started the night for Melbourne, taking the ball the length of the court and driving strong into the key to convert – Lindsay Allen scoring soon after to create some momentum for the Boomers (4 – 2).
Both sides looked incredible dangerous in the opening term, not wasting any opportunities to match one another, as well as capitalize on each other's fumbles.
It didn't take long for Melbourne to find their groove and maintain momentum almost all the way through the remainder of the game.
Along with an attacking offensive, Melbourne provided Southside strong pressure in defense, causing turnovers and offensive fouls.
Fans got to get a taste of what Tiffany Mitchell may bring to the league this season, and why she is the definition of clutch. Mitchell was only warming up, started her night off strong ending the first quarter with 11 points and 2 assists. Overall score, 27 – 17.
Allen wasted no time finding the lane and scoring a bucket in the opening moments of the second quarter. Tess Madgen and Allen showing amazing movement at the offensive end.
A hand injury scare for Mitchell saw her disappear into the rooms but return soon after.
Any ground Southside made in the second term came from lots of hard work.
George, Madgen and Mitchell succeeding in sinking threes for the Boomers. Mitchell pushing every centimetre and providing the play of the day with a cross-over inside-out that converted.
Maddi Rocci single-handedly scored two buckets in quick succession to give Southside some momentum and a glimmer of hope heading into the half time break, but not without Mitchell bagging another two for Melbourne moments before the siren (52 – 33).
Southside made moves at clawing back their deficit to begin the second half. M. Rocci and Jenna O'Hea leading the charge, still struggling to convert on the offensive end but not through lack of trying.
Madgen sank a three (to make two from two for game so far). She goes on to score 11 points for the quarter – Making it happen solo, with 2:29 minutes remaining and soon after forcing a foul to score 2/2 on free throws. The overall score, 71 – 56, at the break.
Melbourne in the final term maintains pressure on the rebounds, to keep drawing play down to the offensive end. Allen drawing a foul for a three-point play, to bring the scores to 77 – 56.
Southside find a window, Cole securing an easy bucket, followed soon by Kristy Wallace.
George makes a solo drive for two but is answered straight away with some big minutes by Wallace, who fires a three and forces a turnover to repeat, turning it into a 13-point ballgame (79-62).
Allen and Magbegor scored a much-needed bucket each for Melbourne, to by some breathing space.
Continuing the combination of offensive athleticism and accuracy, with defensive pressure and grit shown throughout the game, ensures Southside can't gain enough momentum to try and turn the tables in the closing minutes.
Melbourne mark Parkville their home venue. Final score, 91 – 72.
Image credit: Kelly Defina/Getty Images/Basketball Australia