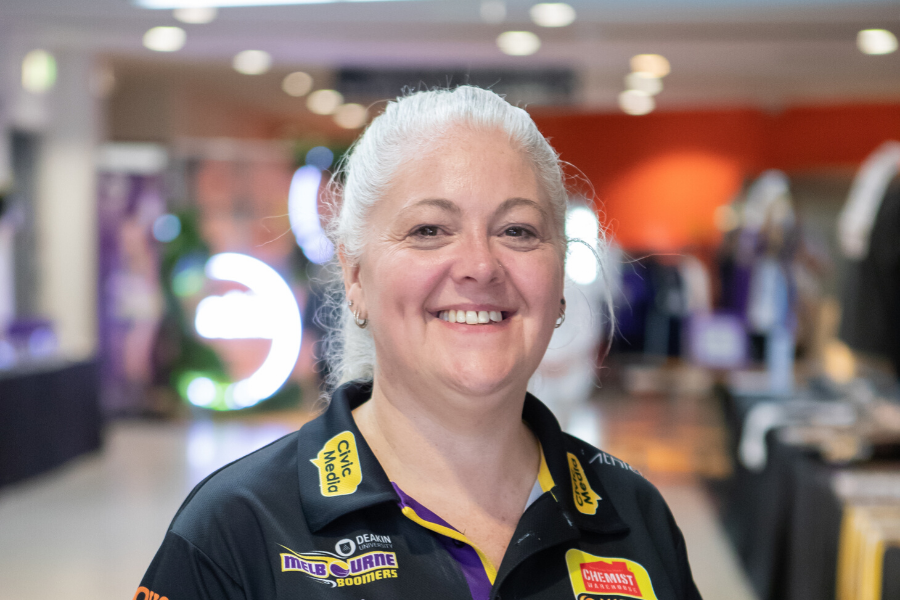 June 28, 2020 | Melbourne Boomers news
If you've been to a Boomers home game any time in the last four years, you've probably seen Kristy Moore repping the Boomers in one of the many roles she's undertaken for the Club.
Kristy has played a major role in everything from ticketing to customer service to making sure everyone is successfully covered head-to-toe in Boomers' merchandise. She was also the Team Manager for season 2018-19, showing that she has the ability to put her hand to anything that's needed.
We could almost say she has helped with recruitment too! Last year, Kristy bought her son Jaxson along to help out on game day as well and he also became an integral part of the volunteer team. In her life outside of the club, Kristy has worked in Libraries and, most recently, as a Customer Service Department Manager at a sports store.
Kristy is an integral cog in the Boomers family, we're incredibly grateful for her years of dedication to the Club – and we hope there's many more to come!
Hobbies in spare time?
Off Grid camping with family and friends, painting and building things.
Biggest challenge of the past year? 
No Sport, having a fifteen-year-old trapped at home with no outlet has been tough!
Ever been told look like someone famous?
Drew Barrymore.
Greatest fears?
Heights. Flying was another but being team manager cured that.
Pets?
Dog (Border Collie) named Wombat, cats named, Harriet, and Mash, a cockatiel named Oi, plus chickens and fish.
Where did you grow up?
Born in Swan Hill, went to school in Strathmore and Oak Park.
If not basketball, which sport would you compete in at the Olympics?
Archery/shooting.
Coffee order?
Latte/ Vanilla Latte.
Favourite show/movie/book at the moment?
The book, A Mother's Story, by Rosie Batty.
Favourite non basketball sporting experience??
The AFL ANZAC day game – Essendon v Collingwood.
Favourite thing to cook? 
Chicken Cacciatori.
Where do you do your best thinking?
In the shower​.