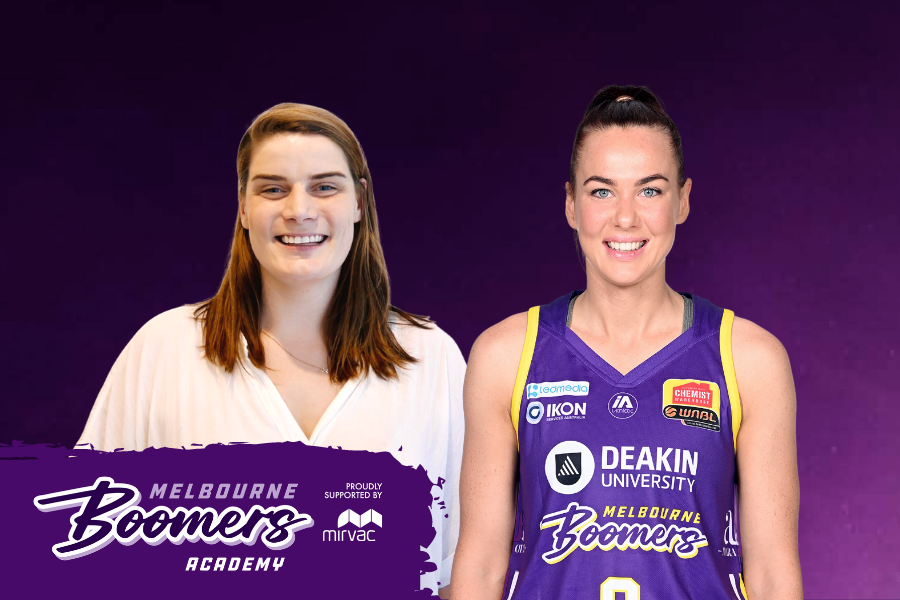 April 2, 2021 | Melbourne Boomers news
We're thrilled to introduce our new Boomers Academy Coaches for 2021!
Leading the program will be Boomers' star and Australian Opal, Tess Madgen, as Academy Head Coach. She will be joined by Jacinta Vandenberg, as Academy Manager.
By now you would have heard that the Boomers Academy is back. Clinics kick off this April school holidays with a half day clinic on Wednesday (7th April), for boys and girls aged 6-14 years old.
Kids will have the chance to improve their game and be inspired by some of the best female athletes in the country. All whilst having fun in a safe and encouraging environment at the State Basketball Centre.
Madgen is a basketball superstar, having played in the WNBL since 2008, with stints overseas in Europe and in the WNBA with the Phoenix Mercury.
A former Club Captain with the Boomers from 2012-2016, Madgen rejoined the Club for WNBL20, and has signed for a further two years with the Boomers. She's currently in the Australia Opals squad vying for a place in the team for the upcoming Tokyo Olympics.
"Taking on the role as Academy Head Coach is very exciting for me. One of my favourite parts of playing basketball is learning new skills and constantly trying to make myself a better player."
"I am grateful to have the opportunity to teach young people some of the tips and tricks I've picked up along the way. I am also extremely passionate about encouraging young people to lead a healthy lifestyle and there is no better way than getting involved with the best sport in the world."
"I look forward to having a lot of fun with these future elite ballers."
Academy Manager, Jacinta Vandenberg, is a seasoned basketballer herself. An Australian junior, she currently plays at NBL1 level with Nunawading Spectres, and has also played professionally in Europe with Italian club, Andros Palermo.
"I have been a part of the basketball world for as long as I can remember, and Melbourne Boomers (or Bulleen Boomers, back in the day) were always a standout club."
"Many people in my life are currently a part of the Boomer's group and have only said wonderful things, so I'm really looking forward to getting involved"
With past experience in the Mental Health field, Vandenberg is excited to be following her
passion and be a part of the ground-breaking program, and to help grow and develop a program for youth.
"I am thrilled that we can start offering programs again for the kids to get out of the house, interact with others and to grow as people and a basketball players."