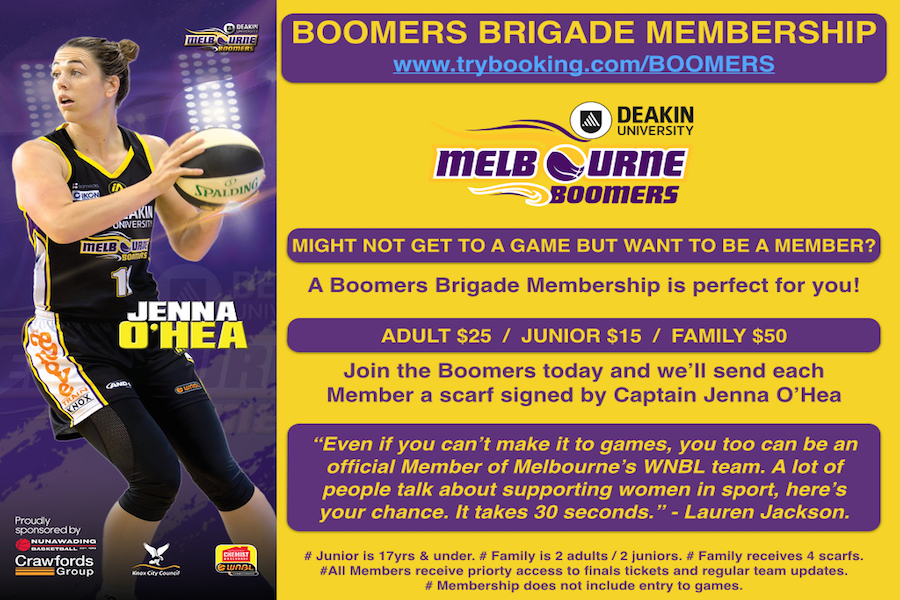 October 1, 2018 | Melbourne Boomers news
The Deakin Melbourne Boomers have launched a new-style of membership for the Club's growing number of fans living interstate and overseas, and also for the fans eager to support the Boomers, yet not quite sure if they can make it along to a game.
Aptly named the Boomers Brigade, the membership is low-cost and comes with an official Member Scarf signed by Captain Jenna O'Hea, shipped to your door. It also includes regular team updates, priority access to finals tickets and member-only specials.
If a Boomers Brigade Member can make it along to a game, they can simply go online and book reserved seats at the normal cost, and pay for them at the time.
"We get asked every season about membership by people wanting to support us, but they can't necessarily get to a game, so this one (membership) is ideal for them. And also for those just wanting to do their bit for the Club and support women in sport," 

said Assistant GM, Lauren Jackson.
"Even if you can't make it to games, you too can be an official Member of Melbourne's WNBL team. A lot of people talk about supporting women in sport, here's your chance. It takes 30 seconds."
Boomers Brigade
 memberships are priced at $25 for an adult, $15 for a junior (17yrs and under) and $50 for a family (two adults and two juniors). For family or group bookings, every Member gets a signed Member Scarf.
"No matter where you live, we want you with us, even if you can't make it to games. The Boomers will be on Fox Sports and SBS regularly this season, plus seven of our home games will be live streamed, so you can watch from a distance with your scarf on and be supporting your favourite team."