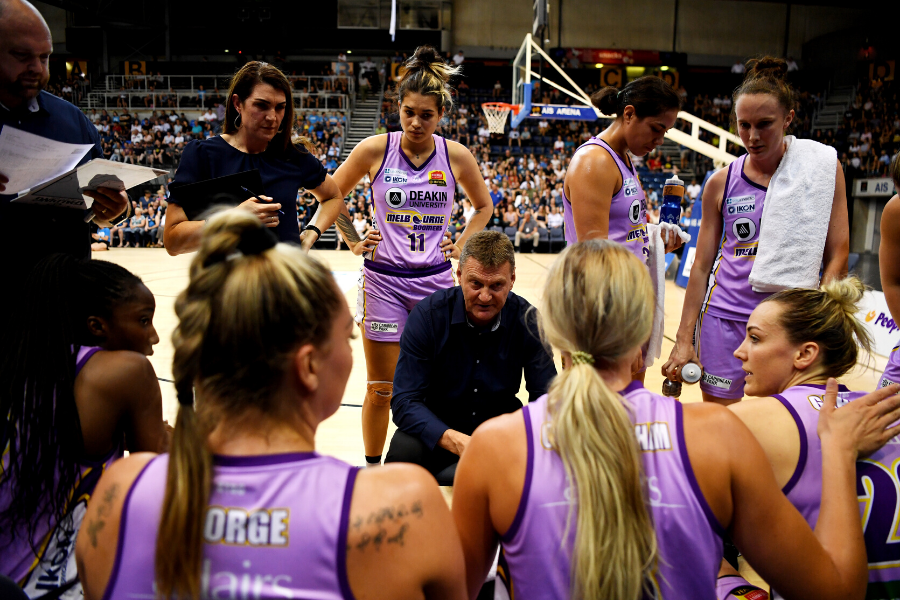 March 5, 2020 | Melbourne Boomers news
Our 2019/20 WNBL Season came to an abrupt and disappointing end when we lost to the UC Capitals in Game Three of the Semi-Final Series last week. Despite falling short of the Grand Final Series, there were still plenty of fun, entertaining and proud moments from the season to look back on. 
Our season kicked off in Bendigo against the Spirit where we got a win on the board and went 1-0. We backed up our performance against the Spirit when we faced them seven days later in our Home Opener. Another two wins later and we were sitting 4-0 heading in to our first clash against local rivals Southside Flyers, who ended our streak with a seven point victory.
The conclusion of Round 6 had us sitting at 4-2 with the league heading into its first FIBA Qualifiers window. Six of our players (plus our head coach and physio) headed overseas to represent their countries in their pursuit of a spot in the 2020 Tokyo Olympics, with Cayla George and Ezi Magbegor playing for the Opals, and Kalani Purcell, Toni Farnworth, Stella Beck and Penina Davidson playing for the Tall Ferns. Australia proceeded through to the next qualifying tournament, whilst New Zealand fell just short. 
Back into the WNBL, we won both games on a double-header away trip, defeating Adelaide and Bendigo comfortably. Our next home game we hosted our Purple Power match, supporting all things Maddie Riewoldt's Vision, and had a good win over the Sydney Uni Flames. The following three games resulted in a win and a loss to Perth, as well as another loss to the Flyers. This led to this year's Christmas Derby, which took place against the Adelaide Lightning. Here, we proudly collected Christmas gifts and raised awareness for Whitelion.
Post-Christmas we made comfortable victories over Townsville and Sydney, before we prepared to face off against the Flyers for the final time in the regular season. The build up to this epic face off (which had us go down by two points in overtime) was intensified by the #iPledgeWNBL campaign, where we at the Boomers pulled together to raise much needed funds for the bushfire relief appeal. Our donations were made to the Gippsland Emergency Relief Fund, and thanks to silent auction items, tin collections, and a pledge to donate $100 for every Boomers 3-pointer, block and steal (which was matched by our amazing partners at AV Jennings and Versalux), we raised $18 698 for the cause. This effort was something that we as a Club are extremely proud of (read the full story here). 
The tail end of the season had us locked into a spot in the Finals campaign. We finished the regular season with 15 wins and six losses, equal to Canberra, however due to a 1-2 win-loss record against them, they were to hold the home court advantage in Finals. 
Before the Finals began, the league took another break for the last round of FIBA Olympic Qualifiers. Cayla & Ezi headed to France to pull on the Opals singlet and fought their way to a spot in Tokyo – congratulations to both players and to the entire Opals side. Whilst Cayla and Ezi were away we decided to make the most of the season break, heading on a short but significant two-day trip to regional Victoria. In support of the #HolidayHereThisYear tourism campaign, our team, coaching staff and front office jumped on the Boomers Bus and drove to the Latrobe Valley, stopping in towns and schools along the way to say hi, run some clinics and hand out some awesome giveaways, as well as putting money back into the economy. It was a humbling experience for all of us at the Boomers (you can read the full story here). 
Once our cohort was back in Melbourne, the attention turned to our Finals Campaign. Semi-Final One took place at the AIS Arena in Canberra, where a disappointing fourth term saw the Caps step up and take control, sending us home to deal with a 14 point loss before refocusing for Semi-Final Two. In front of an amazing home crowd, redemption was ours as we defeated the Caps by 12 points and took the series to Game Three. However, it was not meant to be, going down to a strong Capitals performance and ending our season.
Throughout the season there was plenty of talk of the strong and positive culture held within the playing group, and this was shown through the passion and enjoyment that our team played with. We were the best defensive team in the league, finishing with the highest numbers for defensive rebounds, steals and blocks (720, 226 and 107 respectively). We also finished the season with the highest number of assists (465). 
We had some individual player accolades in the WNBL Awards, with Ezi Magbegor being named the Betty Watson Youth Player of the Year, and Cayla George being listed in the WNBL All-Star Second Team. Kalani Purcell and Stella Beck were also named runners-up for the Sixth Woman of the Year. WNBL Life Membership was awarded to Cayla George, Toni Farnworth and Guy Molloy as they knocked up their 250 game milestones throughout the season.
Our Club Michele Timms Medal Dinner is next week, 12th March, where our awards will be recognised and presented.