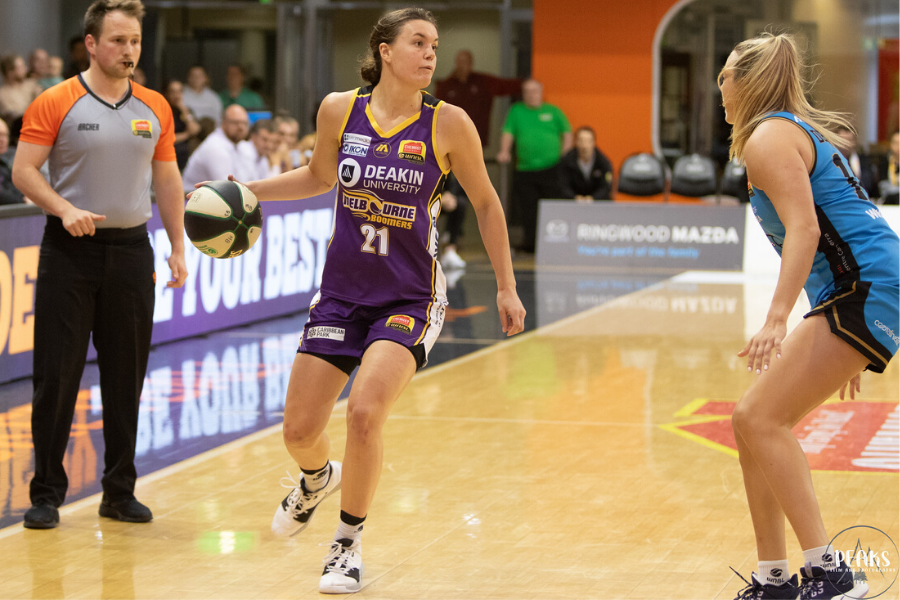 December 12, 2019 | Melbourne Boomers news
After a season with the Townsville Fire in 2018/19, Deakin Melbourne Boomers player Stella Beck has picked up and relocated south to Melbourne for this WNBL season, bringing her in closer proximity of her home country, New Zealand. 
In recent weeks Beck's parents took the trip across the pond from their home in Wellington, to come and support their daughter in her elite playing career. The Boomers star, also a member of the New Zealand Women's National team the Tall Ferns, is no stranger to living abroad and away from her family, having spent four years studying and playing college ball in California with Saint Mary's. 
Beck's parents spoke of the experience of having their daughter overseas for four years during her college years and how it compares to the WNBL experience. 
"College was great for Stella, she was lucky to love her four years there, and we have met some very cool people through her experience." they said.
"College basketball isn't comparable to WNBL, in this league we have some of the world's best female basketball players and the game is much more professional."
"I think WNBL is closer to international basketball than college just because of the experience and skill involved."
Being closer and more accessible in Melbourne, Beck says she enjoys having her parents travel to watch her play.
"My family has followed me all over the place, I always love it when they visit because I don't get to see them all that often. It also gives me a really good excuse to do some exploring with them, which you don't always get to do when you move somewhere new." Beck said.
And the feeling is mutual as her parents say the chance to travel to see their daughter play is an honour. 
"We love watching Stella play and compete at this level, more so, we feel extremely privileged whenever we meet the teams she is on because it is filled with such amazing, empowering and athletic women."  they said.
Having had their daughter play in two seasons of WNBL now, their recent visit really reiterated how great attending the games is.
"It is fast and it is very physical, we miss how intense the game really is when we only get to see the livestream." they said.
Beck also finds the league a fierce and strong environment, but overall enjoys the atmosphere and whilst she loves living in Australia, Beck would love to see a New Zealand team re-emerge into the league.
"It is intense, but really productive, you are playing and training against elite athletes every day so your improvement has to be fast. It has been a really amazing experience learning from all the professionals around me."
"Even though I like living in Australia, I would love to play for a NZ team in the WNBL, hopefully one day we get to that point again."
Come and see Beck play at our next home game on December 22nd at the State Basketball Centre.