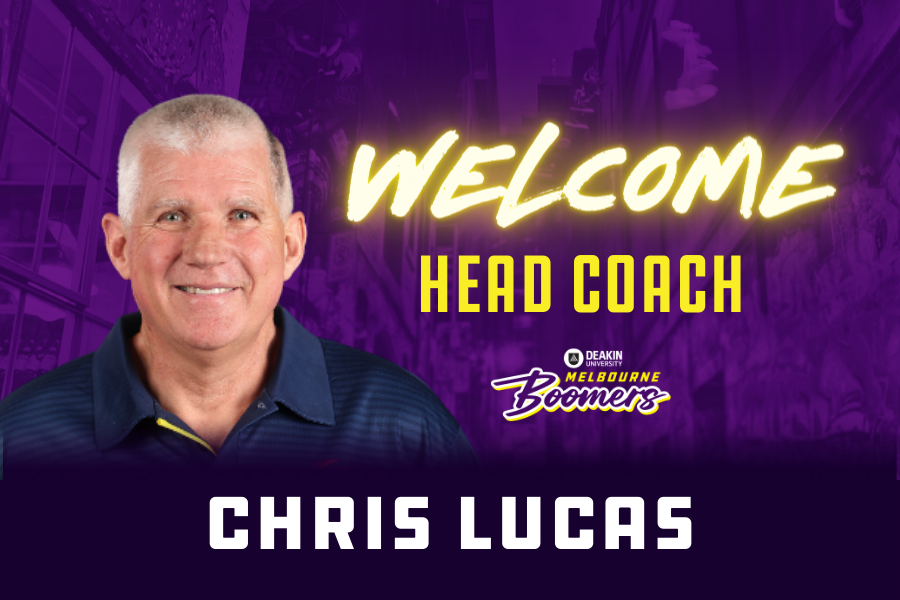 May 11, 2022 | Melbourne Boomers news
Chris Lucas has been appointed as the Deakin Melbourne Boomers' (Boomers) new Head Coach and is looking forward to consolidating the championship.
"I feel rejuvenated and privileged to have been selected to lead the Deakin Melbourne Boomers," said Lucas.
"Over the last few years, the Boomers program has grown and developed immensely and are now WNBL champions. Being on top is when it gets really tough and this brings another set of unique challenges."
Lucas has an exemplary career as a coach and is recognised for his passion and advocacy of women's sport. In his almost 30-year career the coach has only ever worked in women's basketball leagues.
He has worked in domestic and international basketball, most recently as Head Coach of WNBL team Adelaide Lightning and as the Assistant Coach of the Australian Opals who won a silver medal at the 2018 World Cup in Spain. When coaching Townsville Fire, Lucas led the teams to two consecutive WNBL Championships.
"Chris is undeniably one of the best coaches in Australian women's basketball. We are thrilled to have someone with his experience to lead our WNBL program," said Boomers Board Chair Tony Hallam.
The board underwent a robust international recruitment process. Basketball legend Michele Timms and former player Gaylene McKay, along with Julia Walsh, Mark Ronan and Hallam formed the selection panel to recommend the appointment to board.
"It was important that our new coach had the track record of success and is someone that understands and respects player relationships.
"Chris is that head coach and is a perfect fit to build on Guy's legacy as we look to take our program to the next level of performance," said Hallam.
Lucas succeeds Guy Molloy in the Head Coach position. After nine years as Head Coach, Molloy has moved to Basketball New Zealand.
When Boomers Captain and Australian Opal Cayla George was told the news it was only praise, "We are excited to have Chris on board as he has great experience in leading teams to finals.
"Personally, I've been fortunate to win back-to-back championships with him at Townsville and he knows what it takes to be successful!
"There's lots to do before the season starts but I can't wait," stated Lucas.