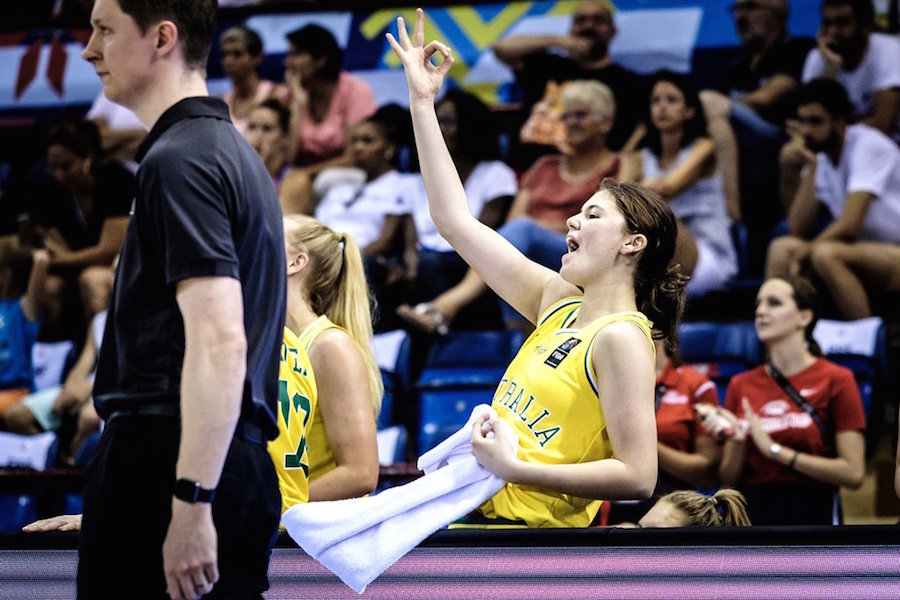 July 30, 2018 | Melbourne Boomers news
It's been a big week for plenty of the Deakin Melbourne Boomers family with bronze medals in Belarus, some silverware in Taiwan and plenty of finals action back home.
Representing the Australian Sapphires (U17s) at the World Cup in Belarus, Boomers development players Jade Melbourne (pictured) and Izzy Anstey both played vital roles in helping their team secure a bronze medal with victory against Hungary.
The win continued a successful era for the Sapphires following the team's gold medal at the same event in 2016. That tournament included current Boomers Ezi Magbegor, Monique Conti and Jaz Shelley.
Competing for the William Jones Cup in Taiwan, the New Zealand Tall Ferns delivered a fantastic come-from-behind win over Japan with Boomers Guy Molloy and Kalani Purcell right in the thick of the action.
Missing a number of key players, the Tall Ferns played above expectations and took home the top prize, the first for the national team under the guidance of Molloy.
Meanwhile, back home across Melbourne, a number of Boomers either started their finals campaign (SEABL) or played their final regular season game prior to finals.
Monique Conti played a pivotal role in helping the Melbourne Tigers win their opening final over Sandringham, the dynamic guard dropping four triples in the process.
Chelsea D'Angelo and her Kilsyth Cobras continued their big season with a 23pt win against Nunawading and will now enjoy a week off while the Spectres have to take on Conti and her Tigers.
Unfortunately for Ezi Magbegor, her Diamond Valley Eagles were bundled out of the finals after suffering a loss to Geelong.
In the Big V, Jaz Shelley and Liv Pollerd enjoyed a win at Keilor and will now step into an opening finals game against Hume City, while Leah Santomaggio is set to playing a leading role for Knox when their Youth grand final series against Sandringham starts next Saturday night, the Raiders making the season-deciding series after toppling Nunawading.
The full Boomers squad will enter pre-season on September 1.